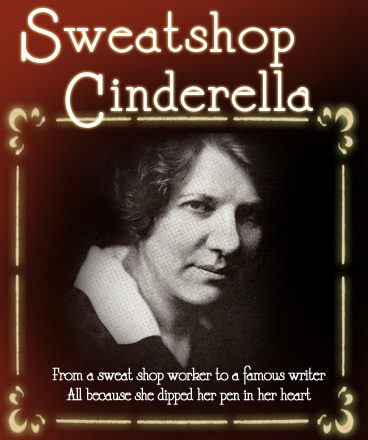 Sweatshop Cinderella: A Portrait of Anzia Yezierska
2010 | 27 minutes | Color | DVD | Order No. 101000
SYNOPSIS
In the forefront of early twentieth-century American literature about immigrant women's lives, Anzia Yezierska's work includes short fiction, novels, and essays, and her output spans 50 years. SWEATSHOP CINDERELLA, by award-winning filmmaker/historian Suzanne Wasserman, vividly depicts this Jewish immigrant writer's amazing story. Arriving from Poland around 1890, Yezierska's family settled on the Lower East Side, where she toiled in sweatshops and laundries, studying English at night. Defying her parents, she pursued her education and became a teacher. Twice married and divorced, she also had a daughter. At the urging of philosopher John Dewey, with whom she fell in and out of love, Yezierska devoted herself full-time to writing stories and novels in Yiddish-English dialect that won awards and rave reviews. Soon Hollywood, which turned two of her works into movies, beckoned her to write screenplays. When disenchantment with that world set in, she returned to New York, writing and publishing her best work between 1922 and 1950. Using archival stills and footage, silent film excerpts, letters, newspaper clippings, and interviews, this is a major contribution to our understanding and appreciation of Yezierska and her work.
PRESS
"An artful rendering of a fascinating story that's barely been told,…a must-see for those with a range of interests: Jewish-American history, women's studies, ethnic American cultures and immigrant history."
"Wasserman's trademark mix of personal reflection, archival revelation and historical sleuthing reanimates Yezierska for a new generation."
"An evocative portrait of Yezierska's struggle to transform her experiences as a poor, immigrant Jewish woman into timeless literature that still moves us deeply today. Highly recommended for high school and college students alike."
"Captures Yezierska's spark and her sadness beautifully in this poignant, evocative film...It is like sitting in on an intimate conversation across nearly a century—about what it means to be a Jewish woman, a writer, an immigrant, a searching spirit, a hungry heart."
"Yezierska evokes the early twentieth-century experience of immigration from a woman's perspective. Her novels and short stories speak to the dreams of poverty-stricken young women and the difficulties of leaving an old world as they adapt to a new one."
ABOUT FILMMAKER(S)
Suzanne Wasserman
Suzanne Wasserman (1957- 2017) was a historian and award-winning filmmaker. She had a Ph.D. in American History from New York University. She was the Director of the Gotham Center for New York City History at the City University of New York, Graduate Center. Wasserman lectured and wrote about New York City history, especially the history of the Lower East Side. She published widely on topics such as the Great Depression, Jewish nostalgia, housing, restaurant culture, tourism, pushcart peddling, silent films, 19th century saloons and 21st century street fairs. She was an historical consultant on Ron Howard's, Cinderella Man. She is the co-author of Life on the Lower East Side, 1937-1950: Photographs by Rebecca Lepkoff (Princeton Architectural Press, 2006) which is in its third printing.

Her 2003 award-winning film, Thunder in Guyana, is about her cousin, Janet Jagan, who became President of Guyana in South America. The film premiered at the Walter Reade Theater at Lincoln Center in June, 2003 and aired nationally on PBS as part of the Independent Lens series in 2005 and Global Voices in 2010. Her second film, a short documentary, titled Brooklyn among the Ruins premiered at the Coney Island Film Festival in 2005 and was broadcast on PBS/WNET's series REEL New York in 2006. Her films have been seen at over 50 festivals and other venues. Her third film is a short documentary, Sweatshop Cinderella, about the immigrant writer Anzia Yezierska. Sweatshop Cinderella and Thunder in Guyana are distributed by Women Make Movies.. (3/19)
YOU MIGHT ALSO BE INTERESTED IN
Shopping Cart