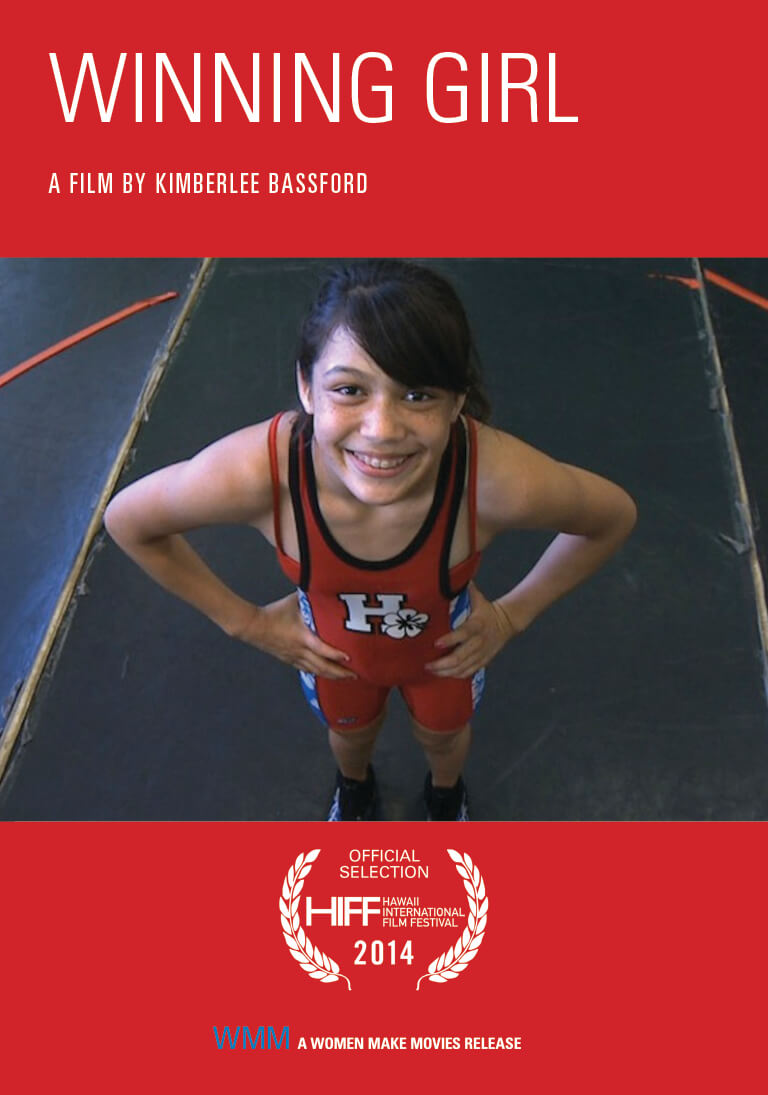 2014 | 68 minutes | Color | DVD | Order No. 151165
SYNOPSIS
From award-winning Hawaiian filmmaker Kimberlee Bassford (PATSY MINK: AHEAD OF THE MAJORITY) comes WINNING GIRL, an inspirational film that follows the four-year journey of Teshya Alo, a part-Polynesian, teenage judo and wrestling phenomenon from Hawai'i. Teshya is only 16 years old and 125 pounds, but on the judo and wrestling mats, she dominates women twice her age and pounds heavier! Now Alo has her sights set on taking the Olympic gold at both the judo and wrestling world championships - and in doing so would be the first to accomplish that feat. WINNING GIRL tells the dynamic story of an elite athlete on her ascent, a girl facing the challenges of puberty and growing up with an entire family dedicated to a single dream. A great companion piece to any discussion on Title IX and gender.
PRESS
"A rousing story of a local Hawaiian girl, from high-school phenom to the medal podium."
"An inspiring story."
"Truly exceptional.."
SCREENING HIGHLIGHTS AND AWARDS
Los Angeles Asian Pacific Film Festival, Special Jury Award for Documentary Feature
Women of Wonders Film Festival
ABOUT FILMMAKER(S)
Kimberlee Bassford
Kimberlee Bassford is an independent documentary filmmaker born and raised in Hawai'i with a passion for social issue, cultural and women's stories. She most recently completed the feature documentary WINNING GIRL, which follows the four-year journey of a Hawaiian female teenage judo and wrestling female phenomenon from Hawai'i with world championship aspirations. The film had its world premiere at the Hawai'i International Film Festival in November 2014 and has funding from Pacific Islanders in Communications and fiscal sponsorship through Women Make Movies.

Prior to that, she produced, directed, wrote and co-edited PATSY MINK: AHEAD OF THE MAJORITY (2008), a one-hour documentary about the late U.S. Representative Patsy Mink, the first woman of color in Congress and co-author of the landmark Title IX gender equity legislation. The film premiered at the Hawai'i International Film Festival, where it won the Audience Award for Favorite Documentary. It also won the Audience Award for Best Documentary Feature at the San Francisco International Asian American Film Festival (now CAAMFest); Grand Jury Prize for Best Feature at the DisOrient Asian American Film Festival; Spirit of Humanity Award at the San Joaquin International Film Festival; among other honors. It aired nationally on PBS in 2009 and has educational distribution through Women Make Movies.

She produced and directed the short documentary LOTUS ROOT: A GREAT GRANDDAUGHTER'S JOURNEY (2010) about her great grandfather Chun Quon Yee Hop, a successful businessman and philanthropist and the founding member of her family in Hawai'i. She was a producer on UNNATURAL CAUSES: IS INEQUALITY MAKING US SICK? (2008), a four-hour national PBS documentary series and public engagement campaign about America's socioeconomic and racial disparities in health. The series won an Alfred I. DuPont-Columbia Award for excellence in broadcast journalism and a Henry Hampton Award for excellence in film and digital media. She was also a producer on the three-hour national PBS documentary series THE MEANING OF FOOD (2005), which explores the social significance of food in the United States.

She had her directorial debut with CHEERLEADER (2003), a short documentary that follows a squad of young, bright-eyed California cheerleaders on its quest for the national cheerleading championships. The film won the Student Academy Award in Documentary and CINE Golden Eagle and aired nationally on HBO Family. It also screened in film festivals in the U.S., Canada, Europe and New Zealand, including the Cannes Film Festival as part of the Kodak Emerging Filmmaker Showcase. The film has educational distribution through Documentary Educational Resources.

Kimberlee is a graduate of Punahou School and holds a BA in psychology from Harvard University and a Masters of Journalism from the University of California Berkeley. She owns Making Waves Films LLC, a documentary production company in Honolulu. (4/15)
YOU MIGHT ALSO BE INTERESTED IN
Shopping Cart