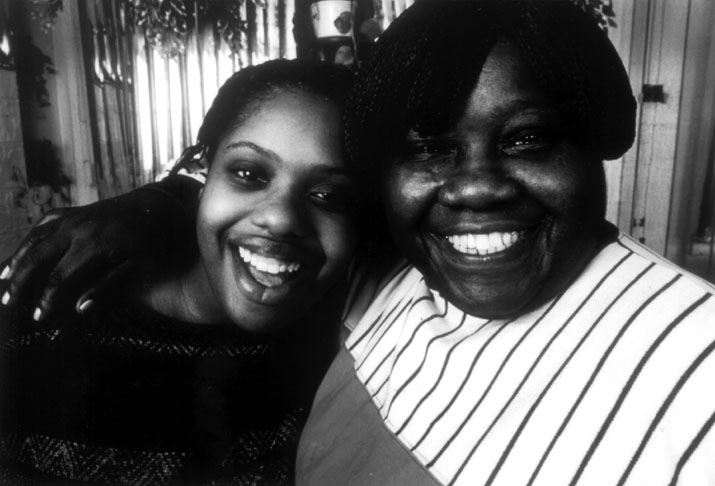 1997 | 57 minutes | Color | 16mm/DVD | Order No. 99554
SYNOPSIS
An ethnically diverse group of four working class girls strut, flirt, and testify in this vibrant, affecting portrait of teenage girls' experiences of sexuality. Filmed in South Philadelphia and following its subjects from the ages of 14 to 18, GIRLS LIKE US reveals the conflicts of growing up female by examining the impact of class, sexism, and violence on the dreams and expectations of young girls. Intimate interviews and candid footage introduce Anna, whose need for freedom in a new culture conflicts with her parents' strictness; De'Yona, who dreams of a singing career while coping with family tragedy; Raelene, who confronts violence and issues of self-esteem as a teenage mother; and Lisa, who faces the differences between the feminine roles of her Catholic upbringing and her own wishes. In documenting the friendships, challenges, and triumphs of these four young women, acclaimed filmmakers Jane C. Wagner and Tina DiFeliciantonio have created something truly rare: a searingly honest, inspiring depiction of girls' experiences that provokes reaction from and dialogue between educators, parents, and young women alike. GIRLS LIKE US was funded by the Independent Television Service (ITVS) with funds provided by the Corporation for Public Broadcasting.
PRESS
"This extremely powerful film is unique in its depth, honesty, and seamless integration of education and audience social awareness."
"I highly recommend Girls Like Us as a refreshingly frank and honest portrayal of girls' voices and viewpoints."
"Few films offer such rich human material- fewer still are timely enough to serve as ideal conversation pieces for young women facing similar decisions."
" **** Highly recommended. Editor's choice."
SCREENING HIGHLIGHTS AND AWARDS
Primetime Emmy for Outstanding Cultural Programming
Sundance Film Festival, Grand Jury Prize, Best Documentary
Health Sciences Communications Association, Best of Show & Gold Award
National Educational Media Festival, Golden Apple Award
Chicago International Film Festival, Gold Plaque
Athens Film and Video Festival, Best Doc
Charlotte Film and Video Fest, Best Doc
NARAL Pro-Choice Award
IFC Stranger Than Fiction Series
ABOUT FILMMAKER(S)
Jane C. Wagner
From cinema vérité to impressionistic documentaries, Tina DiFeliciantonio and Jane C. Wagner's critically acclaimed work has been screened and broadcast in countries throughout the world.

Their collaboration began at Stanford University's masters film program, where DiFeliciantonio made her directing debut with the student Oscar-winning Living With AIDS, which was one of the first films on the subject to be nationally broadcast on PBS. Since then, Wagner and DiFeliciantonio have tackled a wide range of subjects - such as sustainable energy, teenage sexuality, child abuse, war time rape, LGBT civil rights, social justice, art and science - garnering dozens of top honors, including two National Emmy Awards and the Sundance Grand Jury Prize for Best Documentary. (8/14)
Tina DiFeliciantonio
From cinema vérité to impressionistic documentaries, Tina DiFeliciantonio's critically acclaimed work has been screened and broadcast in countries throughout the world. Along with her partner Jane C. Wagner, she has tackled a wide range of subjects—social justice, human rights, teenage sexuality, child abuse, sustainable energy, art, science and ethics—garnering dozens of top honors, such as two National Emmy Awards and two Sundance Film Festival Awards, including the Grand Jury Prize.

DiFeliciantonio began her professional career after graduating from Stanford University's Master's Film Program, where she made her directing debut with the student Academy Award-winning LIVING WITH AIDS, which was the first film on the subject to be broadcast on PBS. Over the years, her intellectual and creative collaboration partnership with Wagner has matured into a dynamic partnership that is sustained by a shared vision and passion for storytelling. Having worked in countries throughout the world, including Senegal, Abu Dhabi, Bangladesh, India, Japan, China and Turkey, their films have been aired on P.O.V., Sundance Channel, Showtime, HBO, TLC, MTV, SyFy, USA Networks and foreign television.

Support for their work has come from organizations that include the MacArthur Foundation, Rockefeller Foundation, NEA, NEH, ITVS, AFI, and Sundance. In addition to serving on the board of directors of media non-profits, DiFeliciantonio enjoys jurying film festivals, participating on funding panels and guest lecturing. She is actively involved in community service in New York City and is the co-parent of an active ten-year-old boy named Luca. (03/14)
Subject Areas
RELATED LINKS
YOU MIGHT ALSO BE INTERESTED IN
Las Marthas
Unlike any other, the annual debutante ball in Laredo, Texas is part of a lucrative month-long festival honoring George Washington's birthday. LAS MARTHAS follows two young women as they prepare for this elaborate rite of passage: Laurita, a 13th-generation debutante descended from Laredo's original Spanish land grantees who questions debutante society's class system geared toward girls like herself; and Rosario, a high-achieving, Mexican-raised and U.S.-schooled outsider struggling to understand the elite society's unspoken rules. Tracing the event's origins back to 1898, the film works to unravel why a town like Laredo – with a population that is 98% Mexican – feels such affinity for America's Founding Father. Despite history and all odds, the celebration perseveres and flourishes thanks to the Mexican American girls who wear this gilded tradition in the form of elaborate colonial gowns. LAS MARTHAS is a beautifully drawn and sometimes humorous, coming of age portrait of these two young women as they navigate this complex tradition in a time of economic uncertainty and political tension over immigration and border relations between the US and Mexico.
Learn more
Winning Girl
From award-winning Hawaiian filmmaker Kimberlee Bassford (PATSY MINK: AHEAD OF THE MAJORITY) comes WINNING GIRL, an inspirational film that follows the four-year journey of Teshya Alo, a part-Polynesian, teenage judo and wrestling phenomenon from Hawai'i. Teshya is only 16 years old and 125 pounds, but on the judo and wrestling mats, she dominates women twice her age and pounds heavier! Now Alo has her sights set on taking the Olympic gold at both the judo and wrestling world championships - and in doing so would be the first to accomplish that feat. WINNING GIRL tells the dynamic story of an elite athlete on her ascent, a girl facing the challenges of puberty and growing up with an entire family dedicated to a single dream. A great companion piece to any discussion on Title IX and gender.
Learn more
Shopping Cart