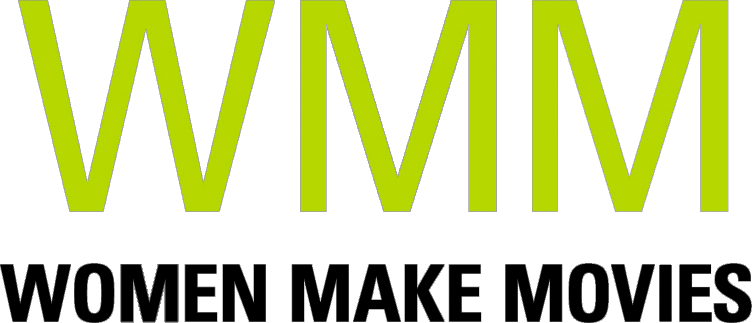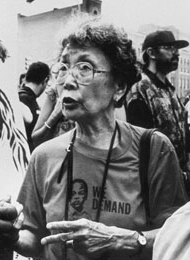 Yuri Kochiyama: Passion for Justice
1994 | 57 minutes | Color | DVD | Order No. 99201
SYNOPSIS
Yuri Kochiyama was a Japanese American woman who lived in Harlem for more than 40 years and had a long history of activism on a wide range of issues. Through extensive interviews with family and friends, archival footage, music and photographs, YURI KOCHIYAMA chronicles this remarkable woman's contribution to social change through some of the most significant events of the 20th century, including the Black Liberation movement, the struggle for Puerto Rican independence, and the Japanese American Redress movement. In an era of divided communities and racial conflict, Kochiyama offered an outstanding example of an equitable and compassionate multiculturalist vision.
PRESS
"Finds a shared identification with both younger and older generations of activists."
SCREENING HIGHLIGHTS AND AWARDS
San Francisco Asian American Film Festival
Women in the Director's Chair
ABOUT FILMMAKER(S)
Rea Tajiri is a New York based filmmaker and educator who has written and directed an eclectic body of dramatic, experimental and documentary films currently in commercial and educational distribution. As of Fall 2008, Tajiri will be teaching as an Associate Professor at Temple University in the Film Media Arts Department.

Tajiri was born in Chicago, Illinois where her parents resettled after her father served in the 442nd regiment during WWII. She earned her BFA and MFA degree from the California Institute of the Arts where she studied studio art. Upon graduation, Tajiri began working in video art, having two early works included in the Whitney Biennials of 1989 and 1991. One of these early works, History and Memory went on to receive the Distinguished Achievement Award from the International Documentary Association and a Special Jury Award from the San Francisco International Film Festival. This documentary short has screened in over 250 venues around the world. After completing this film, Tajiri, developed an interest in the history of social movements and was approached by civil rights organizer Pat Saunders to co-produce a film on the life of Harlem human rights activist Yuri Kochiyama. They received a production grant from the PBS series "P.O.V." to complete the film entitled: Passion for Justice. After completion of this documentary, Tajiri directed her debut dramatic feature film Strawberry Fields, produced by Open City Films and ITVS. Strawberry Fields received its European premiere at the Venice International Film Festival and won the Grand Prix at the Fukuoka Asian Film Festival. The film received theatrical release through Phaedra Cinema and is currently available on DVD on Netflix through Vanguard Cinema. Tajiri has received fellowships for her work from the Rockefeller Foundation, NEA Visual Arts, and the New York Foundation for the Arts. In 2004, she received a two-month residency at the MacDowell Colony. Since 1989, Tajiri has had an ongoing collaboration with choreographer Kate Foley designing video set projections for her dance concerts. Foley choreographed dance set pieces for Tajiri's short films Aloha and Little Murders and appears in Tajiri's video Hitchcock Trilogy.

Tajiri has been a visiting filmmaker at numerous universities and colleges across the country including Hampshire College, University of Colorado Boulder, School of the Art Institute of Chicago, University of California Santa Barbara, Georgetown University, Smith College, Brown University and was a Visiting Professor at Temple University and School of the Museum of Fine Arts, Boston. Currently, she is in development on a new dramatic fiction project entitled Venus' Celestial Beauty and completing post-production on an experimental short entitled; Bridge. (8/14)
YOU MIGHT ALSO BE INTERESTED IN
Mountains that Take Wing: Angela Davis & Yuri Kochiyama
Thirteen years, two radical activist all-stars-one conversation. Internationally renowned scholar, professor and writer Angela Davis and 89-year-old grassroots organizer and Nobel Peace Prize nominee Yuri Kochiyama spent over a decade conversing intimately about personal histories and influences that shaped them and their overlapping experiences. MOUNTAINS THAT TAKE WING offers the gift of these two remarkable women's lives, sharing the pair's recorded exchanges in 1996 and 2008. The film's unique format honors the scope and depth of their knowledge on topics ranging from Jim Crow laws and Japanese American internment camps, to Civil Rights, anti-war, women's and gay liberation movements, to today's campaigns for political prisoners and prison reform. Intercut with compelling period footage, Davis and Kochiyama's cogent observations, keen analyses, and steadfast resolve to create a more equitable, humane world offer inspiring lessons in empowerment and community building for current and future generations.
Learn more
Shopping Cart