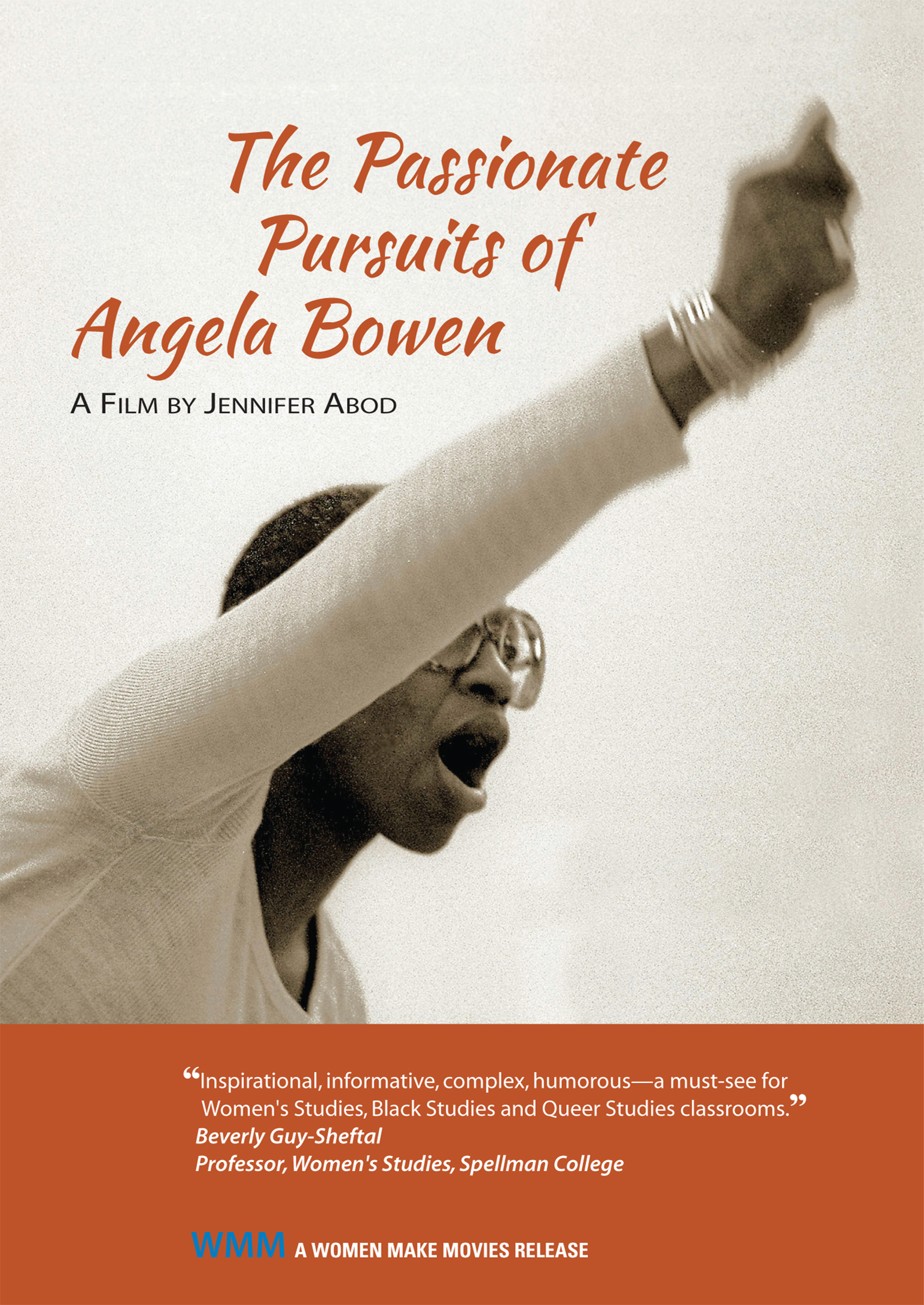 The Passionate Pursuits of Angela Bowen
US | 2016 | 73 minutes | Color | DVD | Order No. 161176
SYNOPSIS
An inspiring film by award winning documentary filmmaker Jennifer Abod, PhD (
THE EDGE OF EACH OTHER'S BATTLES: THE VISION OF AUDRE LORDE
). THE PASSIONATE PURSUITS provides a window into the life of Angela Bowen who grew up in inner city Boston during the Jim Crow era, and went on to become a classical ballerina, a legendary dance teacher, a black lesbian feminist activist organizer, writer and professor. For six decades Bowen has influenced and inspired untold numbers, speaking out as strongly for the Arts, and Black and Women's Rights as she has for LGBTQI Rights. Candid, compelling, and inspiring, PASSIONATE PURSUITS depicts Bowen's life across the decades, with archival footage, timeless musical selections, photographs and interviews. Bowen's stories reveal how the challenges of race, class, gender, age, and sexuality played into her decisions and strategies for survival. PASSIONATE PURSUITS is important to anyone who wants to know more about the experiences and complexities of black women's lives and the emergence of Black Feminism.
PRESS
"A must see… a fantastic, informative and moving film that should be viewed by students in women's and gender studies, GLBTQ and Queer Studies programs and classes, African American and Ethnic Studies programs."
"A very powerful and informative documentary. Abod has done an incredible job of capturing the complexity of an unsung hero. A must see by every activist."
"What struck me in the film was the hope for a second or even third life after dancing. This can be a problem for many dancers as they train so long and hard for a career that usually ends in their thirties or early forties. Your film "Passionate Pursuits" shows, no proves that anything is possible if one puts her/his mind to it."
"Passionate Pursuits is a compelling portrait of an important figure in the evolution of contemporary Black feminist history in the United States. The film highlights vital aspects of 20th century African American history, Women's history & LGBTQ history.

Abod's documentary film is inspirational, informative, complex, humorous, a must-see for Women's Studies, Black Studies, & Queer Studies classrooms."
"Using stunning rare archival footage and photos, and an unflinching eye to a life's journey through multiple identities, Jennifer Abod's film conveys a vital authenticity in the telling of the life's work and journey of an exceptional black feminist, dancer, mother and social justice organizer."
"THE PASSTIONATE PURSUITS OF ANGELA BOWEN, is an inspiring and illuminating film, one that should be honored and shared widely for generations."
"...the City presented a screening of the excellent documentary The Passionate Pursuits of Angela Bowen on March 18, 2016 with Professor Bowen and filmmaker Jennifer Abod in attendance. The film was met with a rousing and sustained standing ovation and we were thrilled and honored to include it as part of the Lesbian Speakers Series. We applaud Ms. Abod for bringing attention to the extraordinary life of Professor Bowen and her significant achievements as a feminist, LGBT activist, teacher, mentor and performing artist."
SCREENING HIGHLIGHTS AND AWARDS
Best Documentary, Audience Choice Award, Cinema Systers Film Festival
Winner, Television Documentary Program, PBS' To the Contrary Film Festival
Runner Up, Jury Award, Tampa Bay Gay & Lesbian Film Festival
Audience Award, Best Feature Film, Nhdocs - The New Haven Documentary Film Festival
Winner, Sky TV-laF-Mix Milano Award
Audience Award for Best Documentary Film, Tampa International Gay & Lesbian Film Festival
Winner for US History Category, PBS' To the Contrary Film Festival
Best Documentary, Bologna Lesbian Film Festival
Acey Social Justice Feminist Award, The Astraea Lesbian Foundation for Justice
Best Documentary Film on the Black Experience, XXXII Black International Cinema, Berlin
London Feminist Film Festival
Arts & Ideas Festival
New Haven International Film Festival
The Roxbury International Film Festival
Outside the Frame: Radical Queer Film Festival
Mix Film Festival, Milan
North Carolina Gay/Lesbian Film Festival
Festival MIX Milano Di Cinema
GayLesbioco E Queer Culture
Green Salon Short Film Festival
ABOUT FILMMAKER(S)
Jennifer Abod
With a Ph.D. in Intercultural Media Education and Women's Studies, Jennifer Abod is an award winning documentarian in both audio and video, who was part of the dawning of the second wave of feminism in the U.S.

Her videos include: "The Passionate Pursuits of Angela Bowen," "The Edge of Each Others Battles: The Vision Of Audre Lorde," "Look us in the Eye: The Old Women's Project." "Nice Chinese Girls Don't: Kitty Tsui" had its world premiere at Cinema Systers in May 2018 and won an audience award for best short.
Abod was a radio broadcaster for 19 years. She hosted and produced news, features, live talk shows, documentaries and specials programming on public and commercial radio in Connecticut, Philadelphia and Boston. She was the first woman in Connecticut to host a nightly AM radio talk show, "The Jennifer Abod Show."

As a media specialist at Digital Equipment Corporation, she produced, directed and wrote both audio and video projects.

In the 1970s, Abod was a singer/songwriter with the New Haven Women's Liberation Rock Band (Papa Don't Lay that Shit on Me), and co-writer and actor in "The Liberation of Lydia" the first feminist radio soap opera.

In 1988 she created Profile Productions to produce and distribute audio and video projects featuring feminist and lesbian activists, cultural workers, particularly women of color.

Her radio documentary, "Audre Lorde: Radio Profile." was featured on WGBH, FM, Boston as well as several award winning interactive call-in radio shows.

Dr. Abod taught at U. Mass Boston, Worcester State, Hofstra University and Cal State Long Beach. (03/19)
YOU MIGHT ALSO BE INTERESTED IN
Shopping Cart