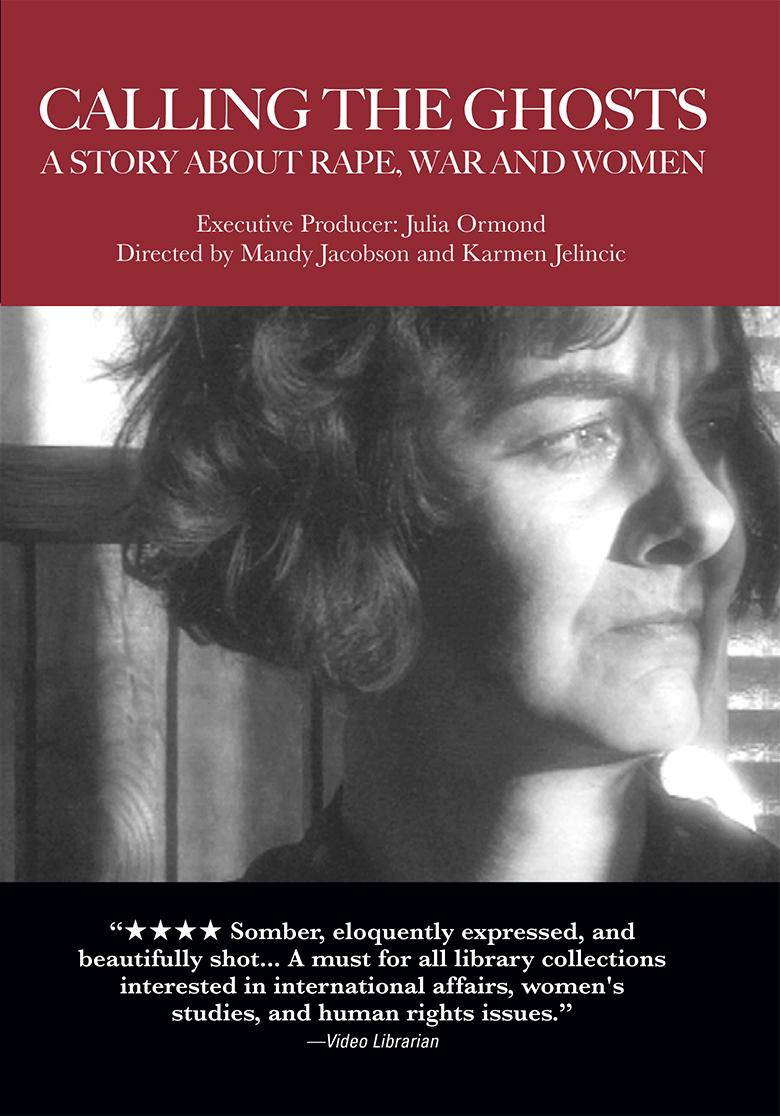 Calling the Ghosts
A Story about Rape, War and Women
1996 | 63 minutes | Color | 16mm/DVD | Subtitled | Order No. 99495
SYNOPSIS
An extraordinarily powerful documentary, CALLING THE GHOSTS is the first-person account of two women caught in a war where rape was as much an everyday weapon as bullets or bombs. Jadranka Cigelj and Nusreta Sivac, childhood friends and lawyers, enjoyed the lives of "ordinary modern women" in Bosnia-Herzegovina until one day former neighbors became tormentors. Taken to the notorious Serb concentration camp of Omarska, the two women, like other Muslim and Croat women interned there, were systematically tortured and humiliated by their Serb captors. Once released, the pair turned personal struggles for survival into a larger fight for justice-aiding other women similarly brutalized and successfully lobbying to have rape included in the international lexicon of war crimes by the UN Tribunal at the Hague. Chronicling the two women's experience and their remarkable transformation, CALLING THE GHOSTS is an indispensable resource for deepening understanding of human rights abuses and combating violence against women in the global arena.
PRESS
"**** A somber, eloquently expressed, and beautifully shot video... A must for all library collections interested in international affairs, women's studies, and human rights issues."
"The power of the documentary to provoke action is tremendous... an important advocacy tool for groups seeking to empower women and women's organizations."
"Exquisite and compelling...A necessary and significant film for women around the globe to navigate the new world order."
SCREENING HIGHLIGHTS AND AWARDS
Toronto Film Festival
IDA Best Documentary Nomination
Emmy Award, Outstanding Individual Achievement in a Craft in News and Documentary Programming: Directing
Emmy Award, Outstanding Investigative Journalism Program
1998 Robert F. Kennedy Journalism Award
Human Rights Watch Int'l Film Fest, Nestor Almendros Award
Sarajevo Int'l Film Festival, Special Jury Prize
Amnesty Int'l European Film Festival, Special Jury Prize
Cable Ace Award for Best Documentary
ABOUT FILMMAKER(S)
Mandy Jacobson
Mandy Jacobson is a multiple award-winning, two-time Emmy documentary filmmaker who has been working out of New York and South Africa for the past 10 years. She has just completed 4 documentaries on Nelson Mandela as part of SABC's flagship series to celebrate the former Presidents' global contribution to human rights. Jacobson's fieldwork has taken her across the globe including the USA, Brazil, Bosnia, Rwanda, Bangladesh, Cuba, Mozambique and South Africa to make heard stories not typically covered by the mass media, stories that explore the passion and politics of different forms of truth-telling an and justice-seeking. (09/09)
Karmen Jelincic
Ms. Jelincic holds a Master Degree in International Human Rights Advocacy from Columbia University's School of International Affairs, as well as a Bachelor of Fine Arts in Film and Television from New York University's Tisch School of the Arts. She was born in Croatia and raised in the United States. Since 1991, she has been actively involved in advocacy efforts here and abroad, in response to rape as a war crime, and other violations of human rights in the former Yugoslavia. Together with Mandy Jacobson, she has traveled across the country screening footage from Calling the Ghosts at teach-ins, sitting on panel discussions, and appearing at numerous national and international conferences about the war in former Yugoslavia and the prosecution of rape as a war-crime. Ms. Jelincic's past filmmaking credits include Someone Stole the Baby, a video documentary about a veteran SoHo tap dancer and her efforts to bring the original dance into the 1990s. (09/09)
Julia Ormond
Born in Epsom, Surrey, Julia Ormond studied at Webber-Douglas Academy of Dramatic Art. In the United States, Ormond is known for her work in "Smilla's Sense of Snow" (1997), "Sabrina" (1995), "Nostradamus" (1994) and "Legends of the Fall" (1994). British audiences were introduced Ormond when she played a heroin addict on the British television series "Traffik" (1989). Ormond won the London Critics' Award for Best Newcomer in 1988 for her role in "Faith, Hope and Charity." In addition to "Calling the Ghosts," Ormond has also produced a documentary called "Playground." Ormond's most recent performances include her role as Marie Calvet in "Mad Men," along with roles in "Law & Order: Criminal Intent," "CSI: NY," "The Curious Case of Benjamin Button." (7/12)
Subject Areas
RELATED LINKS
YOU MIGHT ALSO BE INTERESTED IN
Fighting the Silence
The Democratic Republic of the Congo's seven year war was the deadliest ever recorded in Africa. During that time, more than 80,000 women and girls were raped. Only now that the country is formally at peace are the consequences of the brutality becoming truly visible. Rape is slowly seeping into everyday life. FIGHTING THE SILENCE tells the story of ordinary Congolese women and men that are struggling to change their society: one that prefers to blame victims rather than prosecute rapists. Rape survivors and their families speak out openly about the suffering they endured because their culture considers women second class citizens and rape a taboo. They give voice to thousands of other survivors and their families who have chosen to hide their grief and remain silent for fear of being rejected by their families and community. Girls and women survivors tell of the brutality they experienced. Married couples openly talk about the pain they endure. Husbands talk of the pressures that led them to abandon their wives and why they agreed to take them back. A father explains why he has given up on his daughter's future and how he wishes he could afford to take her rapist to court. Soldiers and policemen share their (shocking) views about why rape continues to flourish despite the war having officially ended four years ago.
Learn more
Sound of Torture
Since 2006 when Europe closed its borders, human trafficking has burgeoned in Egypt's Sinai Desert, where Eritrean asylum seekers and refugees heading north to Israel are kidnapped, held hostage, and tortured by Bedouin smugglers demanding exorbitant ransoms for their freedom. Fleeing an oppressive military dictatorship at home, with a "shoot-to-kill" policy at the border and where only pregnant women are exempted from service, over 300,000 Eritreans have fled their homeland in North Africa. Many of these men, women and children die in Sinai's torture camps. This powerful documentary intimately follows Swedish-Eritrean journalist Meron Estefanos and her efforts to aid the hostages and their families. From Stockholm she runs a popular online radio show, fielding calls for help from Eritrean victims and their relatives. Her activism takes her to Israel and Egypt's Sinai Desert to seek the release of a badly abused young woman held captive with her baby and to search for another who disappeared along the Egyptian-Israeli border after her ransom had been paid. Both eloquent and harrowing, SOUND OF TORTURE spotlights one of today's most underreported human rights violations and the one woman who is making it her mission to create change.
Learn more
Shopping Cart