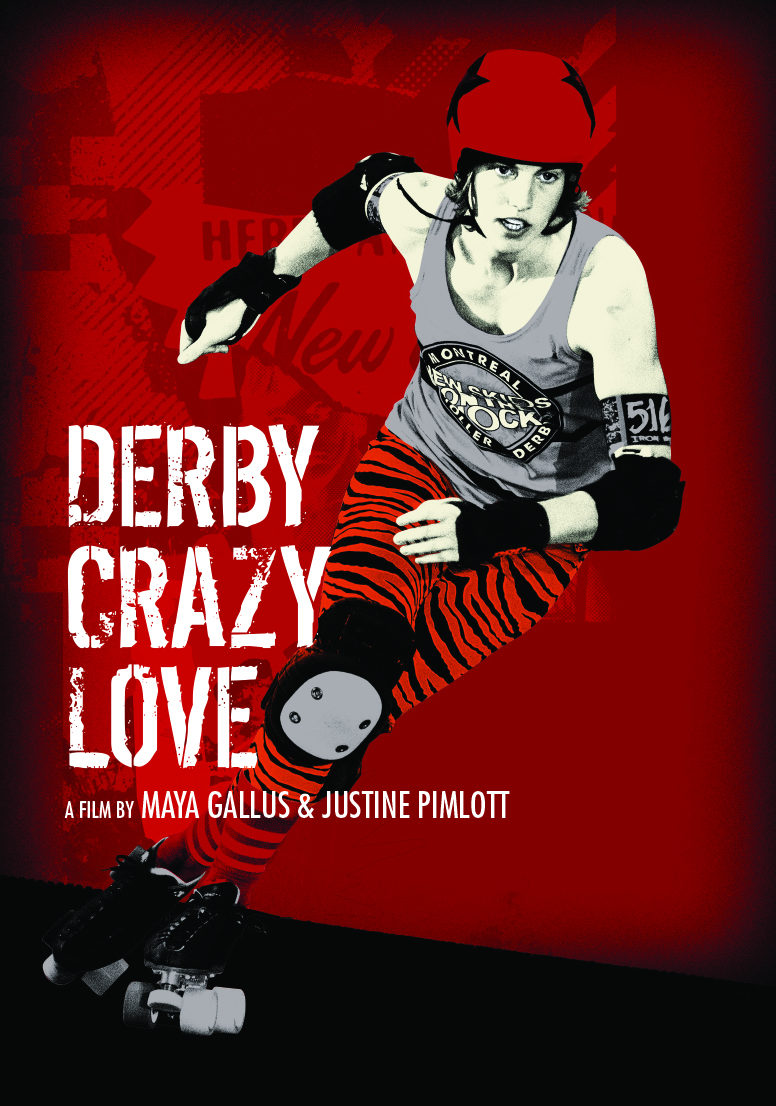 Canada | 2013 | 64 minutes | Color | DVD | Order No. 141145
SYNOPSIS
The latest documentary from Toronto filmmakers Maya Gallus and Justine Pimlott takes viewers inside the adrenaline-fueled phenomenon of women's roller derby. With over 1,400 leagues worldwide, it is now the fastest growing women's sport. DERBY CRAZY LOVE accompanies Montreal's top team, New Skids on the Block, on its exhilarating journey to regional championships, where they face off in a pitched battle against U.K. powerhouse, London Rollergirls, and reigning world champions, New York's Gotham Girls. New Skids players and their British and U.S. rivals share stories of being powerful women in traditional sports, along with insights about derby's recent rebirth, after decades of decline, as a vibrant, original expression of third wave feminism and Amazon-like physicality rooted in punk's colorful DIY counterculture. Deftly tackling issues of masculinity, femininity, aggression, body image, queer identity and gender norms, this fast-paced yet reflective film captures the spirit of community, inclusiveness, and sisterhood at roller derby's core today.
PRESS
"The film deftly tackles the stereotypes of masculinity, femininity and the inherent aggression both genders possesses."
"DERBY CRAZY LOVE takes us to the heart of one of the last decade's most thrilling sporting phenomena."
"The "DIY punk rock" environment is what keeps roller derby true to its core of being community-oriented and inclusive…people who feel marginalized because of their gender identity or sexual orientation find a safe space to play sports."
"As gritty as any doc set in the wide and wild world of sport, DERBY CRAZY LOVE is also as revealing as any in the genre."
SCREENING HIGHLIGHTS AND AWARDS
DOXA Documentary Film Festival
Sheffield DocFest
RIDM Montreal International Documentary Festival
Frameline International LGBT Film Festival
Salem Film Fest
Inside Out Toronto LGBT Film Festival
Qdocs Portland
Northside Film Festival
This Human World Human Rights Festival Vienna
ABOUT FILMMAKER(S)
Maya Gallus
Maya Gallus is an award-winning filmmaker whose work has screened around the world, including the Boston Musuem of Art, Canada House UK, Toronto International Film Festival, Hot Docs, Melbourne Film Festival, MostraRIO, Feminale Festival, Fetisch Film Festival, Thessalonika Film Festival, One WorldHuman Rights Festival, Dok Leipzig, Bergen International Film Festival, Cuenca Women in Direction, FIFA - Films Sur L'art, Montreal World Film Festival, RIDM - Montreal, Yorkton, St John's Women's Festival, Citizen Jane , the TFMS Film Series, DOXA, Atlantic Film Festival, Frameline, New Fest, Out Fest, Reel Out, Image et Nation, Ladyfest UK, QDoc, QFilm Festival Indonesia, and Singapore International Film Festival,

Her first film, ELIZABETH SMART; ON THE SIDE OF THE ANGELS, was a hybrid documentary-drama about the author of By Grand Central Central Station I Sat Down And Wept. The film launched at the Toronto International Film Festival and won three Golden Sheaf Awards for Best Production of the Festival, Best Documentary and Best Editing; it was also nominated for a Gemini (Canada's Emmy Awards) for Best Direction.

Her follow up documentary EROTICA: A JOURNEY INTO FEMALE SEXUALITY, featuring the final interview with 90-year-old Pauline Réage, the mysterious author of Story of O, as well as interviews with the notorious French dominatrix Catherine Robbe-Grillet and performer Annie Sprinkle, among others, launched at the Toronto International Film Festival and was released theatrically in Toronto, San Francisco, San Sebastian and Tokyo. EROTICA was nominated for a Genie (Canada's Oscars) for Best Feature-Length Documentary as well as Best Arts Documentary at Hot Docs.

GIRL INSIDE, a documentary portrait of 23-year-old Madison, transitioning to her female self over three years with the help of her 80-year-old grandmother, won a Gemini for Best Direction In A Documentary and was nominated for the prestigious Donald Brittain Gemini Award for Best Social Political Documentary.

Her Gemini-nominated feature documentary, DISH-WOMEN, WAITRESSING & THE ART OF SERVICE, a portrait of working women in the service industry, from North American diners, to topless restos, to Japanese fantasy maid cafes, to high end Parisian restaurants, was launched to critical acclaim at Hot Docs.

THE MYSTERY OF MAZO DE LA ROCHE, exploring the love story behind the fiction of one of the most famous, yet secretive women writers of the 20th century, is her second hybrid documentary-drama, nominated for three Canadian Screen Awards and recipient of the Golden Sheaf Award for Best Social Issue Documentary.

Her most recent film, co-directed with Justine Pimlott, is DERBY CRAZY LOVE.
Other credits include co-directing and co-producing the Gemini-nominated PUNCH LIKE A GIRL, with Justine Pimlott, about amateur women's boxing; co-producing and writing the award-winning FAG HAGS: WOMEN WHO LOVE GAY MEN, and co-producing CAT CITY. (04/14)
Justine Pimlott
Justine Pimlott is an award-winning filmmaker who made her directorial debut with LAUGH IN THE DARK, which won the Best Social Issue Documentary Award at Hot Docs and Best Canadian Film at the Inside Out Film & Video Festival in Toronto.

In 2003, she formed Red Queen Productions with Maya Gallus and launched their company with the critically acclaimed six-part reality series on women's boxing, PUNCH LIKE A GIRL, for which they each received two Gemini nominations (Canada's Emmy Awards) for Best Direction in a Documentary Series. PUNCH LIKE A GIRLwas also re-released as a single documentary.

Her documentary FAG HAGS:Women Who Love Gay Men, which she directed and co-produced, won the Audience Award for Best Documentary at the Inside Out Film Festival and the Audience Award for Best Canadian Film at the Reel Out Festival. FAG HAGS was broadcast on CBC: The Passionate Eye, SRC, Showcase, IFC, SBS, YLE, SBS Australia and numerous others.

She also wrote and directed CAT CITY, an hour-long documentary that takes the viewer into the heart of the cat overpopulation crisis in Canada. CAT CITY premiered at the Royal Cinema in Toronto, and screened at numerous festivals including Blue Planet Film Fest, Commfest, Moving Image Film Festival and Wisconsin International Film Festival. Additional directing credits include several episodes of a 13-part reality series, FIRE STATION, for the Discovery Channel and CHASING THE DREAM, a pre-Olympic one hour special for CBC Sports on international women's hockey.

As a producer, Justine's credits include LAUGH IN THE DARK, PUNCH LIKE A GIRL, FAG HAGS, CAT CITY and DERBY CRAZY LOVE, as well as several documentaries directed by Maya Gallus, including the hybrid documentary-drama, THE MYSTERY OF MAZO DE LA ROCHE, nominated for three Canadian Screen Awards and recipient of the Golden Sheaf Award for Best Social Issue Documentary, the feature documentary, DISH-WOMEN, WAITRESSING & THE ART OF SERVICE and the feature documentary, GIRL INSIDE, which won the Gemini Award for Best Direction In A Documentary and was nominated for the Donald Brittain Gemini Award for Best Social Political Documentary.

Most recently, Justine co-produced and co-directed, DERBY CRAZY LOVE, with Maya Gallus, which launched at RIDM in Montreal in 2013 and is playing at various film festivals, including DOXA, QDoc Portland, Inside Out, Frameline and Northside in Brooklyn. She is currently in development with a several projects for Red Quen Productions, including the feature documentary THE FRUIT MACHINE, about the rise of the early gay rights movement in Canada and the U.S. as told through the story of the radical gay and lesbian newspaper, The Body Politic. (4/14)
YOU MIGHT ALSO BE INTERESTED IN
Shopping Cart