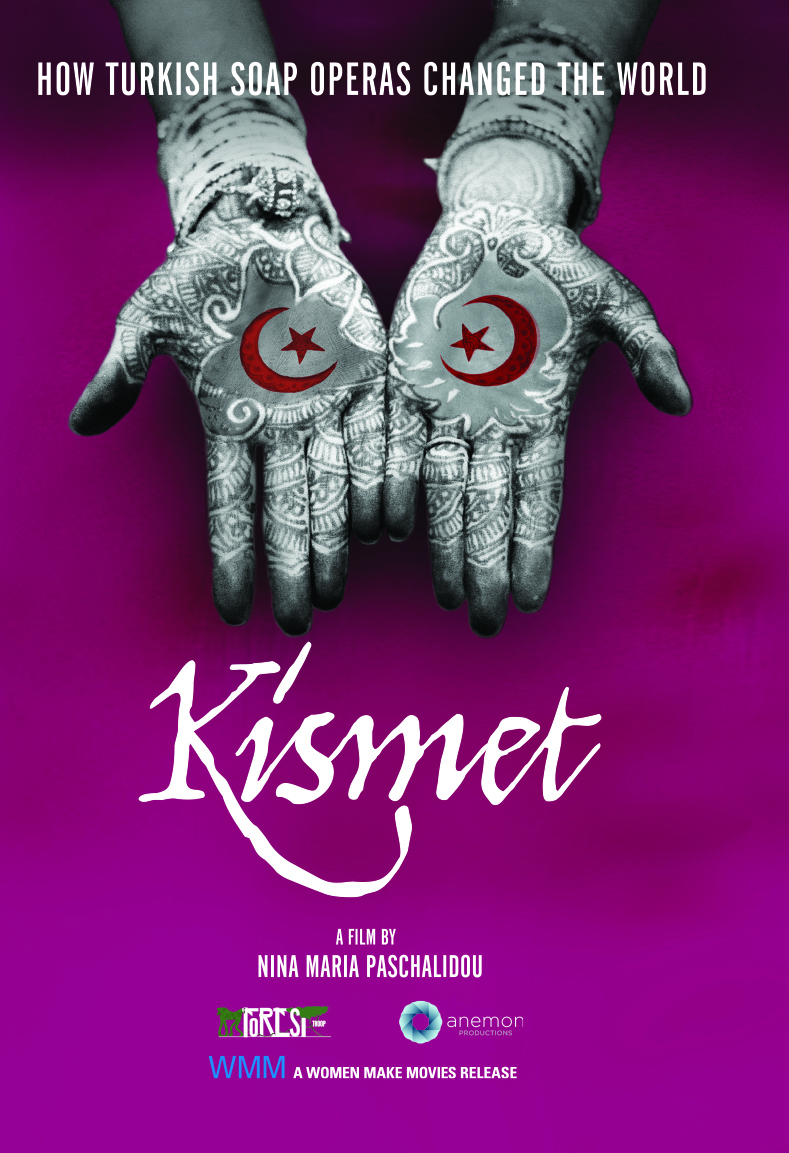 Greece/Cyprus | 2013 | 57 minutes | Color | DVD | Turkish, Arabic, Bulgarian, Greek | Subtitled | Order No. 141126
SYNOPSIS
Wildly popular at home, Turkish soap operas have taken the world by storm with more than 300 million viewers in 80 countries across the Middle East, North Africa, the Balkans, and Asia. With unprecedented access, KISMET delves into this phenomenon, weaving together excerpts from the major shows including interviews with their talent and the writers, producers and directors behind the scenes—primarily made up of women—and portraits of the everyday viewers in Turkey, Egypt, the United Arab Emirates, Bulgaria, and Greece. Exploring how the serials captivate, inspire and empower women, the film reveals how the soaps impact and break down negative stereotypes and traditional taboos. The soaps openly discuss rape, sexual and domestic violence, child and arranged marriages, and honor killings while also sparking change in gender relationships, activism against sexual abuse, and a wave of divorce across the Middle East. Invaluable for studies in media and popular culture, KISMET discloses how profoundly Turkish soaps penetrate viewers' social and religious realities while empowering and helping women to transform their lives and strengthen the debate about women's rights across the region.
PRESS
"An inspirational film..."
"A culturally and politically meaningful source of inspiration to a significant number of women, for whom such ongoing episodic narratives represent a progressive and challenging ideology…The result is encouragingly infectious."
"The documentary brings us personal stories of women who followed in the footsteps of their heroines to fight for their rights, and to ultimately break free of oppressed lives. "
"I think it should be seen. It is a very convenient format for use in teaching…I believe it is a very interesting film in that it delineates a dynamic transnational sphere of influence and spread of television work."
SCREENING HIGHLIGHTS AND AWARDS
Margaret Mead Film Festival
Thessaloniki Documentary Festival
International Documentary Film Festival Amsterdam (IDFA), Nominated for Best Mid-Length Doc
One World Human Rights International Film Festival, Czech Republic
Movies that Matter, Amsterdam
International Women's Film Festival Seoul
Sarajevo Intl Film Festival
ABOUT FILMMAKER(S)
Nina Maria Paschalidou
Nina Maria Paschalidou is a filmmaker, journalist, and producer with extensive experience on documentaries focused on social strife, war and forgotten populations. For the past twelve years, Nina has reported for To Vima and Kathimerini, the two major newspapers in Greece. Since 2007, she has been a producer for "Exandas" Documentary Series, an Athens-based documentary group that has won many international awards. She has also produced and directed independent documentaries, such as "Spirited Paths: the life of Human Rights Heroes" and "Boxing Cuba". She is also the author of "Kanun: A child's Play", a documentary book on blood feud in Albania, and "From Chaos to Harmony: The Life of Mikis Theodorakis", a film about the life of the Greek composer. She is the founder of Forest Troop, an independent documentary and multimedia group and co-owner of www.protagon.gr, a news blog created by prominent Greek journalists. She has received her undergraduate degree in Mass Communications at Boston University and her graduate degree in Entrepreneurship at Bentley University. She has studied film at La Femis in Paris and at the NYU in New York. She is also a Fellow in the School of Foreign Service at Georgetown University, in Washington D.C. (4/14)
YOU MIGHT ALSO BE INTERESTED IN
Shopping Cart