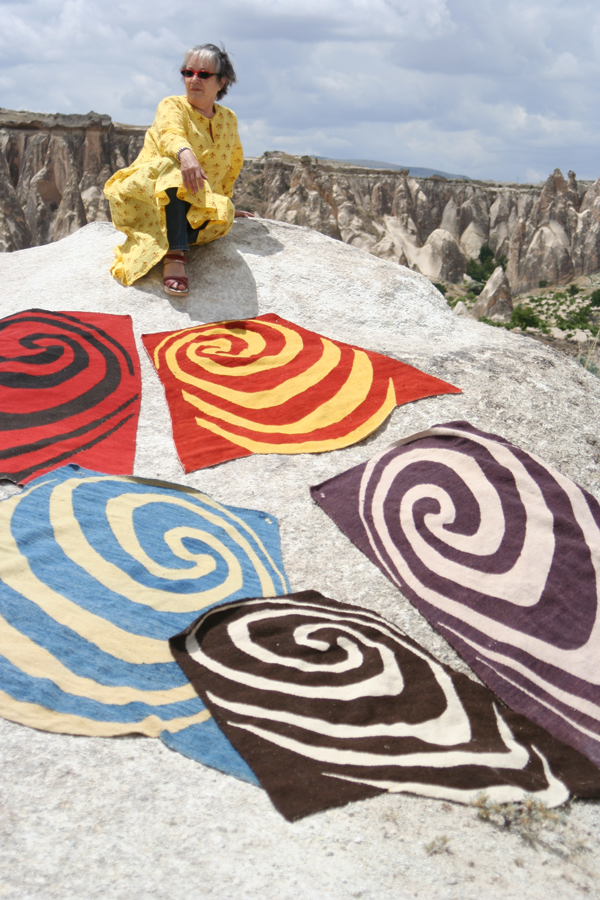 Voices Unveiled: Turkish Women Who Dare
US/Turkey | 2010 | 69 minutes | Color | DVD | English | Subtitled | Order No. 111030
SYNOPSIS
Can Islamic values co-exist with full equality for women? VOICES UNVEILED examines this timely issue through portraits of three women pursuing life paths and careers of their own choosing in present-day Turkey. Each has defied social expectations in a democratic, secular nation where religious fundamentalism has re-emerged as a political force and patriarchal values still prevail. Well-known textile artist Belkis Belpinar, whose work combines science and kilim rug traditions, resisted her father's wishes that she study engineering. Dancer and psychologist Banu Yucelar braved family opposition to modern dance, widely perceived as a form of prostitution. Women's rights activist Nur Bakata Mardin helps women in underserved communities, where old beliefs hold sway, form small business cooperatives. As engaging as its subjects, VOICES UNVEILED punctuates its in-depth portraits with insights from other Turks and lively discussions that include intergenerational debates over veiling. The film is a valuable companion to
WOMEN OF TURKEY
, which offers a different take on gender roles that embrace modern lifestyles and Islamic culture.
PRESS
"Binnur Karaevli brings to life the changing and sometimes contradictory gender identities and the search for a synthesis between the West and Islam in Turkey…highly recommended to those interested the fields of international development, sociology, political science, international relations, gender and women's studies at the graduate and undergraduate levels."
"Presents the face of Turkish women, despite any current political party leanings. Should Turkey abandon this path of personal expression, promoted since Ataturk, they will do [so] at the peril of the entire Middle East."
"Emphasizes that education and persistence in the pursuit of individual freedom are key to improving political and social conditions. Highly recommended."
"Voices Unveiled can be utilized by educators to highlight women's issues and the struggle of women's movements in non-Western contexts and predominantly Islamic cultures. Courses that focus on gender and society in the Middle East, women's movements, and feminism in diversity might incorporate discussions which build upon this film."
SCREENING HIGHLIGHTS AND AWARDS
Rome Independent Film Festival, April 2010
London International Documentary Film Festival, April 2010
SEE Los Angeles Film Festival, May 2010, Audience Award
Napa/Sonoma Valley Film Festival, September 2010
Landlocked Film Festival, August 2010
ABOUT FILMMAKER(S)
Binnur Karaevli
Binnur Karaevli is an award-winning director/producer with an expansive background in film and video. She was born and raised in Istanbul, Turkey. She attended Robert College High School in Istanbul. She received her BFA from Carnegie-Mellon University in Drama and started her career as a theatre director in 1989. She received the prestigious Bud Yorkin Directing Award, for her work in directing theatre, right out of college. She worked at the Arena Stage, Comedia Dell Arte and San Diego Reportory Theatres as an Assistant Director and a Dramaturg. During her tenure at the San Diego Repertory Company, she co-founded and co-produced "WordWorks", a literary theatre laboratory for new plays. She worked at the Los Angeles Theatre Center as a director and a literary manager. In 1991, she founded the "Platform", an acclaimed political cabaret. She attended University of Southern California's Graduate Film School and earned her MFA in 1996.

Her short narrative films, Dance of the Whirling Dervish and Evelyn of the Desert received top prizes from several festivals including, Nurnberg International Film Festival, Germany; New Orleans International Film Festival; and Istanbul International Film Festival. She has worked on many independent documentaries and narrative films in the US, Germany and Turkey. She has extensive international producing credits for many commercial production companies including RIDLEY SCOTT & ASSOCIATES. When she worked on the PBS/BBC documentary The Great War as a researcher and coordinator, she did extensive work with the Ottoman Archives in Turkey. She has also produced and directed a short documentary, Global Friendship, for the Space Camp Turkey in Izmir and Global Friendship Foundation in Los Angeles. Binnur produced and directed Searching for Paradise, a documentary about cultural identity, which won the Best Documentary awards at the Moondance International Film Festival and WinFemme Film Festival in 2002. Searching for Paradise, mostly shot in Istanbul, is a film about living between the East and the West; Islam and Christianity; the demands of tradition and the urgency of the present. She is currently working on several documentaries about modern Turkey and the Ottoman Empire and a narrative feature that takes place in Turkey. (3/11)
Subject Areas
RELATED LINKS
YOU MIGHT ALSO BE INTERESTED IN
Shopping Cart