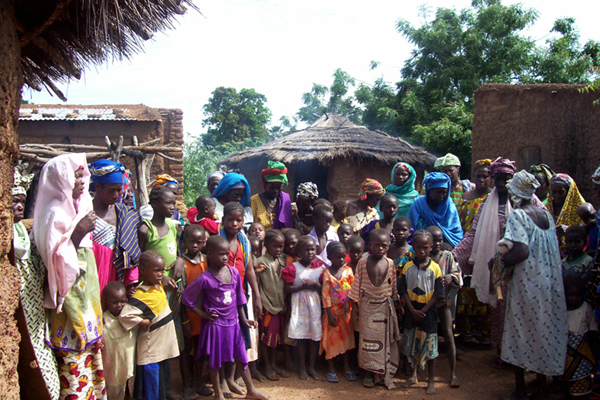 U.S./Mali | 2009 | 60 minutes | Color | DVD | Bambara, French | English subtitles | Order No. 09974
SYNOPSIS
Mrs. Goundo is fighting to remain in the United States. But it's not just because of the ethnic conflict and drought that has plagued her native Mali. Threatened with deportation, her two-year-old daughter could be forced to undergo female genital mutilation (FGM), like 85 percent of women and girls in Mali. Using rarely cited grounds for political asylum, Goundo must convince an immigration judge that her daughter is in danger. Sensitive and moving, this important film reveals how women are profoundly affected by the legal struggles surrounding immigration. As issues of asylum, international law and human rights collide with FGM and its devastating health consequences, filmmakers Barbara Attie and Janet Goldwater travel between an FGM ceremony in a Malian village, where dozens of girls are involved, to the West African expatriate community of Philadelphia, where Mrs. Goundo challenges beliefs and battles the American legal system for her child's future.
PRESS
"An invaluable teaching tool…A 'must-see' for women's rights, human rights, and immigration law teachers, lawyers, students, and organizers."
"Eye-opening...Examines both sides of the issue without judgment or condescension by letting those closest to the subject matter do the talking."
"Very moving…Sure to generate dialogue and debate both on FGM and current immigration policy. A must-have documentary relevant for a range of disciplines and classes."
"Packs a sharp punch equal to that of films twice its length…. The filmmakers seamlessly weave together parallel storylines….. the soul-sickening footage of anxious-eyed little Malian girls post-excision that makes Mrs. Goundo's point more succinctly than words ever could."
"Gracefully depicted and painstakingly observed."
"The filmmakers skillfully interweave the legal case, interviews with 'excisers' in Mali, and candid discussions with Mrs. Goundo and her Malian girlfriends."
"Heart-wrenching testament to the integrity and solidarity of women in the face of staggering adversity…. humanist filmmakers Barbara Attie and Janet Goldwater demonstrate a nerve-shredding talent for cinematic juxtaposition… that avoids feeling trivial."
"...it is the best film I have seen on the subject of female genital cutting (FGC), presenting different sides of this controversial issue starkly and sensitively."
"…a strong addition to classes in law, immigration, human rights, women's rights, and globalization."
SCREENING HIGHLIGHTS AND AWARDS
Winner, Best Social Documentary, 2011 Addis International Film Festival
New York Human Rights Watch International Film Festival
Urbanworld Film Festival
Silverdocs Documentary Festival
London Human Rights Watch International Film Festival
ABOUT FILMMAKER(S)
Barbara Attie
Barbara Attie has worked with Janet Goldwater for many years. They are recipients of the Pew Fellowship in the Arts. Since 1990, Attie and Goldwater have collaborated on award-winning documentaries for national and international broadcast.

Barbara Attie produced and directed, DARING TO RESIST (with Martha Lubell), about three teenage girls in the anti-Nazi resistance, narrated by Janeane Garofalo. Broadcast nationally on PBS in 2000 and distributed by Women Make Movies. She also produced RUFUS JONES: A LUMINOUS LIFE (with Sharon Mullally, 2001), a profile of a leading Quaker who co- founded the American Friends Service Committee. Lastly, Attie produced SKIN AND INK with Maureen Wellner and Nora Monroe, 1989), an exploration of the tattoo culture.

Attie studied architecture and worked as a medical photographer before earning an MFA in film and media arts from Temple University in 1996. (8/14)
Janet Goldwater
Janet Goldwater has collaborated with Barbara Attie on award-winning documentaries for national and international broadcast, as well as wide-spread educational and advocacy use, since 1990. From the start, their work focused on women and girls and the complex health and social justice issues facing them. It has been their mission to use the documentary medium to empower and educate women and girls and gain support for their empowerment through awareness in the larger community. We have developed a deep sense of responsibility to the communities affected by the issues in our films. During production we seek to employ members of the communities we depict and empower these individuals to represent the documentary, and the issues, in the years following completion. In 2005, Goldwater and Attie were awarded a joint Pew Fellowship in the Arts. They have also been honored with the Leeway Transformation Award, Pennsylvania Council on the Arts Fellowships and many documentary festival awards. They have four national PBS broadcasts to their credit. In February 2011, MRS. GOUNDO'S DAUGHTER, a searing documentary about a Malian woman seeking asylum in the US to protect her daughter from female genital cutting, was broadcast nationally as part of PBS' AfroPop series and continues to screen at human rights festivals and in classrooms around the world. Rosita, the story of a 9-year-old Nicaraguan girl whose rape and pregnancy resulted in a political and religious uproar that resonated across Latin America, was broadcast on HBO Latin America. MAGGIE GROWLS, a whimsical biography of Gray Panther founder Maggie Kuhn, was selected to launch PBS' Independent Lens series in 2003. Other films include LANDOWSKA: UNCOMMON VISIONARY; 
I WITNESS: SHOT DOWN IN PENSACOLA; and MOTHERLESS: A LEGACY OF LOSS FROM ILLEGAL ABORTION. Goldwater earned a BA in art history from New College and an MFA in photography and graphic design from Boston University. Before beginning a filmmaking collaboration with Attie in 1990, she worked and taught as a photographer and graphic designer. (8/14)
YOU MIGHT ALSO BE INTERESTED IN
Shopping Cart