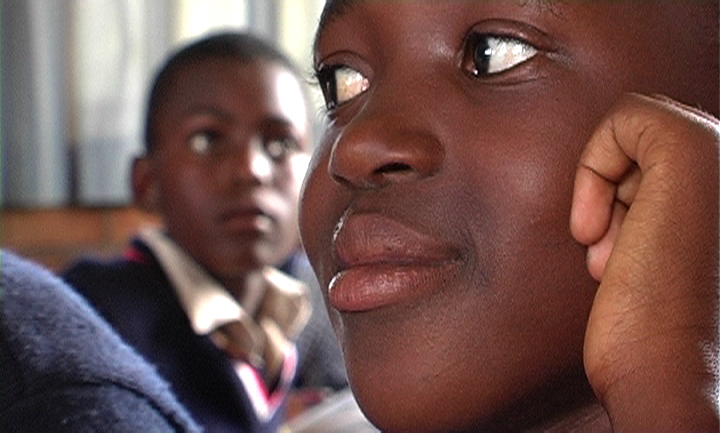 Spain/Africa | 2009 | 52 minutes | Color | DVD | Shona | Subtitled | Order No. 111042
SYNOPSIS
AFRICA IS A WOMAN'S NAME provides an opportunity for three of Africa's leading filmmakers to tell their own country's stories through the lives of the powerful women working to create change. Veteran filmmakers Wanjiru Kinyanjui, from Zimbabwe, and Bridget Pickering, from South Africa, join Kenyan Ingrid Sinclair, director of the critically acclaimed feature film FLAME, to profile three diverse women who eloquently demonstrate the power of women. Amai Rose, a Zimbabwean housewife and businesswoman, Phuti Ragophala, a dedicated school principal in one of South Africa's poorest communities, and Njoki Ndung'u, a human rights attorney and member of Kenya's parliament, tell their individual stories, reflecting upon their own achievements and failures as well as needed initiatives for women and children in their respective societies. Their richly textured self-portraits reveal the gender revolution under way among sub-Saharan women of different backgrounds and origins who are determined to transform their daily realities and the conditions of their lives.
PRESS
"Presents the lives of three extraordinary African women from different social levels and origins determined to bring about radical transformations in their day-to-day realities [and] reflect on their own transformations as women being key to interpreting their power."
"Female power is embodied in the lives of [these] remarkable African women."
"Highly Recommended… addition to high school and college libraries to support programs in anthropology, African studies and women's studies."
SCREENING HIGHLIGHTS AND AWARDS
Bermuda International Film Festival
Thessaloniki International Film Festival, Greece
Women of the Sun Film Festival, Johannesburg
African Diaspora Film Festival, New York
Women in Film International, Miami
Afrika Eye Film Festival, UK
CultureUnplugged.com Online Film Festival
ABOUT FILMMAKER(S)
Ingrid Sinclair
Ingrid Sinclair, born in the UK studied Literature and Medicine in England. Sinclair studied filmmaking and film production in South Africa. Ingrid Sinclair's film "Flame" (1996) gave her recognition as a filmmaker of the African Renaissance. Her documentaries on the Zimbabwe Liberation Movement have received praise internationally, including at the Cannes Film Festival. (3/11)
Bridget Pickering
Co-producer of famed Hollywood film HOTEL RWANDA and director of more than twenty documentaries, Bridget Pickering is an acclaimed presence in the film world. Pickering studied television and political science at Syracuse University. In 1992, Pickering created her own production company, On Land Productions. On Land Productions is based in Namibia and is dedicated to promoting Namibia's independent film market. Pickering's films have been released in several countries and screened in the United States. Her short film, UNO'S WORLD aired on PBS as part of their Mama Africa series in March 2003.

Pickering's films have been included in both the Zanzibar Film Festival and Rotterdam Film Festival. (7/12)
Wanjiru Kinyanjui
Born in 1958 in Nairobi, Kenya, Kinyanjui attended the German Film and Television School in Berlin to study German Literature. During her time in Berlin, Kiryanjui was exposed to African films. Her desire to retell African stories led her to study filmmaking in Berlin.

Kinyanjui's films are inspired by the world around her - from daily conversations, to folktales, to social issues such as equal rights and poverty. Kinyanjui's films are considered to be part of the Riverwood movement, Kenya's version of Nollywood Film. Through her films, Kinyanjui hopes to confront Kenyan audiences with an accessible depiction of everyday life.

In addition to filmmaking, Kinyanjui also teaches filmmaking at Kenyatta University. Kinyanjui's presence in Kenya as an artist and a mentor is responsible for creating Kenya's up and coming film culture. (3/11)
YOU MIGHT ALSO BE INTERESTED IN
Shopping Cart