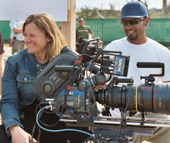 2008 | 54 minutes | Color | DVD | English | Subtitled | Order No. 09963
Featuring more than 50 camerawomen from around the world, SHOOTING WOMEN, by pioneering filmmaker and cinema studies professor Alexis Krasilovsky, celebrates the amazing talent and unflinching spirit of image-making women from the sets of Hollywood and Bollywood to the war zones of Afghanistan.
YOU MIGHT ALSO BE INTERESTED IN
Girl From God's Country: The History of Women in Film and Other War Stories
GIRL FROM GOD'S COUNTRY is the untold story of the first female independent filmmaker and action-adventure heroine, Nell Shipman (1892-1970), who left Hollywood to make her films in Idaho.
Learn more
Shopping Cart