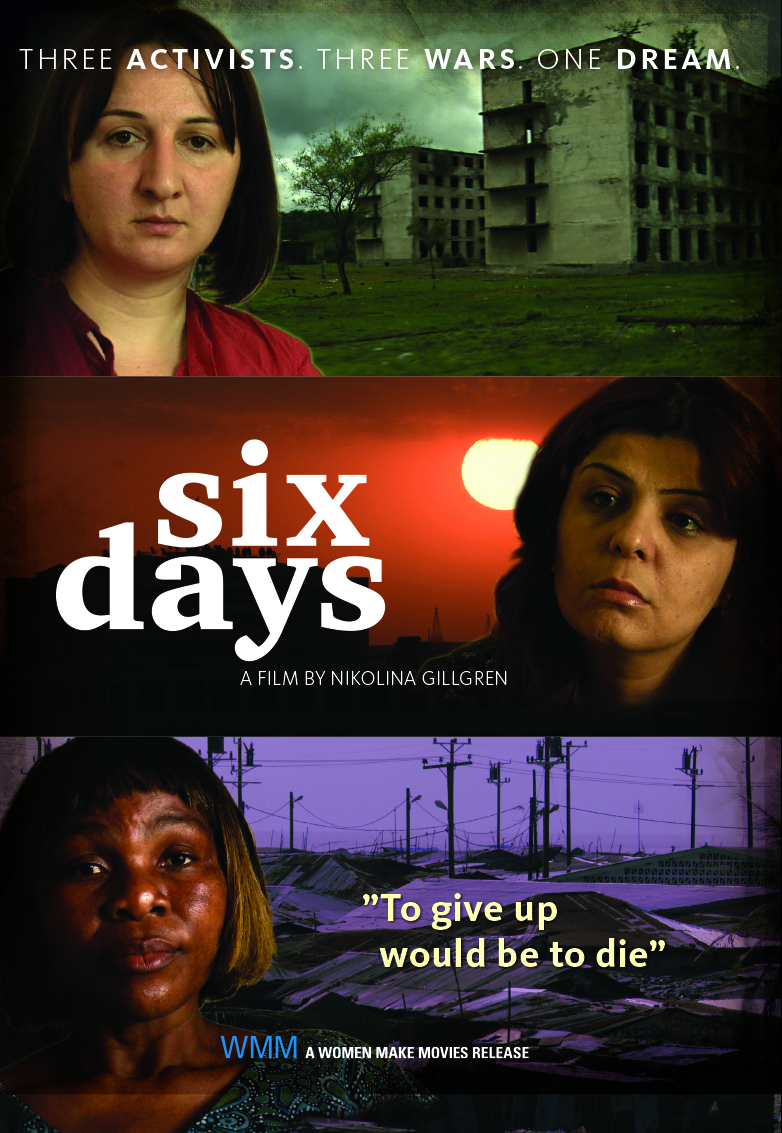 Six Days: Three Activists, Three Wars, One Dream
Sweden | 2013 | 56 minutes | Color | DVD | Abkhaz, Sorani Kurdish, Mengrelian | Subtitled | Order No. 141134
SYNOPSIS
This inspiring documentary, which follows three brave human rights defenders in Liberia, Abkhazia, Georgia and Iraq over six days, gives insight into the everyday struggle to improve the situation of women worldwide. SIX DAYS shines a necessary light on some of the most urgent and important human rights issues facing women today: girls education, honor killings, bride kidnappings and women's health issues. Giving refuge and voice to women beaten, burned and threatened with death by their families, journalist Lanja, fearlessly challenges honor killings and domestic violence in Iraq's Kurdish region. Nelly runs a cooperative and shelter in Monrovia, Liberia's slums so that impoverished women can learn to read and earn money for their families. And in the breakaway republic of Abkhazia, Georgia, Maia, director of a women's health group fighting for women's sexual rights, brings medical care to women and girls in remote Caucasus villages while battling "bride kidnappings" and other archaic customs that lead to forced marriage. As it follows these three remarkable women, thousands of miles apart, SIX DAYS bears witness to their unwavering, shared commitment to women's education, empowerment and dreams of a better life. An important film for those who wish to understand the challenges facing women in developing countries around the world and how feminism continues to help improve womens' lives.
PRESS
"***...A solid tribute to three women who are making a difference in the face of tough circumstances, this is recommended."
"(A) political tool that can be used for advocacy…to improve the situation for women's rights defenders."
"A universal story of women's courage and survival in the aftermath of war."
SCREENING HIGHLIGHTS AND AWARDS
Int'l Human Rights Film Festival, Albania
ABOUT FILMMAKER(S)
Nikolina Gillgren
Swedish film director Nikolina Gillgren is a graduate of the Stockholm Academy of Dramatic Arts. As a documentary filmmaker, she was commissioned by Swedish Public Service Television to direct "En stund med", a series of nine short documentaries for children, and "Mod", a series of three documentaries about three children's worst fears and the courage it takes to overcome them. Nikolina has also made several works of fiction, including the stop-motion animated short film "Ritalin", selected for Diesel New Art, the Stockholm Film Festival and the Taiwan International Animation Festival, and the short film "Nine-ball" distributed by TCM Channel and selected as a finalist for the TCM Classical Short Films Awards in London. Six Days is her first full length documentary. (5/14)
YOU MIGHT ALSO BE INTERESTED IN
Shopping Cart