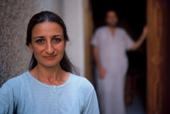 Australia/Iraq | 2006 | 52 minutes | Color | DVD | Arabic | Subtitled | Order No. 09935
SYNOPSIS
MY HOME – YOUR WAR offers an extraordinary look at the effect of the Iraq war through the eyes of an ordinary Iraqi woman. Shot in Baghdad over three years that span the time before, during and after the invasion of Iraq, this profoundly moving film brings a perspective that – until now – has rarely been available to U.S. audiences. This film combines insightful interviews with Layla Hassan and her family, vibrant scenes of Baghdad and intimate footage shot by Layla herself to paint a compelling picture of how the war has affected average Iraqis. As Islamic fundamentalism takes hold in the chaos of Baghdad, her shy teenage son turns to militancy, her once-progressive sister dons the veil, and whatever freedom Layla once had under Saddam Hussein's secular rule is steadily being eroded. While facts about the Iraq war garner much U.S. media attention, My Home – Your War is a deeply compelling account of something seldom discussed: how the Iraq war has created a situation where the rise of fundamentalism is putting women's rights increasingly at risk.
PRESS
"Not only an important contemporary historical document…[but] also a personal account of how Iraqi women have become the first casualties of a democracy denied."
"A vivid portrayal of Iraq, not from the familiar perspective of Western media, but from the perspective of a Sunni Muslim woman who is living through the war in the fringes of Baghdad."
"Thwarts prevailing neoconservative assertions that the U.S. invasion and occupation of Iraq are justified means of 'liberating' Muslim women."
"Highly Recommended. 4 Stars, Editor's Choice. Extraordinary. Stands out within the fast expanding world of Iraq-based documentaries."
SCREENING HIGHLIGHTS AND AWARDS
Gold World Medal, Best Doc in NY
European Independent FF, Best Int'l Doc
AU TV ATOM, Best Doc: Social & Political Issues
Australian TV ATOM, Best Doc: Human Story
Michigan Womyn's Music Festival
Mumbai International Film Festival
WT Os International Film Festival, Oslo, Norway
Global Peace Film Festival, Florida
Human Rights Film Festival, Kwangju, South Korea
Women's International Film Festival, Seoul, Korea
DeReel Independent Film Festival
ABOUT FILMMAKER(S)
Kylie Grey
Kylie started her working life has a radio journalist at the age of 19 and has been making films about human rights and social issues for the past seven years.

Her work as a journalist has taken her to Iraq, Bangladesh, Argentina, The Philippines, Romania, Mozambique, East Timor, Sri Lanka and many more of the world's flashpoints.

Her first film, CHILD PRISONERS IN THE PHILIIPPINES has been screened around the world and was official selection at the Ghangzou Documentary festival in China in 2004.

Her film, CHILD TRAFFICKING - CAMEL JOCKEYS in the Middle East screened on ABC Television Australia and was subsequently awarded the gold world medal in the social issues category at the 2004 New York Film Festival.

For three years, she followed the life of Layla Hassan, a Baghdad woman and her family during the conflict in Iraq. The resulting film, MY HOME YOUR WAR, screened on SBS Television Australia in April 2007 on SBS's Cutting Edge program to rave reviews and excellent ratings. The film has subsequently won Best Documentary (Human Story) and Best Documentary (Social and Political issues) at Australia's ATOM awards in October 2007. In 2008, it won the Gold World Medal for Best documentary at the New York Film Festival. MY HOME YOUR WAR has been screened at filmed festivals in Europe, Asia and the U.S.

Kylie holds a Bachelor of Arts in Media and Communications and a Masters degree in Social Science. She is passionate about using the medium of film to give audiences in the Western world an insight into the lives, hearts and minds of people in the developing world.

Kylie worked for Aljazeera English television as a producer and video journalist where she made news feature stories in the developing world. Her story on Agent Orange CHILDREN IN VIETNAM won the best single news report in the Asia Awards.

In 2015, Kylie produced a two hour documentary series called HITTING HOME for the Australian Broadcasting Corporation. The series investigated the scourge of domestic violence on women in Australia. The documentary makers were granted extraordinary access inside women's lives as well as the courts, police and prisons that deal with domestic violence on a daily basis. The series has been nominated for two Logie Awards for best factual program and best presenter(Australian television awards).

Kylie is currently developing a documentary on asylum seekers with an Australian production company and is looking forward to making more films about women and the big social issues of our time. (3/16)
YOU MIGHT ALSO BE INTERESTED IN
Service: When Women Come Marching Home
Women make up 15 percent of today's military. That number is expected to double in 10 years. SERVICE highlights the resourcefulness of seven amazing women who represent the first wave of mothers, daughters and sisters returning home from the frontless wars of Iraq and Afghanistan. Portraying the courage of women veterans as they transition from active duty to their civilian lives, this powerful film describes the horrific traumas they have faced, the inadequate care they often receive on return, and the large and small accomplishments they work mightily to achieve. These are the stories we hear about from men returning from war, but rarely from women veterans. Through compelling portraits, we watch these women wrestle with prostheses, homelessness, Post Traumatic Stress Disorder and Military Sexual Trauma. The documentary takes the audience on a journey from the deserts of Afghanistan and Iraq to rural Tennessee and urban New York City, from coping with amputations, to flashbacks, triggers and depression to ways to support other vets. An eye-opening look at the specific challenges facing women veterans with a special focus on the disabled, SERVICE can be used for courses in military studies, women's studies, peace and conflict courses and veteran support groups.
Learn more
Six Days: Three Activists, Three Wars, One Dream
This inspiring documentary, which follows three brave human rights defenders in Liberia, Abkhazia, Georgia and Iraq over six days, gives insight into the everyday struggle to improve the situation of women worldwide. SIX DAYS shines a necessary light on some of the most urgent and important human rights issues facing women today: girls education, honor killings, bride kidnappings and women's health issues. Giving refuge and voice to women beaten, burned and threatened with death by their families, journalist Lanja, fearlessly challenges honor killings and domestic violence in Iraq's Kurdish region. Nelly runs a cooperative and shelter in Monrovia, Liberia's slums so that impoverished women can learn to read and earn money for their families. And in the breakaway republic of Abkhazia, Georgia, Maia, director of a women's health group fighting for women's sexual rights, brings medical care to women and girls in remote Caucasus villages while battling "bride kidnappings" and other archaic customs that lead to forced marriage. As it follows these three remarkable women, thousands of miles apart, SIX DAYS bears witness to their unwavering, shared commitment to women's education, empowerment and dreams of a better life. An important film for those who wish to understand the challenges facing women in developing countries around the world and how feminism continues to help improve womens' lives.
Learn more
Shopping Cart