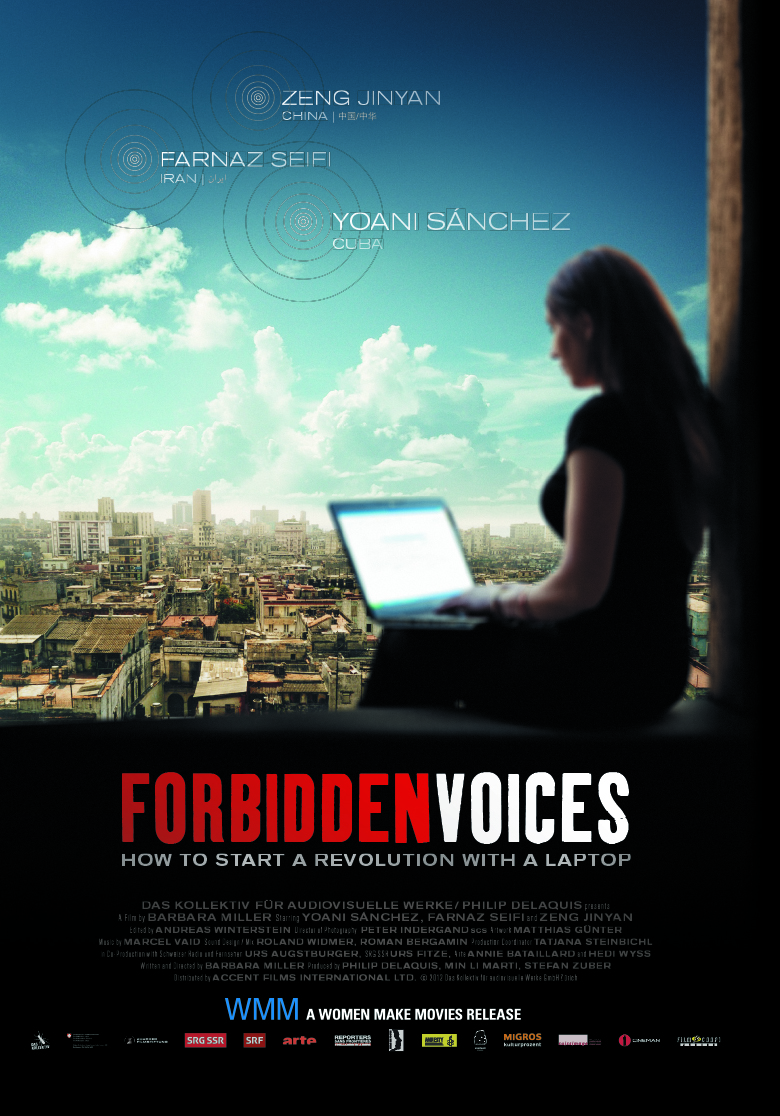 Forbidden Voices: How to Start a Revolution with a Computer
Switzerland | 2012 | 96 minutes | Color | DVD | Subtitled | Order No. 131094 |
SYNOPSIS
Their voices are suppressed, prohibited and censored. But world-famous bloggers Yoani Sánchez, Zeng Jinyan and Farnaz Seifi are unafraid of their dictatorial regimes. These fearless women represent a new, networked generation of modern rebels. In Cuba, China and Iran their blogs shake the foundations of the state information monopoly, putting them at great risk. This film accompanies these brave young cyberfeminists on perilous journeys. Eyewitness reports and clandestine footage show Sánchez's brutal beating by Cuban police for criticizing her country's regime; Chinese human rights activist Jinyan under house arrest for four years; and Iranian journalist and women's advocate Seifi forced into exile, where she blogs under a pseudonym. Tracing each woman's use of social media to denounce and combat violations of human rights and free speech in her home country, FORBIDDEN VOICES attests to the Internet's potential for building international awareness and political pressure.
PRESS
"An incredible moving story of three women bloggers fighting to keep telling the truth. As First Lady Michelle Obama says: "Courage can actually be contagious."
"Tell the truth in a country where there is no freedom of expression? These women use the new media as a weapon against censorship."
"Great numbers of people are dying around the world for daring to speak out. These bloggers... refuse to be intimidated by violence and make a difference with their perseverance."
"The documentary shows beautifully deep sorrow of exile."
"FORBIDDEN VOICES is a compelling and deeply disturbing documentary that makes those of us who freely sit at our laptops and type realize how much we take for granted, and how powerful these women's voices are..."
"FORBIDDEN VOICES is a case of cinematic journalism at its finest. 4.5 stars"
SCREENING HIGHLIGHTS AND AWARDS
San Sebastian Human Rights Film Festival, Amnesty International Award
Nomination, A Matter of ACT, Movies that Matter Film Festival
Toronto, WACC-SIGNIS Human Rights Award
Nomination, Swiss Film Award, Best Documentary
Nomination Prix Soleure Solothurner Filmtage, Swiitzerland
One World Film Festival
Seattle International Film Festival
Thessaloniki Documentary Festival
FEMCINE Chile
International Documentary Film Festival Amsterdam (IDFA)
Movies That Matter, The Netherlands
Vision du Reel
Sierra Leone Human Rights Film Festival
Sarasota Film Festival
San Sebastian Human Rights Festival
PÖFF, Tallinn Black Nights Film Festival, Tallinn
The Frontline Club
Northside Festival, Brooklyn
Brooklyn Film Festival
Encounters: South African International Documentary Festival
Subject Areas
RELATED LINKS
YOU MIGHT ALSO BE INTERESTED IN
Shopping Cart