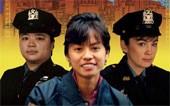 Tea & Justice
NYPD's 1st Asian Women Officers
2010 | 55 minutes | Color | DVD | Order No. 101001
SYNOPSIS
TEA & JUSTICE chronicles the experiences of three women who joined the New York Police Department during the 1980s—the first Asian women to become members of a force that was largely white and predominantly male. In this award-winning documentary, Officer Trish Ormsby and Detectives Agnes Chan and Christine Leung share their fascinating stories about careers and personal lives, as well as satisfactions and risks on the job, the stereotypes they defied, and how they persevered. Intrigued by the image of Asian women in a non-traditional profession, filmmaker Ermena Vinluan explores her own mixed feelings about cops while honoring the challenges Ormsby, Chan and Leung embraced, and the far-reaching changes they helped bring about. Interviews with ordinary New Yorkers, leading advocates of law enforcement reform, and anti-police abuse activists consider proposed changes in police culture and explain how women's preventive policing style, based on communication, contrasts with more reactive, physically forceful methods used by men. Humorous cartoons, lively graphics depicting cultural icons of strong Asian women, and original music enhance this nuanced study of race, gender, and power.
PRESS
"Tea & Justice [proves] that increasing the number of women in policing at all ranks is a strategy to reduce police excessive force, strengthen community policing reform and improve police response to violence against women."
"Demonstrates better than any research study, the critical importance of diversity and gender equity to successful police."
"A potent recruitment tool for police agencies making their best efforts of outreach to communities of color."
"Bold, sensitive, passionate, analytical and iconoclastic…Asian American culture and women can make a difference in the way policing is done."
"A heartfelt documentary showing why diversity is critical for society to progress."
"Highly Recommended. A mix of documentary footage, family photos and clever graphics...a profoundly moving story of three extraordinarily brave, pioneering women"
SCREENING HIGHLIGHTS AND AWARDS
Queens International Film Festival, Best Documentary
Sacramento Film & Music Film Festival, Audience Award: Best Documentary
Beloit International Film Festival
Austin Asian International Film Festival
Houston Asian Pacific Film Festival
ABOUT FILMMAKER(S)
Ermena Vinluan
Producer-Director Ermena Vinluan produced the award winning 16mm dramatic short, "Frog Baby" (John Outcalt, director). She was script consultant for Su-City Pictures then worked as Kuzui Enterprises' office manager, assisting in film acquisitions for Japan and in post-production for the company's 35mm feature, "Tokyo Pop" (Fran Rubel Kuzui, director). She also produced concerts and records for Paredon Records (now in the Smithsonian Institute collection); was Associate Director of the U.C. Berkeley Jazz Program; and Artistic Director for California-Hawaii-based Sining Bayan community theatre group. She was on the board of directors of FilCRA/Filipino Civil Rights Advocates prior to her death in 2018. (08/18)
YOU MIGHT ALSO BE INTERESTED IN
Shopping Cart