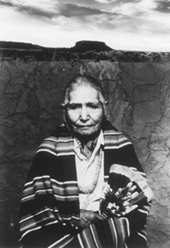 1995 | 45 minutes | Color | DVD | Order No. 99429
SYNOPSIS
With provocative imagery and spirited juxtapositions, THE DESERT IS NO LADY looks at the Southwest through the eyes of its leading contemporary women artists and writers, including author Sandra Cisneros. The nine women profiled are Pat Mora (poet), Sandra Cisneros (writer), Lucy Tapahonso (poet), Emmi Whitehorse (painter), Harmony Hammond (painter), Meridel Rubinstein (photographer), Nora Naranjo Morse (sculptor), Pola Lopez de Jaramillo (painter) and Ramona Sakiestewa (tapestry artist). The Southwest is a border territory - where cultures meet and mix - and the work of these nine women from Pueblo, Navajo, Mexican-American and Anglo backgrounds reflects its special characteristics. THE DESERT IS NO LADY is a vibrant celebration of the diversity of women's creativity and changing multicultural America. "An inspiring tapestry of history, imagination and daily life. I highly recommend it." - Vicki L. Ruiz, Arizona State University
PRESS
"***1/2 Highly recommended. Visually stunning, the film features broad vistas and small artistic details."
"...this film will be invaluable in courses in women's studies, American literature and art, and ethnic studies."
SCREENING HIGHLIGHTS AND AWARDS
San Antonio Film Festival - Best Documentary
Internationale Biennale du Films Sur L'Art - Opening Night Film
Rocky Mountain Film Festival - Opening Night Film
Montreal Festival for Films on Art
The Art Film Festival Trencianske, Teplice, Slovakia
Cinewomen Festival, Norwich, England
Arizona Film Festival
ABOUT FILMMAKER(S)
Shelley Williams
Award-winning film and TV director and producer Shelley Williams collaborates with artists, philosophers, ecologists, dancers, writers and neuroscientists to create entertaining & inspiring work for cinema, TV, exhibition & performance.

Her work in fiction and documentary seeks out the space 'in-between' to give visual form to a more balanced view of the world, one that engages both left and right hemispheres. The audience is invited to go beyond the rational mind and connect directly with the reservoir of intuition, myth, innate wisdom and spirit.

With a keen ability to tell stories that tap into universal truths, she visualizes that which often isn't seen, said or consciously understood. This passion for creating beyond the boundaries together with visual flair combine to realize work of high imagination.
She seeks to inspire and empower an audience to embrace a transformative, shamanic vision of the human and non-human aspects of the world, synthesizing the elements of matter and spirit, art and science, mind and body. She most definitely honors the gift as well as the servant. (8/14)
Subject Areas
RELATED LINKS
YOU MIGHT ALSO BE INTERESTED IN
Apache 8
For 30 years, the all-female Apache 8 unit has protected their reservation from fire and also responded to wildfires around the nation. This group of firefighters, which recently became co-ed, soon earned the reputation of being fierce, loyal and dependable—and tougher than their male colleagues. Facing gender stereotypes and the problems that come with life on the impoverished reservation, the women became known as some of the country's most elite firefighters. From director Sande Zeig and executive producer Heather Rae (Cherokee), APACHE 8 combines archival footage and present-day interviews and focuses primarily on four women from different generations of Apache 8 crewmembers, who speak tenderly and often humorously of hardship, loss, family, community and pride in being a firefighter. The women are separated from their families, face tribe initiation, and struggle to make a living in a community ravaged by unemployment and substance abuse. But while the women may have initially set out to try and earn a living in their economically challenged community, they quickly discover an inner strength and resilience that speaks to their traditions and beliefs as Native women.
Learn more
Skydancer
Renowned for their balance and skill, six generations of Mohawk men have been leaving their families behind on the reservation to travel to New York City, to work on some of the biggest construction jobs in the world. Jerry McDonald Thundercloud and his colleague Sky shuttle between the hard drinking Brooklyn lodging houses they call home during the week and their rural reservation, a gruelling drive six hours north, where a family weekend awaits. Their wives are only too familiar with the sacrifices that their jobs have upon family life. While the men are away working, the women often struggle to keep their children away from the illegal temptations of this economically deprived area. Through archival documents and interviews, Academy Award®-nominated director Katja Esson (FERRY TALES, LATCHING ON) explores the colorful and at times tragic history of the Mohawk skywalkers, bringing us a nuanced portrait of modern Native American life and a visually stunning story of double lives.
Learn more
Shopping Cart