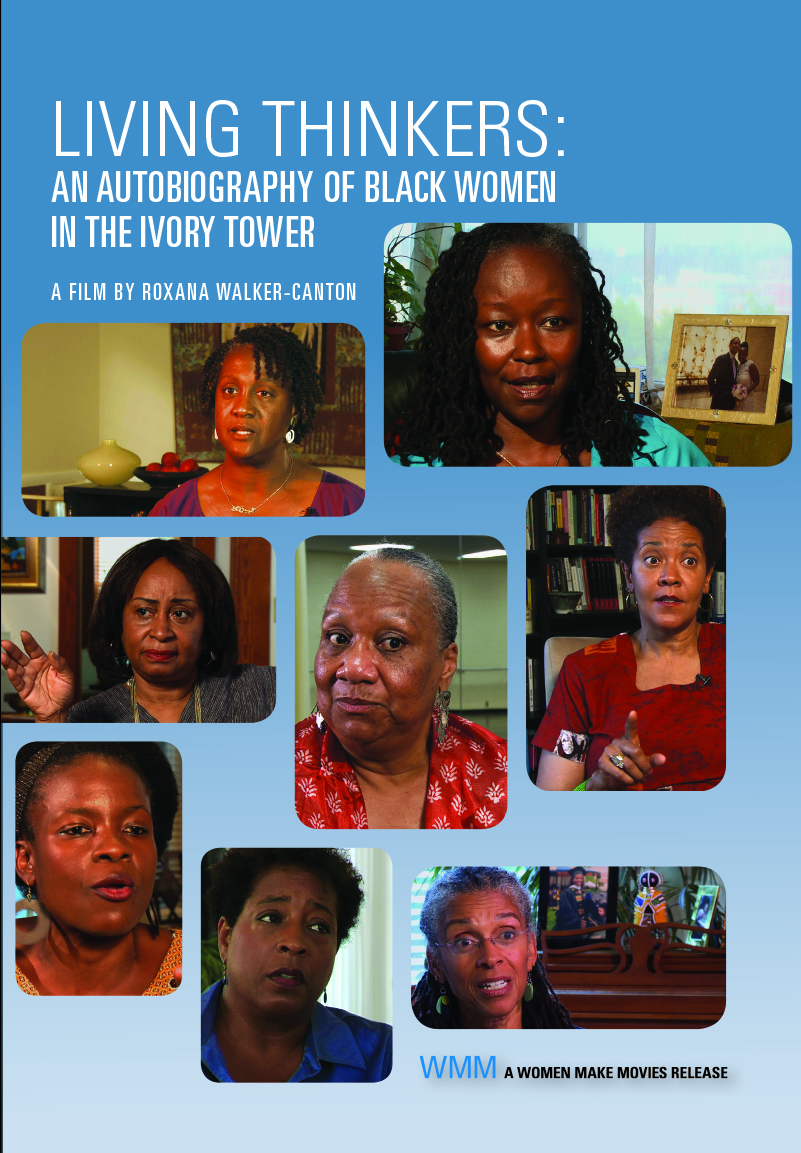 Living Thinkers: An Autobiography of Black Women in the Ivory Tower
2013 | 75 minutes | Color | DVD | Order No. 141143
SYNOPSIS
LIVING THINKERS: AN AUTOBIOGRAPHY OF BLACK WOMEN IN THE IVORY TOWER examines the intersection of race, class and gender for Black women professors and administrators working in U.S. colleges and universities today. Through their diverse narratives, from girlhood to the present, Black women from different disciplines share experiences that have shaped them, including segregated schooling as children, and the trials, disappointments and triumphs encountered in Academia. Though more than 100 years have passed since the doors to higher education opened for Black women, their numbers as faculty members are woefully low and for many still, the image of Black women as intellectuals is incomprehensible. And while overtly expressed racism, sexism and discrimination have declined, their presence is often still often unacknowledged. Through frank and sometimes humorous conversations, this documentary interrogates notions of education for girls and women and the stereotypes and traditions that affect the status of Black women both in and out of the Academy. A perfect companion film for any classroom discussion on the intersection of racism, sexism and/or feminism.
PRESS
"These thoughtful and nuanced studies should be mandatory viewing for every department chair and administrator in academia. There is so much to learn, and we have so far to go."
"LIVING THINKERS reveals the trials, the disappointments and the triumphs of becoming Black women professors in the U.S."
"The documentary pushes us to consider the myriad issues of race, racial identity, class, and gender roles in a way that is much needed."
SCREENING HIGHLIGHTS AND AWARDS
BlackStar Film Festival, Audience Choice Award for Documentary
Reel Sisters of the Diaspora Film Festival
Martha's Vineyard African American Film Festival
ABOUT FILMMAKER(S)
Roxana Walker-Canton
Roxana Walker-Canton is an award-winning independent documentary-maker and video installation artist. She earned her B.A. from Spelman College in Atlanta, GA, an M.A./M.F.A. in Black Studies and English/Creative Writing from The Ohio State University in Columbus, OH, and an M.F.A. in Film and Media Arts from Temple University in Philadelphia, PA. She is the director of The Living Thinkers Project and served as the producer/director/co-editor of Living Thinkers: An Autobiography of Black Women in the Ivory Tower, the documentary, which won the Audience Choice Award for Documentary at the 2013 BlackStar Film Festival in Philadelphia and was a finalist for the HBO Award for Documentary at the 2013 Martha's Vineyard African American Film Festival. She installed Living Thinkers - Harriet Jacobs' Attic and Living Thinkers - Harriet Jacobs' Attic 2, two video installations connecting contemporary Black women's education narratives to the 19th century slave narrative written by Harriet Jacobs. Her last documentary about post-Hurricane Katrina New Orleans titled Belly of the Basin won First Place for Documentary at the Hollywood Black Filmmakers Festival 2008 and screened at numerous festivals and universities across the country. She has received numerous grants and has presented her work nationally and internationally at festivals, conferences and universities. She teaches Documentary Production, Screenwriting and African American Cinema. She is married to history professor David A. Canton and has three children, Imani, Kefentse, and Montsho. (5/14)
Subject Areas
RELATED LINKS
YOU MIGHT ALSO BE INTERESTED IN
Shopping Cart