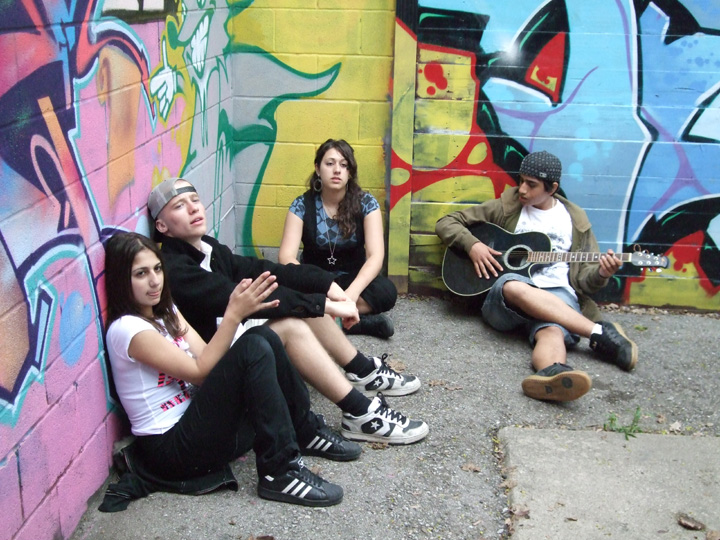 Wired for Sex, Lies and Power Trips
It's a Teen's World
Canada | 2009 | 45 minutes | Color | DVD | Order No. 101002
SYNOPSIS
An inside look at the culture of sexual harassment and bullying widespread among many teens today, this unique and compelling program examines the price that adolescents, especially girls, pay to be cool, hip and popular in our brave new wired world. Questioning and confronting their own and each other's stereotypes and assumptions, three different groups of culturally diverse teenagers share personal stories of navigating their hyper-sexualized, high-tech environment, where the online posting of racy photos, raunchy videos, and explicit gossip and lies, is as commonplace as bombardment by provocative media messages that degrade and objectify women. In its unflinching exposé, the film takes us on a journey that includes candid personal interviews and diary excerpts, images from computer screens and youth nightclubs, and clips from short fictional films that the three group's members have made about sexual and social pressures on their lives. Told through the authentic voices of teens, this essential tool for promoting awareness and change is must-see viewing for school and youth groups, media studies and women's studies educators, educators, counselors, parents, and health care professionals.
PRESS
"Gives a human face to the alarming statistics that researchers are accumulating on the high incidence of sexual harassment, cyberbullying, and sexual pressures that are a fact of life for many teenagers."
"A powerful film told through the voices of teens who sound the alarm on the influence of the Internet, media and pop culture in their hyper-sexualized social world."
"A brutally honest look at the world of the modern teenager, in which boys have come to believe that sexual harassment is just harmless fun, and girls have been sold a sexual image of themselves that is one step away from serfdom."
"Alarmingly raw and candid…Exposes such a disturbing underworld of teen life."
"Lynn Glazier is a pioneer in moving into youths' worlds to reveal what we as adults seldom see or consider…This documentary is essential viewing for anyone involved in the lives of adolescents. It provides an unprecedented glance into the confusing, pressure-cooker sexual worlds of teens in every class, school and community."
"A frank and open discussion about such a highly sexualized culture our teens are growing up in, and the impact it has on them is much needed...[an] invaluable resource for teens, their parents, educators, and the wider community."
"Recommended…a good choice for instructors who want to lead discussions or create assignments dealing with the impact of sexuality in popular culture and on the Internet on teens."
SCREENING HIGHLIGHTS AND AWARDS
Winner of the Aegis Award
ABOUT FILMMAKER(S)
Lynn Glazier
Lynn Glazier's career as a documentary director, producer and writer spans 25 years.

She directed the acclaimed feature documentary IT'S A GIRL'S WORLD (2004) for the National Film Board of Canada. The film has won the prestigious Silver Chris Award at the Columbus International Film and Video Festival, the Award of Excellence from the Association of Media and Technology in Education in Canada, and the Silver Plaque in Education at the Chicago International Film Festival. The film has also garnered international attention in New Zealand, Australia, the US, and in Japan where it was seen in theatres.

In addition, Lynn has created six educational modules about social bullying and has been in demand as a speaker on the issue to teachers, parents and students. She also produced a three-hour documentary series on the subject of social bullying among girls and women for CBC Radio's national program of contemporary thought, "Ideas" and won "Program of the Year" in the CBC national radio competition.

Other film credits include producing BOXING: IN AND OUT OF THE RING (2001), a feature length independent documentary investigating the corrupt world of professional boxing, for the A&E Network, TVO and Sky TV in Britain. The program was nominated for a Rocky Mountain Award at the Banff Television Festival and a Gemini Award for best sports program.

Lynn has also co-produced investigative television documentary programs for CBC TV's "the fifth estate" and co-produced the first two episodes of the landmark CBC TV documentary series "Canada: A People's History".

Her publicly and critically acclaimed work for CBC Radio could be heard for many years on "Sunday Morning". Her cutting-edge documentaries from around the world won numerous national and international awards including four Canadian Association of Journalists awards for investigative journalism; Gold, Silver and Bronze Medals at the New York International Festivals and a Gabriel Award.

Born in Oshawa, Lynn is an Ontario Scholar, and holds an Honours B.A. in English Language and Literature and an M.A. in Journalism, both degrees from the University of Western Ontario. (2/10)
YOU MIGHT ALSO BE INTERESTED IN
Shopping Cart