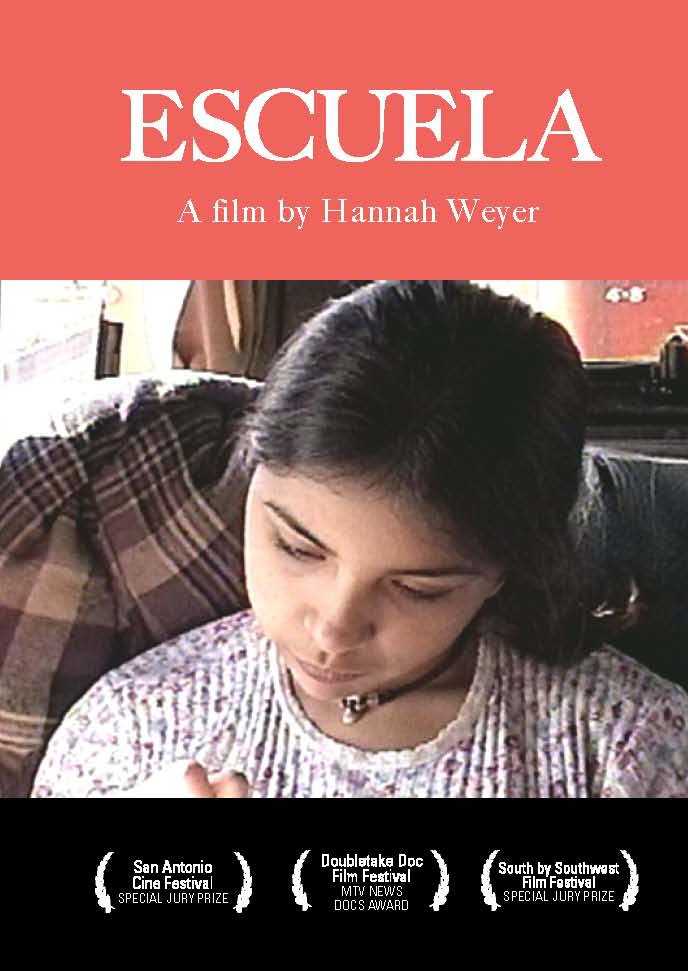 US | 2002 | 53 minutes | Color | DVD | Spanish/English | Subtitled | Order No. 03773
SYNOPSIS
There are over 800,000 students enrolled in migrant education programs in the United States and, of those, only 45-50% ever finish high school. ESCUELA, the sequel to Hannah Weyer's critically acclaimed documentary LA BODA, personalizes these glaring statistics through the honest portrait of a teenage Mexican-American farm worker, Liliana Luis. ESCUELA is a clear-eyed view into the lives of contemporary Mexican American migrants and their struggles to educate their children while obtaining employment. Centered around the life of Liliana, a daughter entering her first year of high school, Hannah Weyer follows the back-and-forth movement of the family between their home in Texas near the borderlands and the California agricultural fields. Despite the best efforts of the school systems to accommodate students like Liliana, the social and emotional life of this young woman is constantly in flux. This is an important work revealing the difficulties of girl life on the border in a way that no textbook could. - Joe Austin, Popular Culture Studies, Bowling Green University
PRESS
"Escuela's calm, candle-like vigilance is remarkably illuminating and deeply affecting. More important, it opens viewers to the lives of people some of us may never come in contact with, and makes us care. "
"In her 2000 documentary La Boda...Hannah Weyer skillfully opened a window onto a family of Texas migrant workers...It did not overtly pull on heartstrings. In fact what was remarkable about the Luis family was the way in which it handled its plight without bitterness or self-pity....Weyer takes us back inside the Luis household, this time to focus on Elizabeth's younger sister and the impact the family's poverty is having on her education."
"Speaking as a veteran migrant educator, the film accurately depicts the plight of highly mobile migrant teenagers who strive to finish high school in spite of the many challenges they face."
"Director Hannah Weyer's haunting "Escuela,"...lays out the problems of such a peripatetic life through the eyes of Liliana Luis. Rather than make sweeping statements, the hour long film simply and effectively presents Luis' experience, as her Mexican American family bounces between Texas and California."
"Classroom shuffle. In 'Escuela,' documentary filmmaker Hannah Weyer evocatively tracks the complicated high school life of teenager Liliana Luis."
SCREENING HIGHLIGHTS AND AWARDS
A 2003 Young Adult Library Services Association (YALSA) Selected DVD for Young Adults
San Antonio Cine Festival - Special Jury Prize
South by Southwest - Special Jury Prize
Double Take Documentary Film Festival - MTV/News/Docs Award
Cine Las Americas Festival
Taos Talking Pictures Film Festival
Tulipanes Latino Film and Arts Festival
Manchester Film Festival
CineSol Latino Film Festival
LadyFest East
Mujerfest Texas
Broadcast Nationally on P.O.V.
ABOUT FILMMAKER(S)
Hannah Weyer
Hannah Weyer is an American filmmaker living in New York who has written, directed and produced narrative and documentary films. Her films have screened at the Human Rights Watch, Sundance and the New York Film Festivals and have won recognitions, including awards from LoCarno, Sundance, Doubletake Documentary and South by Southwest Film Festivals. Her documentaries aired on PBS as part of the POV-American Documentary series and screenwriting credits include work that has premiered on HBO, including Life Support (2007), directed by Nelson George, and which earned a Golden Globe award for its lead actress, Queen Latifah. Most recently, she completed a novel set in Far Rockaway, Queens entitled "On the Come Up" which will be published by Nan Talese/Knoff in July, 2013.

Weyer received her Master's degree in Film from New York University in 1994. Her short film, The Salesman and Other Adventures won awards at the Sundance, Locarno, Melbourne, and Claremont-Ferrand Film Festivals. It was broadcast on Canal+ France, Canal+ Spain, Italy's EDB, Channel 4 in England, and here in the US on PBS.

In 2000, Weyer produced and directed La Boda, an hour long documentary which screened at the Human Rights Watch Film Festival and the New York and Los Angeles Latino Film Festivals. La Boda first aired nationally as part of the PBS program, POV-American Documentary, and then again as an "encore performance" during the series' 2001 line-up.

Weyer then went on to complete, La Escuela which premiered on POV-American Documentary during its 2002 season. La Escuela received Special Jury Prizes from the San Antonio Film Festival and the South by Southwest Film Festival and was awarded the MTV News/Doc Award at the Doubletake Documentary Film Festival. It was selected by the Young Adult Library Services Association (YALSA) as one of 2003's top 10 Documentaries for Young Adults.

Weyer frequently collaborates with writer/director Jim Mckay (Girls Town, Our Song, Everyday People). Along with Mckay she co-wrote the film, Angel Rodriguez (2005) which premiered on HBO. She also co-wrote the HBO film, Life Support (2007), directed by Nelson George.

For the past 15 years, Hannah has worked with teens in the media arts, volunteering at The Door, Scenarios USA, and Reel Works, and, along with filmmaker Jim McKay started an after school film club at a progressive high school in Brooklyn. (8/14)
YOU MIGHT ALSO BE INTERESTED IN
Shopping Cart