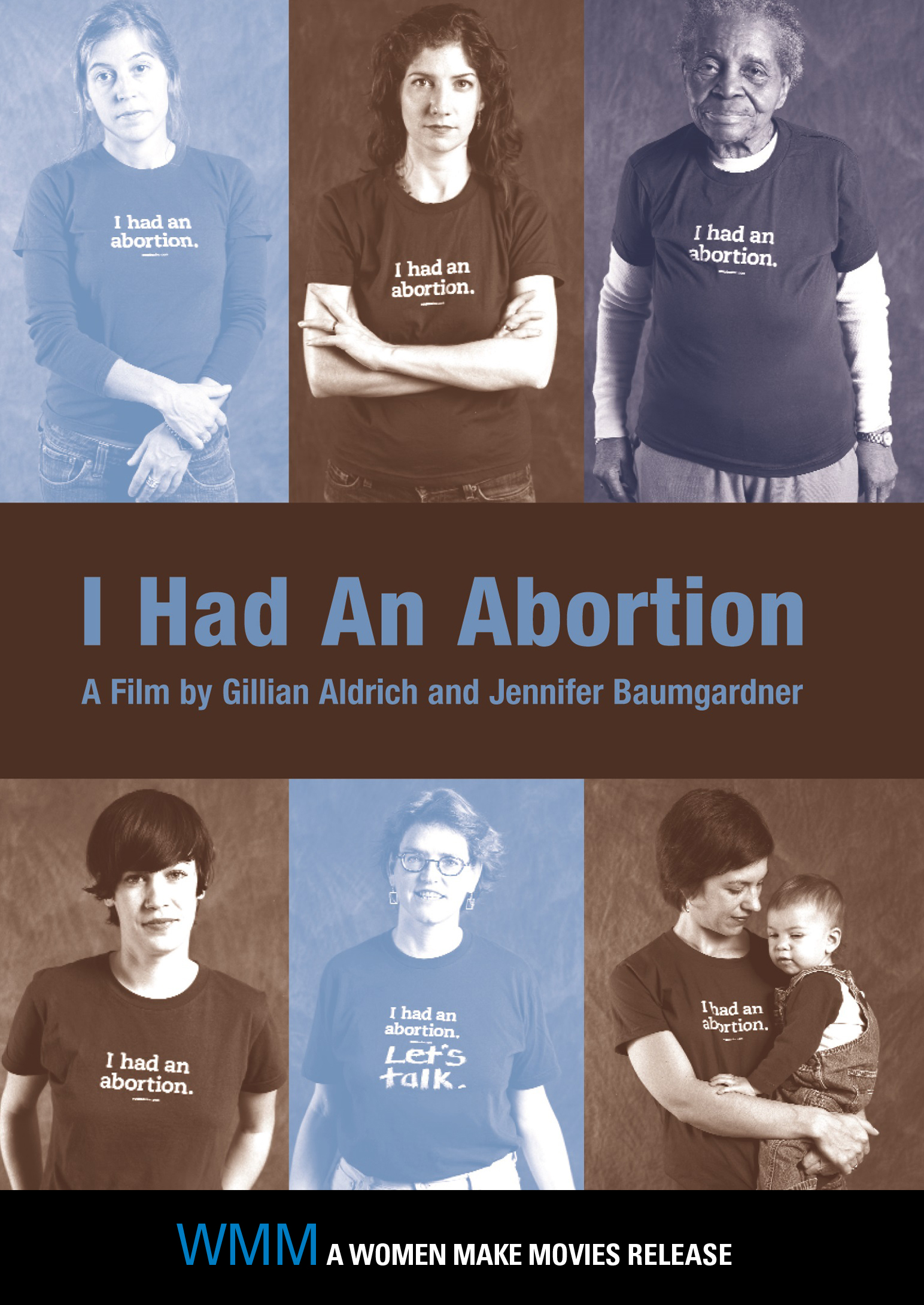 2005 | 55 minutes | Color | DVD | Order No. 07912
SYNOPSIS
Underneath the din of politicians posturing about "life" and "choice" and beyond the shouted slogans about murder and rights, there are real stories of real women who have had abortions. Each year in the US, 1.3 million abortions occur, but the topic is still so stigmatized it's never discussed in polite company. Powerful, poignant, and fiercely honest, I HAD AN ABORTION tackles this taboo, featuring 10 women – including famed feminist Gloria Steinem – who candidly describe experiences spanning seven decades, from the years before Roe v. Wade to the present day. Filmmakers Jennifer Baumgardner (author of Manifesta: Young Women, Feminism, and the Future) and Gillian Aldrich insightfully document how changing societal pressures have affected women's choices and experiences. Cutting across age, race, class and religion, the film unfolds personal narratives with intimate interviews, archival footage, family photos and home movies. Arranged chronologically, the stories begin with Florence Rice, now 86, telling without regret about her abortion in the 1930s. Other women speaking out include Marion Banzhaf, who, inspired by both the Miss America protests and the Stonewall rebellion, fundraised on her campus to pay for her abortion, and Robin Ringleka-Kottke, who found herself pregnant as an 18-year-old pro-life Catholic. With heartfelt stories that are never sentimentalized, I HAD AN ABORTION personalizes what has become a vicious and abstract debate.
PRESS
"Fresh, moving, important…Muriel Rukeyser wrote, 'If one woman told the truth about her life, the world would split open.' [This film] gives us 10 truth-telling women, and splits the world open in as many ways."
"A breakthrough in the contemporary discussion about abortion … succeed(s) in showing how differently abortion has been understood — and felt! — in different times. This destabilizes all the other discussions, such as Lake of Fire, which uncritically assume that the current political climate of doom, sorrow and defensiveness is the natural tone for any discussion of [abortion]."
"Moving, intense, and refreshingly honest, the film is a terrific educational tool."
"Provides essential context for examining issues of reproductive justice while serving 'to break the wall of silence' on this subject."
"In a very short space of time SPEAK OUT: I HAD AN ABORTION manages to transform the secrecy and stigma of abortion to a rally cry for speaking up about the commonality and the complexity of abortion decisions."
"Showing I HAD AN ABORTION in my Women's Studies class led to a great discussion on feminist activism and women's bodies, from general health to specific issues like abortion, rape, abuse, etc., and the value of speaking out in order to create change."
"Recommended."
"No one who sees this remarkable film will be able to turn away and ignore their experience."
SCREENING HIGHLIGHTS AND AWARDS
Fargo Film Festival, Ruth Lanfield Award for Social Justice
Hot Springs Documentary Int'l Film Festival
American Civil Liberties Union (ACLU), NY
Boston University, Boston, MA
Center for Reproductive Rights, NY
Columbia University, NY
Las Adelitas Political Action Committee, Albuquerque, NM
Macalester College, St. Paul, MN
Planned Parenthood New York City, Annual Roe Event, NY
Planned Parenthood Southern Finger Lakes, Corning, NY
The Emma Goldman Clinic, Iowa City, IA
The Feminist Majority Foundation
The National Coalition of Abortion Provider's Annual Conference
ABOUT FILMMAKER(S)
Gillian Aldrich
Gillian Aldrich is a documentary producer and journalist who has worked on social justice issues in television, radio, and print. She has worked with Michael Moore on several projects, including most recently as a field producer for the academy award winning documentary Bowling for Columbine, on his television series, The Awful Truth, and on his best-selling book, Downsize This, as well as contributing to his documentary, The Big One. In television, she line-produced Trio's The Syringa Tree, a moving one woman show about growing up in South Africa under apartheid, and she worked on the Showtime documentary Brotherhood of Hate, profiling one family's crime and a community steeped in white supremacist ideology. With Skylight Pictures, she co-produced Battle for Broad, a documentary about the Kensington Welfare Rights Union, a renowned group of homeless activists in Philadelphia who have made homelessness an international human rights issue.

From this experience, Gillian became an early member of the media college, a group of media professionals who assist The Poor Peoples' Economic Human Rights Campaign (PPEHRC) and advocate media democracy. In radio, she produced the progressive daily national news show Democracy Now!, and she wrote and produced a one hour documentary for National Public Radio's This American Life, entitled 20th Century Man, involving the search for her late father's true identity in the bizarre twists and turns his life took. (2/07)
Jennifer Baumgardner
Jennifer Baumgardner is a writer, activist, filmmaker, and lecturer whose work explores abortion, sex, bisexuality, rape, single parenthood, and women's power. She is the Executive Director/Publisher at The Feminist Press at CUNY, which is producing the StopSlut Project and publishing several cutting-edge feminist works from around the world.

After five years as an editor at the feminist magazine, Ms. (1993-1997), Jennifer began writing investigative pieces for Harper's and The Nation, commentaries for NPR's All Things Considered, and contributing to magazines such as Real Simple, Glamour, Redbook, Babble, Harper's Bazaar, Teen Vogue, Marie Claire, and Elle.

In 2005, she created and produced the award-winning documentary I HAD AN ABORTION. In 2013, she released her second film, IT WAS RAPE, which tells the story of eight diverse women.

Jennifer and her work have been featured in venues from Oprah to NPR, and BBC News Hour to Bitch Magazine. She has keynoted at more than 300 universities, organizations, and conferences, including the National Coalition of Abortion Providers, Amherst College, Take Back The Night UW-Madison, and the New Jersey Women and Gender Studies Consortium, to name a few. In 2008, she became Writer-in-Residence at The New School, where she taught non fiction workshops for four years.

Jennifer is the author of five books: Look Both Ways: Bisexual Politics (FSG, 2007, a Lambda finalist), Abortion & Life (Akashic, 2008), and the essay collection F 'em! Goo Goo, Gaga, and Some Thoughts on Balls (Seal, 2011), as well as two best-selling books about feminism written with Amy Richards - Manifesta: Young Women, Feminism, and the Future (FSG, 2000) and Grassroots: A Field Guide for Feminist Activism (FSG, 2005). She is the co-editor, with Madeleine Kunin, of We Do!: American Leaders Who Believe in Marriage Equality. In 2002, Jennifer and Amy founded Soapbox, Inc., a speakers' bureau that also produces week-long Feminist Camps and Intensives. Soapbox and its projects connect people hungry for feminism with resources and with one another. (9/14)
Subject Areas
RELATED LINKS
YOU MIGHT ALSO BE INTERESTED IN
Shopping Cart