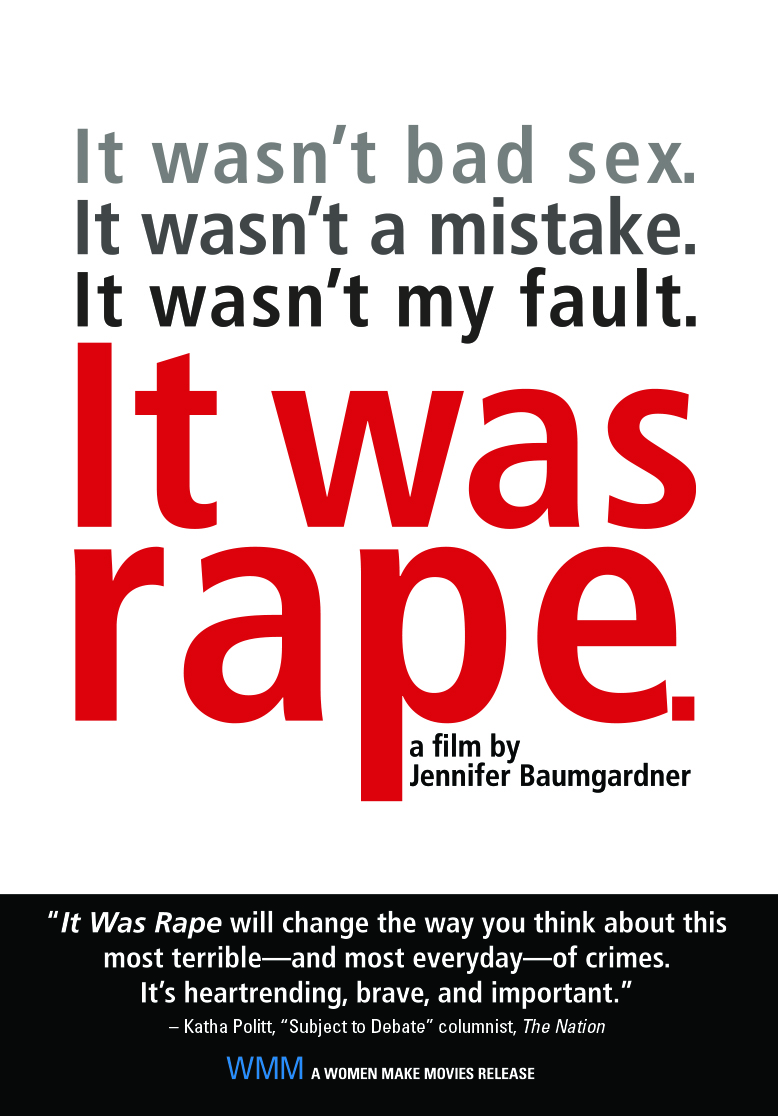 US | 2013 | 60 minutes | Color | DVD | Order No. 151150
SYNOPSIS
U.S. sexual assault statistics are startling—and have remained unchanged for decades. The latest White House Council on Women and Girls report reveals that nearly one in five women experiences rape or attempted rape in her lifetime. Among college student victims, who have some of the highest rates of sexual assault, just 12 percent report incidents to law enforcement officials. In earlier studies, 15% of sexual assault victims were younger than 13; 93% of juvenile victims knew their attacker. IT WAS RAPE gives human faces and voices to statistics, breaking through the silence, denial and victim blaming that allow an epidemic to thrive. Eight women of different backgrounds, ages and ethnicities relate personal stories of surviving sexual assault in their younger years, as well as their struggles toward healing, empowerment, and finally speaking out. By award-winning feminist author, filmmaker and activist Jennifer Baumgardner, this strikingly relevant documentary will engage all audiences in needed dialogue about the prevalence of sexual assaults in the U.S., at our schools and colleges, and the elements promoting rape culture on and off campus. IT WAS RAPE is a crucial resource for colleges and communities to meaningfully address Title IX issues around sexual violence.
PRESS
"The film is especially important now, as the conversation about rape culture is more prevalent than ever. It is an important step in empowering victims."
"IT WAS RAPE will change the way you think about this most terrible and most everyday of crimes. It's heartrending, brave, and important."
"If [IT WAS RAPE] starts a conversation, it won't be a quiet one, which is just what Ms. Baumgardner wants."
"[This] film has been an extremely powerful pedagogical tool for me and I wanted to share my gratitude. The film does, in one hour, what I struggle to do justice to in weeks of teaching!"
"Baumgardner continues her streak of powerful, personal, intelligent work with It Was Rape…I applaud Baumgardner's film, and am very grateful for the strength and bravery of all of the women in it for telling their stories."
"...heartbreaking, terrifying, and important."
ABOUT FILMMAKER(S)
Jennifer Baumgardner
Jennifer Baumgardner is a writer, activist, filmmaker, and lecturer whose work explores abortion, sex, bisexuality, rape, single parenthood, and women's power. She is the Executive Director/Publisher at The Feminist Press at CUNY, which is producing the StopSlut Project and publishing several cutting-edge feminist works from around the world.

After five years as an editor at the feminist magazine, Ms. (1993-1997), Jennifer began writing investigative pieces for Harper's and The Nation, commentaries for NPR's All Things Considered, and contributing to magazines such as Real Simple, Glamour, Redbook, Babble, Harper's Bazaar, Teen Vogue, Marie Claire, and Elle.

In 2005, she created and produced the award-winning documentary I HAD AN ABORTION. In 2013, she released her second film, IT WAS RAPE, which tells the story of eight diverse women.

Jennifer and her work have been featured in venues from Oprah to NPR, and BBC News Hour to Bitch Magazine. She has keynoted at more than 300 universities, organizations, and conferences, including the National Coalition of Abortion Providers, Amherst College, Take Back The Night UW-Madison, and the New Jersey Women and Gender Studies Consortium, to name a few. In 2008, she became Writer-in-Residence at The New School, where she taught non fiction workshops for four years.

Jennifer is the author of five books: Look Both Ways: Bisexual Politics (FSG, 2007, a Lambda finalist), Abortion & Life (Akashic, 2008), and the essay collection F 'em! Goo Goo, Gaga, and Some Thoughts on Balls (Seal, 2011), as well as two best-selling books about feminism written with Amy Richards - Manifesta: Young Women, Feminism, and the Future (FSG, 2000) and Grassroots: A Field Guide for Feminist Activism (FSG, 2005). She is the co-editor, with Madeleine Kunin, of We Do!: American Leaders Who Believe in Marriage Equality. In 2002, Jennifer and Amy founded Soapbox, Inc., a speakers' bureau that also produces week-long Feminist Camps and Intensives. Soapbox and its projects connect people hungry for feminism with resources and with one another. (9/14)
YOU MIGHT ALSO BE INTERESTED IN
Shopping Cart