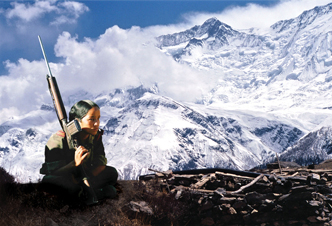 US/Nepal | 2008 | 92 minutes | Color | DVD | Nepali/English | Subtitled | Order No. 09950
SYNOPSIS
Filmed over three years during the most historic and pivotal time in Nepal's modern history, The Sari Soldiers is an extraordinary story of six women's courageous efforts to shape Nepal's future in the midst of an escalating civil war against Maoist insurgents, and the King's crackdown on civil liberties.
When Devi, mother of a 15-year-old girl, witnesses her niece being tortured and murdered by the Royal Nepal Army, she speaks publicly about the atrocity. The army abducts her daughter in retaliation, and Devi embarks on a three-year struggle to uncover her daughter's fate and see justice done. The Sari Soldiers follows her and five other brave women: Maoist Commander Kranti; Royal Nepal Army Officer Rajani; Krishna, a monarchist from a rural community who leads a rebellion against the Maoists; Mandira, a human rights lawyer; and Ram Kumari, a young student activist shaping the protests to reclaim democracy. The Sari Soldiers delves into the extraordinary journey of these women on opposing sides of the conflict and the democratic revolution reshaping their country's future.
PRESS
"Bridgham's overarching portrait of political upheaval is compassionate and insightful, …the director discovers a symbol of both inspirational human rights advocacy, and the terrible tragedy of tyranny."
"Unforgettable…exemplary. Reveals a changing world and compels us to acknowledge the importance for reconciliation…in reconstructing our country. These women are true revolutionaries."
"Captures ordinary women's extraordinary lives and reveals them as important pieces of history. Anyone concerned with social justice, gender justice and human rights should see [it]."
"Highly Recommended…vivid and alive. An excellent documentary of a people's struggle to adapt to change within their country and bring about solutions."
"Impressive.… Give[s] credence to the old feminist saw that if women were given power, they would speedily put an end to war."
"Balanced, moving and comprehensive…. It also shows how circumstances can radicalize even the most middle-of-the-road people. Something we should pay more heed to given the current state of world affairs."
"Often women are shown as simply victims of war and violence. The Sari Soldiers presents them as active participants in the fight for justice and human rights."
"Tough, multilayered…. inspiring, infuriating, and sometimes hard-to-watch… underscores the old but still noteworthy point that the female body is one of the great casualties of war and political strife."
"Near perfect. It accomplishes the tenuous balance that only the best documentaries can provide."
"Deeply moving and wonderfully crafted…. The inspiring stories of the six women… remind us of the significance of civil courage and the presence of justice."
"With its emphasis on self-representation and its nuanced perspectives, The Sari Soldiers also reveals the voices of women who suffered from both the state military and the Maoists. The film portrays women's emergence as leaders, and it presents opportunities to discuss how gender roles shift with changing socio-economic structures."
SCREENING HIGHLIGHTS AND AWARDS
Human Rights Watch Film Festival, NY, Nestor Almendros Prize
WATCH DOCS Human Rights in Film Int'l Film Festival, Feature Length Competition Special Mention
Rencontres International Film Festival, Camera as Activist Award, Best Socio-Political Film
Tri-Continental Film Festival, India, Grand Jury Prize
Brooklyn International Film Festival, Spirit Award
One World Film Festival, Prague, Special Jury Mention
Sausalito Film Festival, Best of Festival Award
Boulder International Film Festival
Citizen Jane Film Festival
Rubin Museum of Art
Human Rights Watch Film Festival, London
Human Rights Watch Film Festival, Buenos Aires
Human Rights Watch Int'l Traveling Film Festival
International Documentary Association, DocuWeeks
DOC NZ International Film Festival, New Zealand
Seattle Human Rights Film Festival
Boston International Film Festival
Brooklyn International Film Festival
Sarasota Film Festival
Toronto Human Rights Watch Film Festival 
Pravo Ljudski Human Rights Film Festival, Sarajevo
India International Women's Film Festival
Festival International du Film des Droits de l'Homme, Paris
The Female Eye Film Festival, Toronto
International Women's Day
Kathmandu Mountain Film Festival
Walker Art Center, MN
The Himalayan Film Festival, Amsterdam
Seattle, Film, Faith and Justice Festival
ABOUT FILMMAKER(S)
Julie Bridgham
Julie Bridgham is a Sundance Institute Documentary Fellow, and the Director and Producer of the award-winning documentary, THE SARI SOLDIERS, for which she received the 2008 Nestor Almendros Prize for courage and commitment in human rights filmmaking. Over the past six years, she has lived for extended periods in Nepal where she produced and directed numerous documentaries including several documentaries for the United Nations and the films INDENTURED DAUGHTERS, a documentary on Nepali girls sent into bonded labor, as well as the films HOPE IN THE HIMALAYAS and CHILDREN OF HOPE for the Nepalese Youth Opportunity Foundation. She has produced and directed numerous documentary series that have taken her around the globe, including "Exotic Islands", and the series "Royal Families of the World," as well as documentary series for the BBC, the Discovery Channel and TLC. Before working in documentary television, she worked in Costa Rica as a Project Officer for an environmental project with the United Nations, and in Bolivia as a researcher for a human rights organization. (11/08)
Subject Areas
RELATED LINKS
YOU MIGHT ALSO BE INTERESTED IN
Shopping Cart