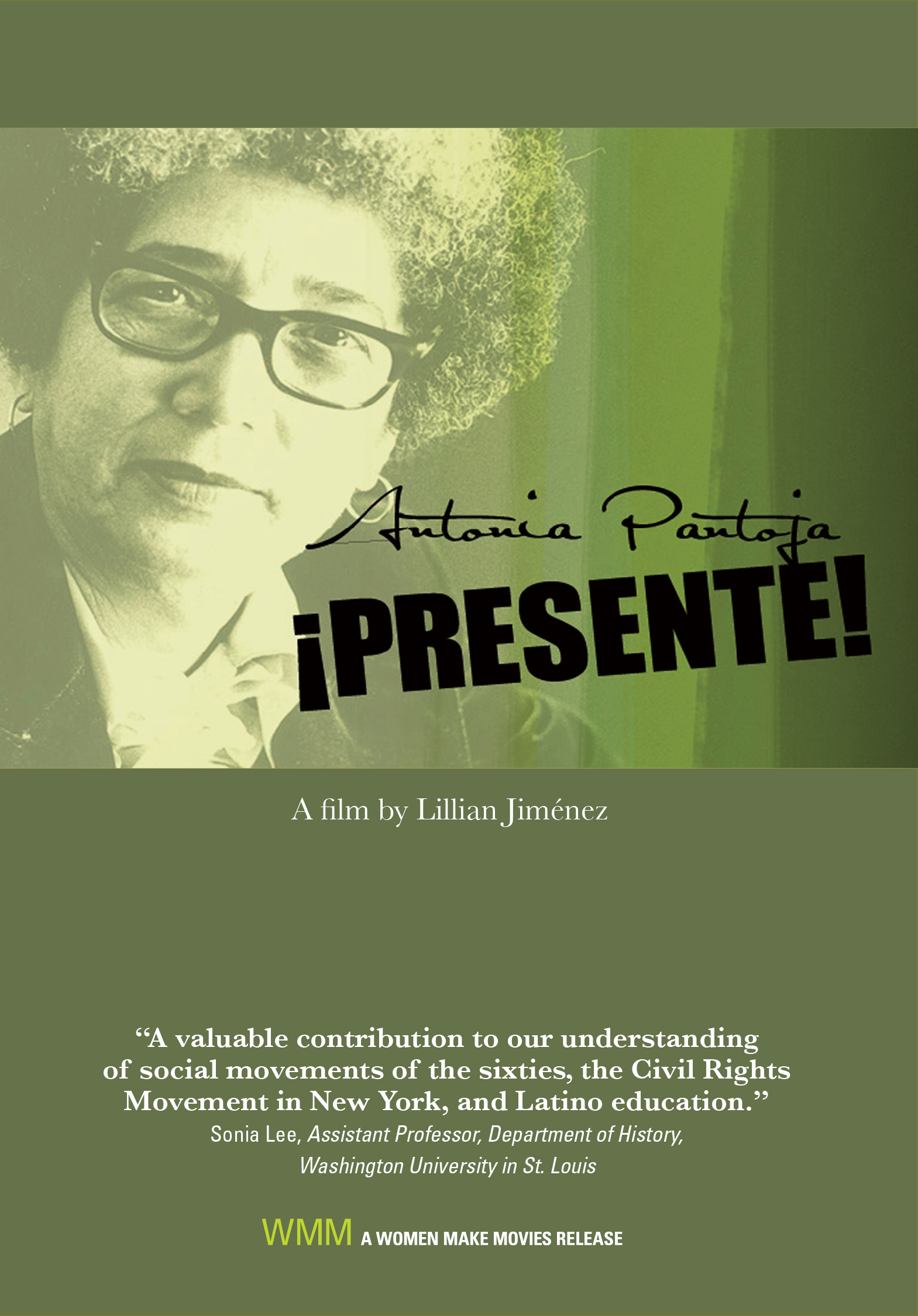 Antonia Pantoja
¡Presente!
2009 | 53 minutes | Color | DVD | Spanish | English subtitles | Order No. 10984
SYNOPSIS
Antonia Pantoja (1922-2002), visionary Puerto Rican educator, activist, and early proponent of bilingual education, inspired multiple generations of young people and fought for many of the rights that people take for granted today. Unbowed by obstacles she encountered as a black, Puerto Rican woman, she founded ASPIRA to empower Puerto Rican youth, and created other enduring leadership and advocacy organizations in New York and California, across the United States, and in Puerto Rico. Recognized for her achievements in 1996, Dr. Pantoja was awarded the prestigious Presidential Medal of Freedom, the highest honor bestowed upon civilians in the US. In this important documentary, Pantoja's compelling story is told through never-before-seen home movies, archival footage, and personal passionate testimony from Pantoja herself and some of her countless protégés, as well as her life partner. Highlighting major landmarks in Pantoja's biography and long, productive career, the film shows her profound commitment to transforming society, her pivotal role in the Puerto Rican community's fight to combat racism and discrimination, and her pioneering work in securing a bilingual voice in the US. An eloquent tribute to a remarkable woman, the film sheds new light on the Puerto Rican community's far-reaching triumphs.
PRESS
"Exquisitely well crafted…Pantoja [is] fully present through this documentary—her strength, her vision, her charisma and passion."
"Inspirational! An extremely useful documentary, not only for Puerto Rican scholars and activists, but also for anybody concerned with understanding social-justice struggles by culturally oppressed populations in the US."
"A valuable contribution to our understanding of social movements of the sixties, the Civil Rights Movement in New York, and Latino education."
"Exhibits a warmth and intelligence that leaves the viewer inspired and ever more committed to the struggle for the empowerment and progress of our communities."
"Recommended...Educators can welcome this documentary for both its demonstration of the importance of education for social advancement, as well as its presentation of the challenges non-English speaking Americans face in society."
SCREENING HIGHLIGHTS AND AWARDS
New York International Latino Film Festival
VOCES on PBS TV
MOMA's Annual Festival of NonFiction Film
ABOUT FILMMAKER(S)
Lillian Jiménez
For nearly 30 years, Lillian Jiménez has worked as a producer, media arts center manager, media activist, exhibitor, funder, and educator. Organizations with whom she has worked include Young Filmmakers Foundation (now known as Film Video Arts); Third World Newsreel: The Foundation for Independent Video and Film; The Film Fund; co-founder of The Paul Robeson Fund for Film, Video and Radio at the Funding Exchange; Media Network, and the National Latino Film and Video Festival of El Museo del Barrio, among others. Under contract to the National Endowment for the Arts, she worked with arts organizations on strategic long term planning and has facilitated hundreds of meetings and retreats. Some of her prior clients include Women Make Movies, Fresh Air Radio in Minneapolis, The Foundation for Independent Video and Film and Urban Bush Women. A co-founder of the National Association of Latino Independent Producers (NALIP), she was its first recipient of the Life Achievement Award for Activism. She currently serves on the board of the Funding Exchange, a national network of community funds dedicated to supporting social justice. (2/10)
Subject Areas
RELATED LINKS
YOU MIGHT ALSO BE INTERESTED IN
Shopping Cart