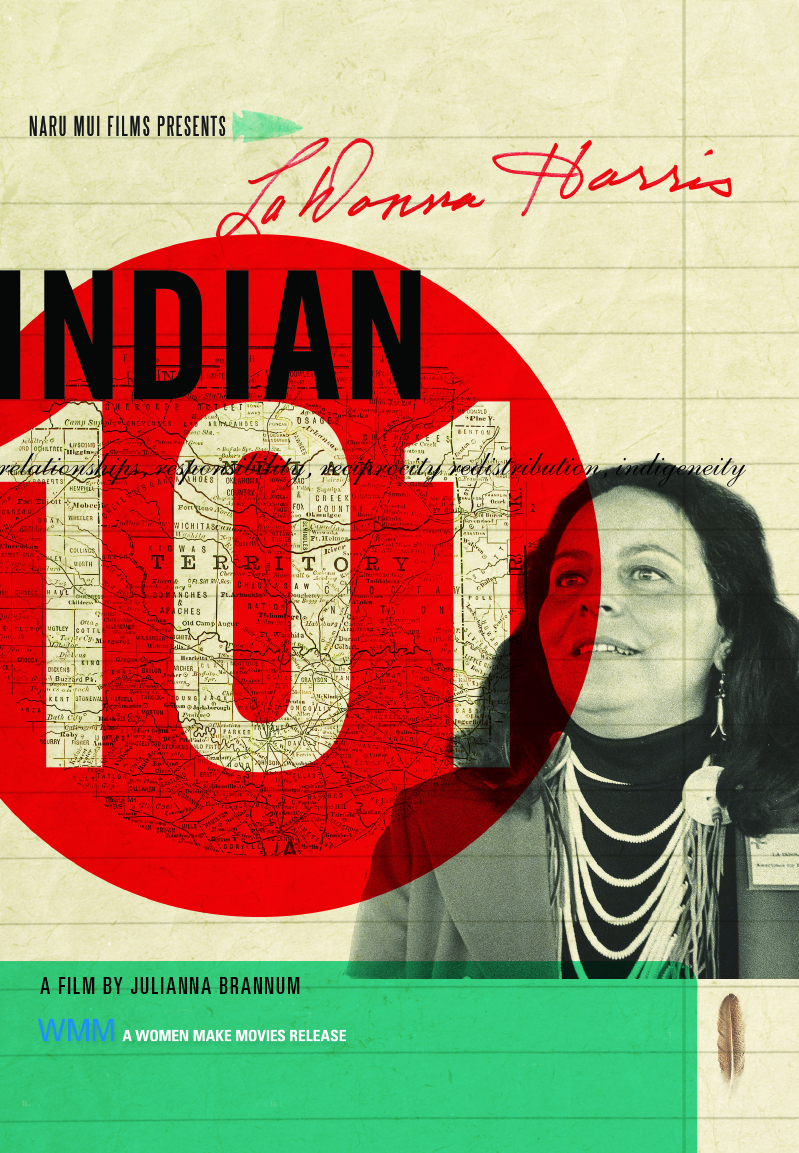 LaDonna Harris: Indian 101
US | 2014 | 63 minutes | Color | DVD | Order No. 141142
SYNOPSIS
LADONNA HARRIS: INDIAN 101 from Comanche filmmaker Julianna Brannum, chronicles the life of Comanche activist and national civil rights leader LaDonna Harris and the role that she has played in Native and mainstream America history since the 1960s. In this new verite style documentary, Brannum, the great niece of Harris, celebrates her life and the personal struggles that led her to become a voice for Native people and her contemporary work to strengthen and rebuild indigenous communities and train emerging Native leaders around the world. Harris's activism began in Oklahoma, fighting segregation and assisting grassroots Native and women's groups. In Washington LaDonna introduced landmark programs and legislation returning territory to tribes, improving education and healthcare for Native Americans, ending job discrimination against women, and targeting other pressing issues of the time. For over three decades, "Indian 101," her course for legislators, combatted ignorance about America's most marginalized population. Using interviews, archival footage and photographs, this film justly celebrates one of the most important women leaders in Native American and U.S. history.
PRESS
"3.5 stars. A well-made biography of a living heroine, this is highly recommended."
"Comanche activist LaDonna Harris…led an extensive life of Native political and social activism, and is now passing on her traditional cultural and leadership values to a new generation of emerging Indigenous leaders."
"[A] moving portrait of fellow Comanche activist LaDonna Harris… actively involved in building a global Indigenous coalition."
"The film is an inspiring view of one woman's work for change during one of America's darker and largely ignored moments."
"LADONNA HARRIS: INDIAN 101…explore(s) Harris' achievements, the personal struggles that led her to become a voice for Native people, and her contemporary work to reshape Indian Country in America and abroad."
SCREENING HIGHLIGHTS AND AWARDS
Best Documentary and Best Biographical Film, Native American Indian Film and Video Festival
ABOUT FILMMAKER(S)
Julianna Brannum
Julianna Brannum is a documentary filmmaker based in Austin, TX. Her first film, The Creek Runs Red, was selected to air in Fall 2007 on PBS's national primetime series, Independent Lens. In early 2008, she co-produced a feature-length documentary with Emmy Award-winning producer, Stanley Nelson for PBS's "We Shall Remain," a 5-part series on Native American history. The episode, "Wounded Knee," chronicled the siege of Wounded Knee, SD in 1973 led by the American Indian Movement. In 2007, Brannum was selected as a Sundance Institute/Ford Foundation Fellow and has been awarded grants from the Sundance Institute's Native Initiative, National Geographic, ITVS, the Oklahoma Humanities Council, NAPT, and the Sundance Documentary Fund for her latest documentary LaDonna Harris: Indian 101. In April 2008, she was awarded a fellowship from the Rockefeller Foundation and the Tribeca Film Institute in support of the film. Ms. Brannum also spent 8 years working as a film programmer for AFI FEST, the Los Angeles Film Festival and Film Independent (formerly IFP/Los Angeles) before producing programs for Discovery Channel, A&E, Bravo and PBS. Ms. Brannum is a graduate of the University of Oklahoma and was awarded the 2008 Distinguished Alumni Award for the College of Arts and Sciences. She is a member of the Quahada band of the Comanche Nation of Oklahoma. (5/14)
Subject Areas
RELATED LINKS
YOU MIGHT ALSO BE INTERESTED IN
Shopping Cart