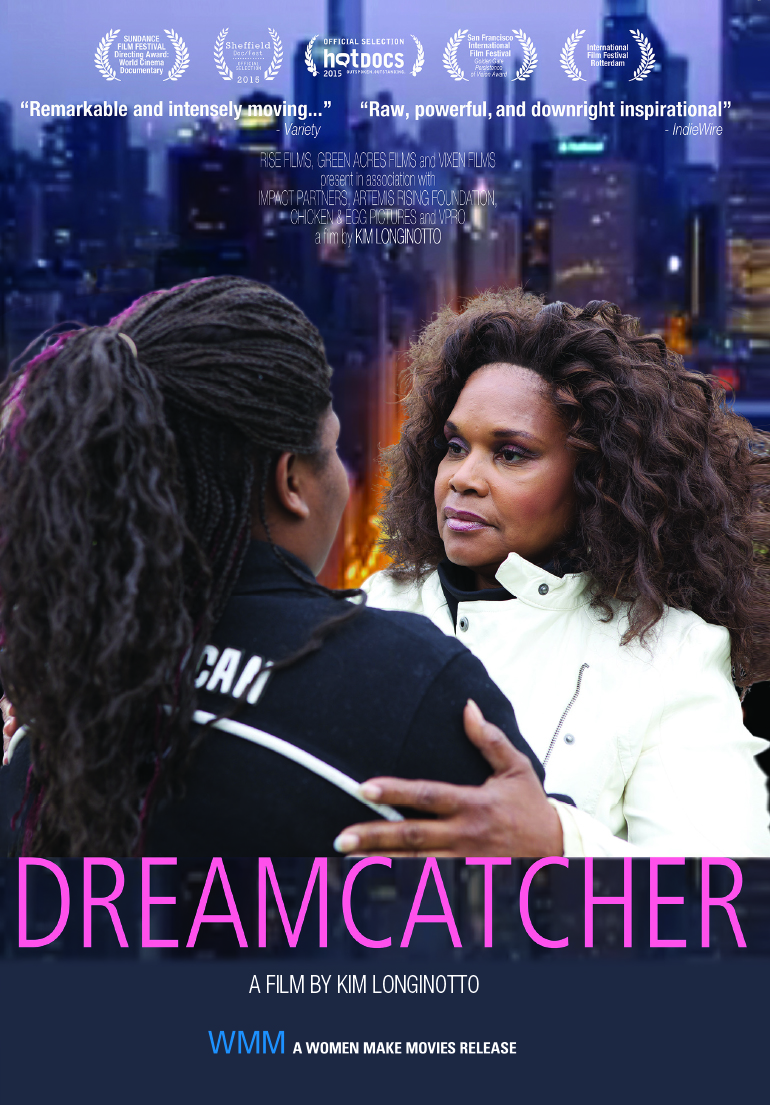 UK | 2015 | 98 minutes | Color | DVD | Order No. 161168
SYNOPSIS
"You got any dreams you wanna catch?" Sundance award winner DREAMCATCHER takes us into a hidden world of prostitution and sexual trafficking through the eyes of one of its survivors, Brenda Myers-Powell. A former teenage prostitute with a drug habit, Brenda defied the odds to become a powerful advocate for change in her community, and works to help women and young girls break the cycle of sexual abuse and exploitation. DREAMCATCHER lays bare the hidden violence that devastates the lives of these young women, their families and the communities where they live in Chicago and Brenda's unflinching intervention that turns these desperate lives around. With unprecedented access, multi-award winning director, Kim Longinotto (SISTERS IN LAW, ROUGH AUNTIES, SALMA) paints a vivid portrait of a community struggling to come to terms with some of its most painful truths and of the extraordinary woman who uses her past to inspire others to survive. With warmth and humor, Brenda gives hope to those who have none in the four magic words she offers up to everyone she meets: "It's not your fault."
PRESS
"Myers-Powell has a fierce wit and forthright intelligence that brightens even the darkest moments of Kim Longinotto's intensely moving documentary."
"The power of DREAMCATCHER…unfolds in cinema vérité style, putting you up close and personal with its subjects and the world they inhabit. See the film."
"Intensely moving...a real-world version of movie-star magnetism…remarkable for the honest, intimate rapport it achieves with highly vulnerable human subjects."
"...a moving portrait of someone who might just qualify for secular sainthood… Longinotto deftly balances character and context, capturing telling moments where subjects reveal themselves in an instant."
"Raw, powerful, and downright inspirational"
"Dreamcatcher is a powerful and harrowing character-led documentary from start to finish."
"Remarkable...calm, non-judgmental and engaging...deeply moving."
"Dreamcatcher, is first and foremost a film about real people."
"Everyone should watch Dreamcatcher… it offers a refreshing, illuminating counterpoint to the standard noise about sex work. It's not fly-on-the-wall filmmaking, it's participatory revelation."
"Astonishing in its intimacy and wrenching in its emotional rawness"
"It's a compelling, harrowing and utterly uplifting story of redemption."
"DREAMCATCHER is raw, gripping and emotionally challenging… masterfully examines the intersections between sexism, racism, and classism, and how these injustices perpetuate the cycle of abuse that leads to violence against women …heart-wrenching and compelling."
"DREAMCATCHER provides intimate insights into the complex drivers and perpetuators of human trafficking and exploitation and is an extremely valuable resource and tool for public health professionals across all sectors."
"Kim Longinotto is one of the most criminally under-appreciated documentarians...an absolutely fantastic documentary that touches on many of the themes and ideas visited in David James' The Interrupters and Werner Herzog's Into the Abyss but I think it actually manages to do much better than either of those films."
"Like its subject, this documentary is powerful, honest, and empowering. Bravo."
SCREENING HIGHLIGHTS AND AWARDS
DOC NYC, Robert & Anne Drew Award for Documentary Excellence
DOC NYC Short List
Sundance Film Festival, Directing Award, World Cinema Documentary
Zagreb dox Croatia, "My Generation" Award
San Francisco Film Festival, "Persistence of Vision" Award
Nordic Docs, Icon Award
Social Impact Media Award, Best Director, Documentary Feature
Jerusalem Film Festival
Vancouver International Film Festival
Melbourne Film Festival
Thessaloniki International Film Festival
Zanzibar International Film Festival
San Sebastian Human Rights Film Festival
Yamagata Film Festival
Femcine Film Festival
New Zealand International Film Festival
International Documentary Film Festival Munich
DOCVILLE International Documentary Film Festival
Royal Anthropological Institute Film Festival
Viennale Film Festival
Human Rights Documentary Film Festival
Tri Continental Film Festival
Reykjavik Film Festival
Harare Film Festival
ABOUT FILMMAKER(S)
Kim Longinotto
Kim Longinotto (born 1952) is a British documentary filmmaker, well known for making films that highlight the plight of female victims of oppression or discrimination. Longinotto studied camera and directing at the National Film and Television School in Beaconsfield, England, where she now tutors occasionally.

Longinotto was born to an Italian father and a Welsh mother; her father was a photographer who later went bankrupt. At the age of 10 she was sent to a draconian all-girls boarding school, where she found it hard to make friends due to the mistress forbidding anyone to talk to her for a term after she became lost during a school trip. After a period of homelessness, Longinotto went on to Essex University to study English and European literature and later followed friend and future filmmaker, Nick Broomfield to the National Film and Television School. While studying, she made a documentary about her boarding school that was shown at the London Film Festival, since when she has continued to be a prolific documentary filmmaker.

Longinotto is an observational filmmaker. Observational cinema, also known as direct cinema, free cinema or cinema verite, usually excludes certain documentary techniques such as advanced planning, scripting, staging, narration, lighting, reenactment and interviewing. Longinotto's unobtrusiveness, which is an important part of observational documentary, gives the women on camera a certain voice and presence that may not have emerged with another documentary genre. She has received a number of awards for her films over the years, including a BAFTA for her documentary PINK SARIS.

Among her more than 20 films, she has followed a teenager struggling to become a wrestling star in 2000's GAEA GIRLS, challenged the tradition of female genital mutilation in Kenya in 2002's THE DAY I WILL NEVER FORGET, and told the story of an Indian Muslim woman who smuggled poetry out to the world while locked up by her family in 2013's SALMA. In 2015's DREAMCATCHER Longinotto looks at the life and work of a former sex worker who rescues Chicago girls from the street.

Her new film SHOOTING THE MAFIA, premiered at the 2019 Sundance Film Festival. (3/19)
Subject Areas
RELATED LINKS
YOU MIGHT ALSO BE INTERESTED IN
Shopping Cart