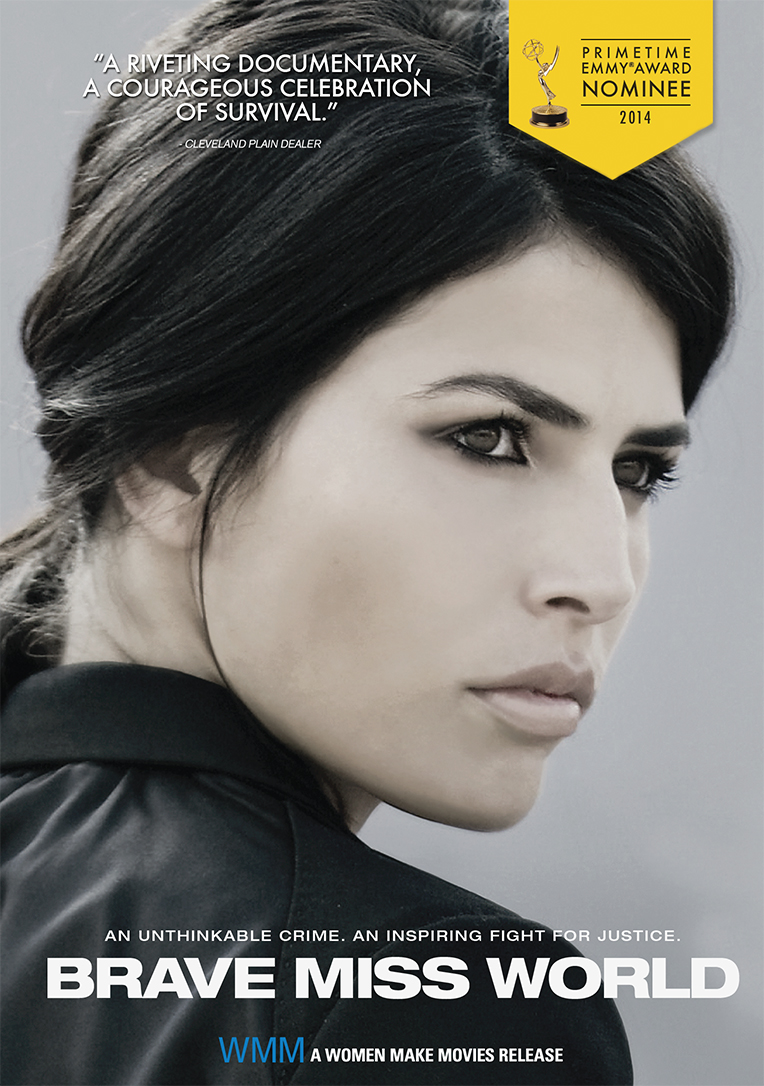 USA/Israel/South Africa/Italy | 2013 | 88 minutes | Color | DVD | Multiple Languages | Subtitled | Order No. 161194
SYNOPSIS
In October 1998, eighteen-year-old Linor Abargil was stabbed and raped while working as a model in Milan. Weeks later she was crowned Israel's first Miss World. Over the course of five years, director Cecilia Peck (Shut Up & Sing) follows Abargil, on a mission to confront the trauma of her past, including a hunt for other victims of the man who raped her, preventing his parole. Abargil, a poised, magnetic and supremely empathic advocate travels from Hollywood to rape crisis centers, American college campuses and the townships of South Africa to share her story and inspire others to confront shame and to heal. Emmy nominated BRAVE MISS WORLD is a call for justice and a startlingly honest portrayal of how personal tragedy can be transformed into a global awareness campaign against sexual violence. This special edition includes both the theatrical version (88min) and the educational version (60min), which is tightly paced and specifically designed for student audiences. Also included are exclusive bonus scenes, a report by Gloria Allred on a previously unpublished campus rape investigation, survivor testimonials and filmmaker interviews.
PRESS
"A riveting documentary. A courageous celebration of survival..."
"Impassioned and inspiring..."
"The coming together of two remarkable women, Linor and documentary filmmaker Cecilia Peck."
SCREENING HIGHLIGHTS AND AWARDS
Seattle Jewish Film Festival, Best Documentary, Audience Award
WeWorld Intervita, Best Film Award
Los Angeles Jewish Film Festival, Best Documentary Audience Award
Lady Filmmakers Film Festival, Best Documentary, Best of Fest
JFilm Pittsburgh, Best Documentary Audience Award
Denver International Film Festival
Napa Valley Film Festival
ABOUT FILMMAKER(S)
Cecilia Peck
Prior to directing and producing the Emmy nominated BRAVE MISS WORLD, Cecilia Peck directed and produced, with Barbara Kopple, the feature-length documentary SHUT UP & SING. The film, shortlisted for the 2007 Academy Awards, was named Best Documentary by the Boston Society of Film Critics and the San Diego Film Critics, won Best Documentary at the Sydney, Aspen, and Woodstock Film Festivals, and won the Jury Prize at the Toronto and the Chicago Film Festivals. It received the Courage in Film Award from the Women Film Critics Circle, the Wyatt Award from the Southeastern Film Critics Circle, and was nominated for a Broadcast Critics Award and a National Film Critics Award.

Cecilia produced and directed the short JUSTICE FOR ALL, an examination of the capital punishment system, which won a Silver Gavel Award. She produced A CONVERSATION WITH GREGORY PECK, an intimate portrait of her legendary father, which was a Special Selection in the 2000 Cannes Film Festival, and a special presentation for TCM and PBS American Masters. She also produced ONCE UPON A TIME IN THE HAMPTONS, a four hour documentary series for ABC primetime.

As an actress, she was nominated for a Golden Globe Award for her performance in THE PORTRAIT. She portrayed a Palestinian school teacher in TORN APART. She studied dance with Martha Graham and performed in "American Document," the last ballet choreographed by Miss Graham. She has been contributing editor at Premiere Magazine, French edition, and Moving Pictures Magazine, and served on the jury at the Aspen Shortsfest. A graduate of Princeton University, she lives with her husband and two children in Los Angeles. (5/16)
Inbal B. Lessner
Inbal B. Lessner is an Emmy nominated producer and an editor. Most recently, Inbal was an additional editor on Natalie Portman's Directorial Debut, A TALE OF LOVE AND DARKNESS, an adaptation of Amos Oz's best-selling autobiographical novel, which premiered at the Cannes Film Festival in May 2015. She has also edited four 1-hour episodes for CNN's docu-series "The Seventies," and "The Eighties," produced by Tom Hanks, Gary Goetzman ad Mark Herzog.

A 6-year project, Inbal produced and edited BRAVE MISS WORLD, an independent documentary about Linor Abargil, who was raped 6 weeks before she won the Miss World pageant, and her crusade to reach out to fellow survivors while trying to keep her own rapist behind bars. The film premiered at AFI Silverdocs, was screened to members of U.S. Congress, and launched as a Netflix Exclusive on May 29, 2014. It received an Emmy nomination for Exceptional Merit in Documentary Filmmaking.

In 2013-14, Inbal was an Additional Editor on Davis Guggenheim's TEACH, a 2-hour documentary special for CBS, and on Spent, his doc about the "unbanked" in America. In 2007, she edited and co-produced the internationally acclaimed I HAVE NEVER FORGOTTEN ABOUT YOU about Nazi hunter Simon Wiesenthal, a Special Selection of the 2007 Berlinale, Vienalle, Jerusalem, and Tribeca Film Festivals. The documentary won several awards and is being distributed by the U.S. State Department in 12 languages.

Inbal began making films when she was in high school and later produced training films for the Israeli Defense Forces. At NYU, she was the recipient of the prestigious, merit-based, WTC Johnson Fellowship, a full tuition fellowship awarded to one undergraduate filmmaker a year. Since graduating with honors and moving to Los Angeles, Inbal has edited hundreds of hours of non-scripted network & cable television shows, ranging from Sundance Channel's award-winning docu-series "Transgeneration" and Showtime's "American Candidate" directed by R.J. Cutler, to ABC's reality hit show "The Bachelorette." She also directed NIGHT BITES, a docudrama for the Women's Entertainment Network, was second-unit producer on the HBO/ARTE documentary WATERMARKS about the women swimmers of the pre-WWII Hakoach Vienna Jewish athletic club, and was an editing consultant on the PBS Emmy-winner BE GOOD, SMILE PRETTY Other credits include editing A WHISPER TO A ROAR (feature doc about Democracy activists in 5 countries,) IF I DIE TONIGHT (feature doc about police brutality), SHOCK ACT, about a death row experiment (Best Narrative Short winner at Tribeca and Chicago film festivals), and the independent feature THE ELEPHANT KING starring Ellen Burstyn.

Inbal lives in Los Angeles with her husband, pianist and composer Daniel Lessner, their two daughters, and their elegant dog. (6/16)
Motty Reif
Motty Reif is one of the leading producers in Israel. Motty began his over 20 year career in fashion productions, and for many years created produced and directed hundreds of fashion and lifestyle events and television productions in Israel and abroad. Through his companies Meymad-Motty Reif, and Abot Reif Hameiri, he produced many of the leading TV game shows, TV series, reality shows, and late night shows, including the Israeli versions of "Survivor," "Beauty and the Geek," and "The Bachelor." Motty was also the owner of the largest modeling and talent agency LOOK, responsible for discovering many Israeli talents in fashion, film, stage, and music. He produced the documentary LIFE AFTER TOMORROW, directed by Gil Cates, and most recently has produced Gindi Tel Aviv Fashion Week. Reif is an active member of Israel Friends of Beit Hatfuzot which seeks to advance and make accessible educational and cultural activities to all young audiences.

Motty met Linor when she was 16 years old, and they began a friendship and professional partnership that carried her through the difficult months following her rape, and has ultmately has led to the fulfillment of this project. (5/16)
Subject Areas
RELATED LINKS
YOU MIGHT ALSO BE INTERESTED IN
Shopping Cart