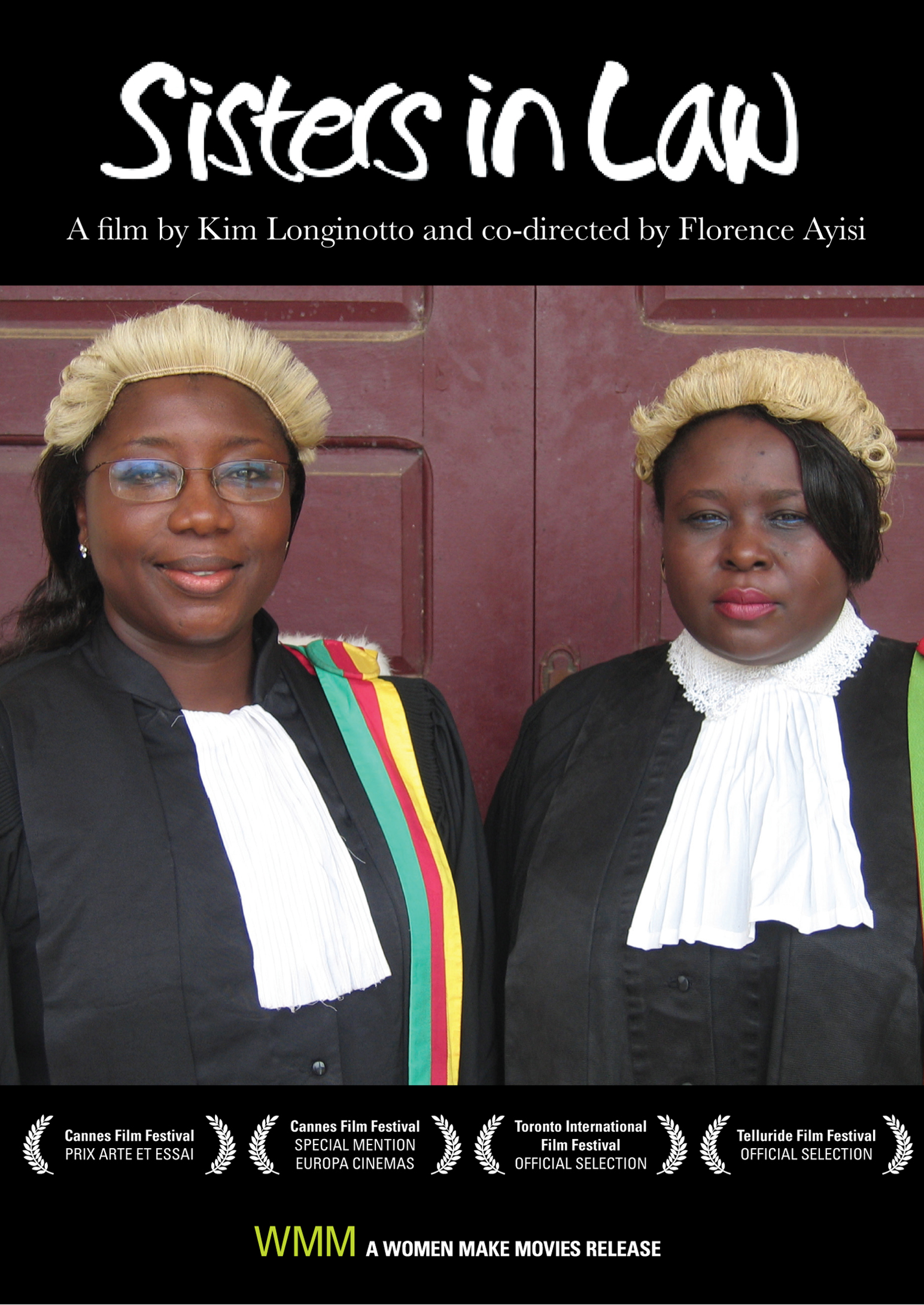 Cameroon/UK | 2005 | 104 minutes | Color | 35mm/DVD | Pidgin English | Subtitled | Order No. 06894
Winner of the Prix Art et Essai at the Cannes Film Festival, SISTERS IN LAW is the story of two women in Cameroon determined to change their community.
SYNOPSIS
Winner of the Prix Art et Essai at the Cannes Film Festival and screened to acclaim at more than 120 festivals around the world, SISTERS IN LAW is the bestselling documentary from internationally renowned director Kim Longinotto, co-directed by Florence Ayisi. In the little town of Kumba, Cameroon, there have been no convictions in spousal abuse cases for 17 years. But two women determined to change their community are making progress that could change their country. This fascinating, often hilarious doc follows the work of State Prosecutor Vera Ngassa and Court President Beatrice Ntuba as they help women fight often-difficult cases of abuse, despite pressures from family and their community to remain silent. Six-year-old Manka is covered in scars and has run away from an abusive aunt, Amina is seeking a divorce to put an end to brutal beatings by her husband, the pre-teen Sonita has daringly accused her neighbor of rape. With fierce compassion, the two feisty and progressive-minded women dispense wisdom, wisecracks and justice in fair measure, handing down stiff sentences to those convicted. A cross between "Judge Judy" and "The No.1 Ladies' Detective Agency," SISTERS IN LAW has audiences cheering when justice is served.
PRESS
"**** Highly Recommended. Editor's Choice."
"Highly Recommended. Multi-faceted. Refreshing to see [African women] portrayed as powerful, confident and in control of their own destinies."
"Knocked me flat and earned my tears of shock and joy."
"One of the best documentaries of all time."
"POSITIVELY SOARS…Who are these women, and can they please take over the world soon?"
"Illuminating, entertaining... you might start to seriously wonder if there's a way to get [Vera Ngassa] to run for office here in America."
"A triumphal portrait of women taking matters into their own hands."
"The women are so compelling – and the sense of justice so satisfying, I can't imagine any audience resisting SISTERS IN LAW."
"This is a story of real heroism that will leave you weeping, laughing and singing...My early candidate for breakout feel-good documentary of the year."
"INSPIRATIONAL...A family-court western in which a pair of tart-talking gunslingers...bring justice."
"A well-crafted, focused film …plays like a quiet miracle."
SCREENING HIGHLIGHTS AND AWARDS
Peabody Award
Cannes Film Festival, Prix Art et Essai
Cannes Film Festival, Special Mention Europa Cinemas
Int'l Documentary and Film Festival, Amsterdam, Audience Award
British Independent Film Awards, Best Doc Nominee
Women's Film Critics Circle, Adrienne Shelly Award
Royal Anthropological Institute FF, Audience Award
Hawaii Int'l Film Festival, Best Documentary
The Royal TV Programme Awards, Best Single Doc
Santa Barbara Film Festival, Social Justice Award
RAI Film Festival, Oxford, Basil Wright Award
Grierson Award, Best Doc on Contemporary Issue, UK
Al-Jazeera TV Festival, Silver Award
Belfast Film Festival, 1st Maysles Award
The Tel-Aviv Intl Documentary FF, Best Int'l Film
Human Rights Nights FF, Italy, Jury Prize
Commonwealth Film Festival, Audience Award
Munich Documentary FF, Special Documentary Prize
4th Lisbon Int'l Doc FF, "Pobreza Zero" Prize
Batumi Int'l Film Festival, Best Documentary
DOCUSUR, Special Jury Mention
2008 PBS Independent Lens Audience Award Runner-Up
Hamptons International Film Festival
Denver International Film Festival
St. Louis International Film Festival
Virginia Film Festival
Bahamas International Film Festival
Reykjavik Shorts&Docs Festival
Toronto Int'l Film Festival
Puerto Vallarta Film Festival
Telluride Film Festival
Montreal International Festival of New Cinema
Broadcast on Emmy Award®-winning PBS series, Independent Lens
ABOUT FILMMAKER(S)
Kim Longinotto
Kim Longinotto (born 1952) is a British documentary filmmaker, well known for making films that highlight the plight of female victims of oppression or discrimination. Longinotto studied camera and directing at the National Film and Television School in Beaconsfield, England, where she now tutors occasionally.

Longinotto was born to an Italian father and a Welsh mother; her father was a photographer who later went bankrupt. At the age of 10 she was sent to a draconian all-girls boarding school, where she found it hard to make friends due to the mistress forbidding anyone to talk to her for a term after she became lost during a school trip. After a period of homelessness, Longinotto went on to Essex University to study English and European literature and later followed friend and future filmmaker, Nick Broomfield to the National Film and Television School. While studying, she made a documentary about her boarding school that was shown at the London Film Festival, since when she has continued to be a prolific documentary filmmaker.

Longinotto is an observational filmmaker. Observational cinema, also known as direct cinema, free cinema or cinema verite, usually excludes certain documentary techniques such as advanced planning, scripting, staging, narration, lighting, reenactment and interviewing. Longinotto's unobtrusiveness, which is an important part of observational documentary, gives the women on camera a certain voice and presence that may not have emerged with another documentary genre. She has received a number of awards for her films over the years, including a BAFTA for her documentary PINK SARIS.

Among her more than 20 films, she has followed a teenager struggling to become a wrestling star in 2000's GAEA GIRLS, challenged the tradition of female genital mutilation in Kenya in 2002's THE DAY I WILL NEVER FORGET, and told the story of an Indian Muslim woman who smuggled poetry out to the world while locked up by her family in 2013's SALMA. In 2015's DREAMCATCHER Longinotto looks at the life and work of a former sex worker who rescues Chicago girls from the street.

Her new film SHOOTING THE MAFIA, premiered at the 2019 Sundance Film Festival. (3/19)
Florence Ayisi
Florence Ayisi was born in 1962 in Cameroon, Central Africa. She obtained a degree in English from the University of Yaoundé, Cameroon. She moved to the UK for postgraduate studies in Film and Television where she obtained an MA in Producing and Directing, an MA in Theatre and Media Production and a Diploma in Television Production and Journalism.

Florence currently teaches at the International Film School Wales, University of Wales, Newport, U.K. where she's a Reader in Film Practice. Her teaching and research is underpinned by issues and ideas relating to documentary theory, post-colonial theory, representation, feminism, spectatorship in African Cinema, transnational cinemas, African Diaspora narratives, ethnography as a research method, and in mapping the aesthetic of documentary content. Florence's research is primarily practice-based. She has made documentary films in Tanzania and Cameroon. An award winning filmmaker, her films portray the affirmative aspects of African life, presenting unique and rare insights into lived experiences and the rich and dynamic cultures. Her films also celebrate the growing emancipation of African women; showing how women's work and visions are at the vanguard of social and economic development.

Her first feature-length documentary film, SISTERS IN LAW, (2005, co-director) has been screened in over 120 film festivals and has won over 27 prestigious international awards. In 2007, Florence made her second feature-length documentary, Zanzibar Soccer Queens which has been screened on television and at numerous festivals. Florence's other films include, MY MOTHER: ISANGE (2005, 7 minutes), and OUR WORLD IN ZANZIBAR (2007, 35 minutes). In 2008, Florence was awarded the UK Film Council Breakthrough Brits Award for Film Talent. Her latest film, ART OF THIS PLACE: WOMEN ARTISTS IN CAMEROON (2011) is an intimate documentary portrait of the creative vision and passion of young female artist in contemporary Cameroon. (8/14)
YOU MIGHT ALSO BE INTERESTED IN
Shopping Cart