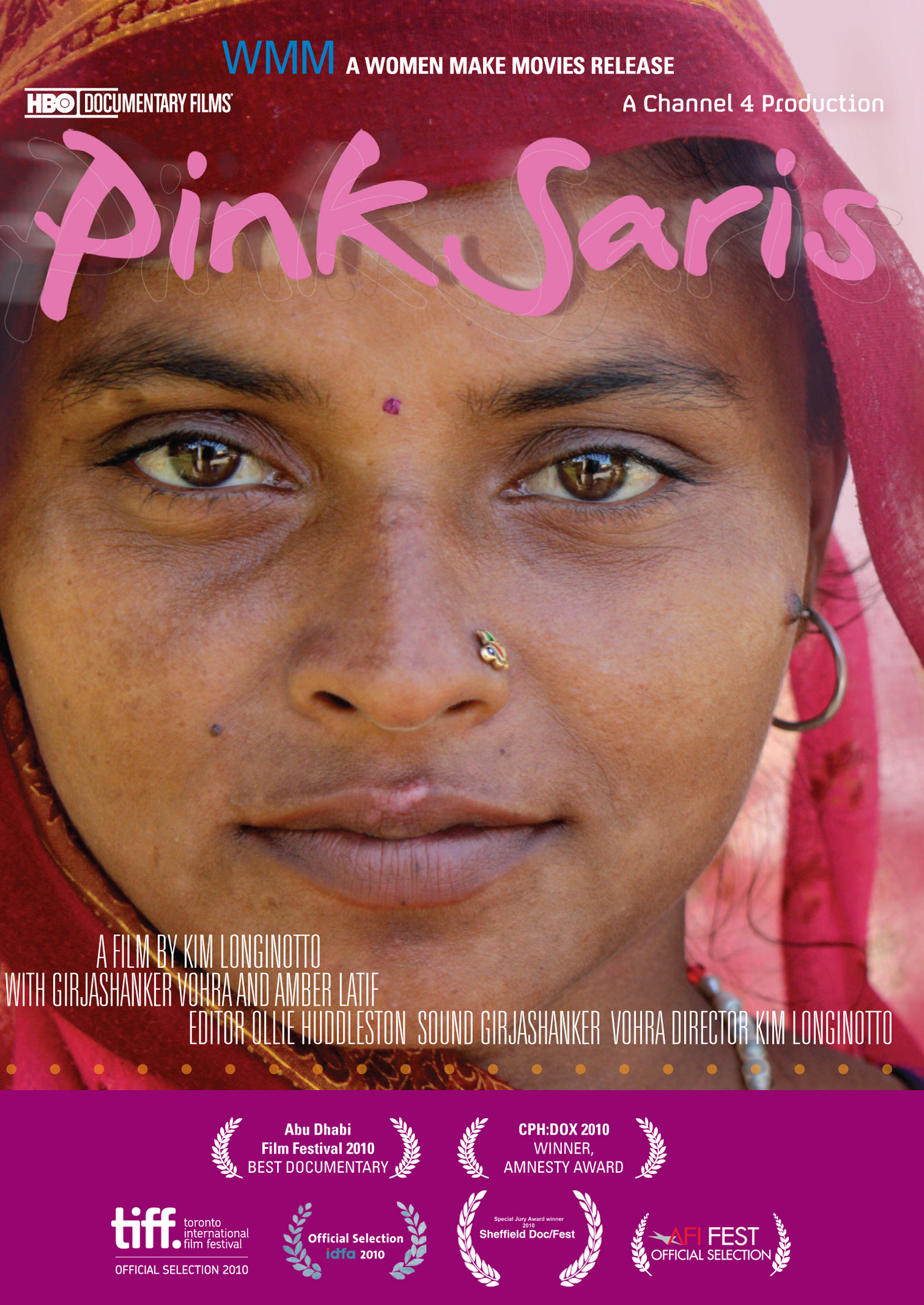 UK/India | 2010 | 96 minutes | Color | DVD | Hindi | Subtitled | Order No. 101009
SYNOPSIS
"A girl's life is cruel...A woman's life is very cruel," notes Sampat Pal, the complex protagonist at the center of PINK SARIS, internationally acclaimed director Kim Longinotto's latest foray into the lives of extraordinary women (SISTERS IN LAW, DIVORCE IRANIAN STYLE, ROUGH AUNTIES). Sampat should know – like many others she was married as a young girl into a family which made her work hard and beat her often. But unusually, she fought back, leaving her in-laws and eventually becoming famous as a champion for beleaguered women throughout Uttar Pradesh, many of whom find their way to her doorstep. Like Rekha, a fourteen year old Untouchable, who is three months pregnant and homeless – unable to marry her unborn child's father because of her low caste. Fifteen year old Renu's husband from an arranged marriage has abandoned her, her father-in-law has been raping her and she's threatening to throw herself under a train. Both young women, frightened and desperate, reach out for their only hope: Sampat Pal and her Gulabi Gang, Northern India's women vigilantes in pink. PINK SARIS is an unflinching and often amusing look at these unlikely political activists and their charismatic leader; in extraordinary scenes, we watch Sampat launch herself into the centre of family dramas, witnessed by scores of spectators, convinced her mediation is the best path for these vulnerable girls. Her partner Babuji, who has watched Sampat change over the years, is less certain...
PRESS
"The beauty of sitting down to watch a new Kim Longinotto film is that even if you don't have any idea what it's about, you can trust that it's going to deliver. Her latest, PINK SARIS, is no exception."
"PINK SARIS is easily one of the most interesting, relevant and fascinating documentaries I have ever seen."
"Complex and compelling."
"[Longinotto's] most dramatic film since the remarkably explosive DIVORCE IRANIAN STYLE."
"Highly Recommended."
"…a remarkably honest and urgent film, and Sampat is an unforgettable character. …Suitable for some mature high school classes and for college courses in cultural anthropology, anthropology of women/gender, anthropology of violence, and South Asian/Indian studies, as well as general audiences."
"Perhaps the personal details that [Pal] literally screams into the street are meant to make verbal abuse, beatings, and rapes harder to cover up. By making her cases so public, she charges the entire community with responsibility for ending these abuses."
"Kim Longinotto's work (Sisters in Law, Divorce Iranian Style, Rough Aunties) is well-situated in a rubric of third-world feminism..."
SCREENING HIGHLIGHTS AND AWARDS
Sheffield Doc Fest, Special Jury Prize
Abu Dhabi Int'l Film Festival, Best Documentary
CPH:DOX, Amnesty Award
Nominated as a 2011 ALA "Notable Video for Adults"
British Academy of Film and Television Arts (BAFTA), 2011 Nomination, Best Single Documentary
Prix Europa 2011 Award Nomination
Asia Pacific Screen Awards 2011, Best Documentary Feature Film, High Commendation
One World Film Festival Kyrgyzstan IFF, Special Jury Prize
Airtel Jaipur International Film Festival, Winner, Yellow Rose Award
Mumbai International Film Festival, Winner, Golden Conch for Best Documentary Film above 40 Minutes Duration
Sguardi Altrove Film Festival, Honorable Mention
Hong Kong International Film Festival, Winner, Humanitarian Award for Outstanding Documentary
Al-Jazeera Film Festival 2011, Winner, Al Jazeera Golden Award for Long Films
Message 2 Man International Film Festival, Jury Diploma
Off Plus Camera, Poland
Vancouver Intl Film Fest
Vermont Int'l Film Fest
AFI/Los Angeles Film Fest
London Film Festival
Valladolid, Spain
Films From The South, Norway
WATCH DOCS Human Rights Film Fest, Warsaw
Brisbane Film Fest, Australia
Viennale, Austria
Goa Int'l Film Fest, India
Cinema Verite Film Fest, Tehran
Africa Int'l Film Fest, Nigeria
Docpoint, Helsinki
Hong Kong Int'l Film Fest
Encuentros del Otro Cine, Ecuador
Gothenburg Film Fest, Sweden
Agadir Film Fest, Morocco
Dox Box Film Fest, Syria
Glasgow Film Fest, Scotland
Women's Film Fest, Seoul
This Human World Film Fest, Vienna
ABOUT FILMMAKER(S)
Kim Longinotto
Kim Longinotto (born 1952) is a British documentary filmmaker, well known for making films that highlight the plight of female victims of oppression or discrimination. Longinotto studied camera and directing at the National Film and Television School in Beaconsfield, England, where she now tutors occasionally.

Longinotto was born to an Italian father and a Welsh mother; her father was a photographer who later went bankrupt. At the age of 10 she was sent to a draconian all-girls boarding school, where she found it hard to make friends due to the mistress forbidding anyone to talk to her for a term after she became lost during a school trip. After a period of homelessness, Longinotto went on to Essex University to study English and European literature and later followed friend and future filmmaker, Nick Broomfield to the National Film and Television School. While studying, she made a documentary about her boarding school that was shown at the London Film Festival, since when she has continued to be a prolific documentary filmmaker.

Longinotto is an observational filmmaker. Observational cinema, also known as direct cinema, free cinema or cinema verite, usually excludes certain documentary techniques such as advanced planning, scripting, staging, narration, lighting, reenactment and interviewing. Longinotto's unobtrusiveness, which is an important part of observational documentary, gives the women on camera a certain voice and presence that may not have emerged with another documentary genre. She has received a number of awards for her films over the years, including a BAFTA for her documentary PINK SARIS.

Among her more than 20 films, she has followed a teenager struggling to become a wrestling star in 2000's GAEA GIRLS, challenged the tradition of female genital mutilation in Kenya in 2002's THE DAY I WILL NEVER FORGET, and told the story of an Indian Muslim woman who smuggled poetry out to the world while locked up by her family in 2013's SALMA. In 2015's DREAMCATCHER Longinotto looks at the life and work of a former sex worker who rescues Chicago girls from the street.

Her new film SHOOTING THE MAFIA, premiered at the 2019 Sundance Film Festival. (3/19)
Subject Areas
RELATED LINKS
YOU MIGHT ALSO BE INTERESTED IN
Shopping Cart