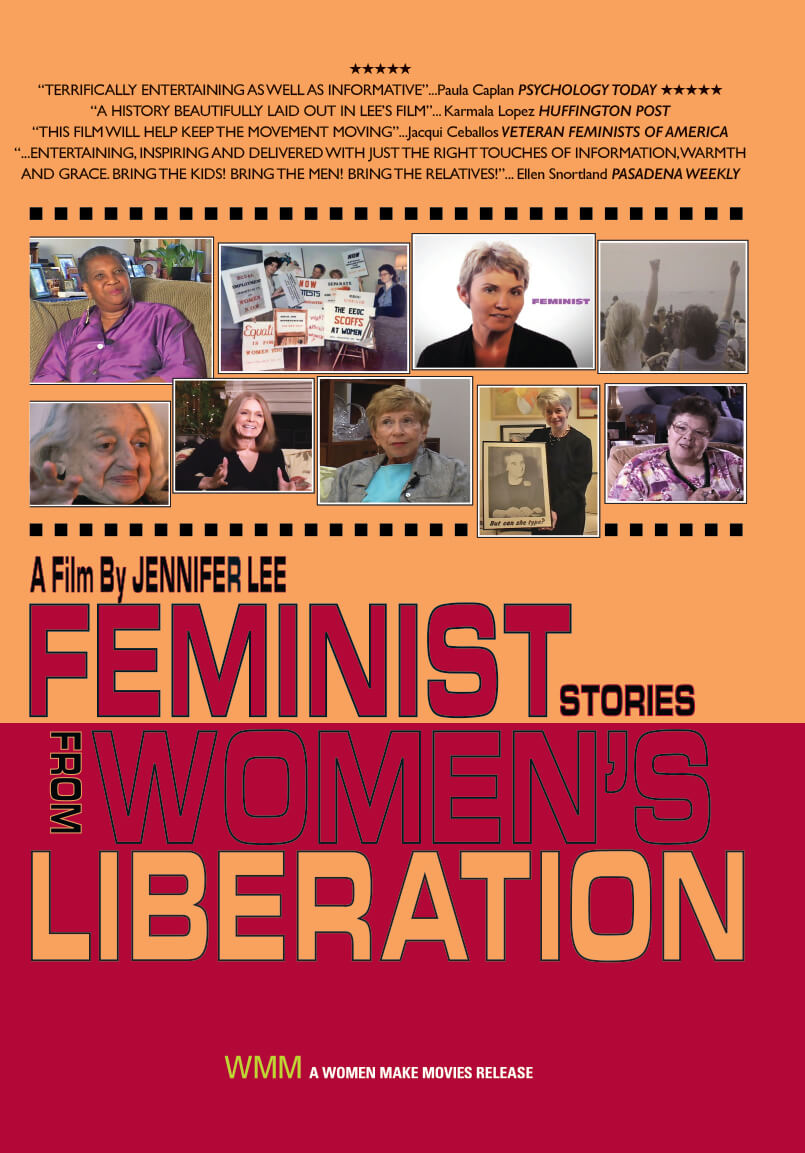 Feminist: Stories From Women's Liberation
US | 2013 | 64 minutes | Color | DVD | Order No. 141137
SYNOPSIS
Structured as a personal journey of rediscovery by filmmaker Jennifer Lee, this documentary brings the momentous first decade of secondwave feminism vividly to life. Its trajectory starts with the earliest stirrings in 1963 and ends with the movement's full blossoming in 1970—from the Presidential Commission's report on widespread discrimination against women and publication of Betty Friedan's Feminine Mystique up through radical feminists' takeover of the Statue of Liberty and Friedan's calls for a women's strike for equality. A wealth of period footage captures landmark events and the pivotal roles of the National Organization for Women (NOW), the Equal Employment Opportunities Commission (EEOC), the Student Nonviolent Coordinating Committee (SNCC), Redstockings, and other organizations. Thirty-five diverse interviewees, including rank-and-file activists along with well-known feminists Betty Friedan, Frances M. Beale, Gloria Steinem, Robin Morgan, Ti-Grace Atkinson, and others, share memories of the period as well as issues and challenges that still resonate today. A great introduction to Women's Studies and critical viewing for historians and academics interested in feminism, activism and the Women's Movement.
PRESS
"***1/2 Highly recommended...Lee shows how important it is to keep feminist stories a lively part of our national discourse."
"FEMINIST STORIES is poignant, funny, very powerful, and unapologetic… The film is a must-see."
"… terrifically entertaining as well as informative..."
"…Lee does an excellent job of covering disagreements within the movement."
"...a documentary I wish were mandatory viewing in schools …"
"Remembering and studying the women who broke the barriers before us is not just the right thing to do; we ignore their hard-won lessons at our own peril. For American women, our careless amnesia is plain poison and Lee's film is a healthy portion of the antidote."
"Lee's film makes a huge leap in uncovering our buried history as women, a gift to girls and women and boys and men alike."
SCREENING HIGHLIGHTS AND AWARDS
Los Angeles Women's Int'l Film Festival, Best of Fest for Documentary
ABOUT FILMMAKER(S)
Jennifer Lee
I grew up on Staten Island, New York. My father was a police officer and my mother was a social worker. My mother's side of the family were politically active with the rights of mentally retarded people, and the journalist Geraldo Rivera interviewed my mother on her political activism in the early 1970s. It was my first experience with how speaking the truth can change the world. My father described the late sixties and early seventies from a police officer's perspective; "It was a very turbulent time." I was experiencing the women's movement, but as I was a child, I would also inherit the women's movement.

My mother and I moved to Athens, Georgia and then Atlanta in 1973. We were living in the Quaker Meeting House in the artists area of Atlanta, Little Five Points. This neighborhood had it all, filmmakers, actors, gay activists, political activists, feminists, and the general counter culture of the time. I became involved with a dance and theater company directed by Atlanta choreographer, Celeste Miller. I toured with her in New York City in 1979 (that germinal year). In New York we lived in Tribeca, on Reade street, which was a desolate area of NYC after 6:00 pm. There were only a couple of establishments open in the evening, "Puffy's" was one of them. The Mudd Club was a favorite place, too.

"I left traditional public school and graduated from the Atlanta alternative school."

While in high school in Atlanta I made note that the girl's gym was the old gym with the old equipment, and the boys gym was the new gym. I made a formal complaint to the principal indicating that the school was in violation of Title IX. The principal, sat on his desk and looked down at me from his perch. He pointedly declined to change anything. I knew he was wrong and I was right. I left traditional public school (One day I just walked out the front door and left.) and graduated from the Atlanta alternative school.
During my teenage years I also met radical feminists who introduced me to the work of Mary Daly and concepts like "patriarchy." I volunteered at the feminist bookstore, "Charis Books and More." I remember a friend pointing out a twenty dollar bill and saying, "Why don't we have women on our money?"
I did my first public defense of women's reproductive rights at 18 years old in Atlanta, GA. In an interesting twist I saw the Indiana Jones film "Raider's of the Lost Ark" and wanted to work on movies just like it. By the time I got to Hampshire College in Amherst, Massachusetts, I knew I wanted to major in film and women's studies. At Hampshire I also created a speaker series called, The "Women's Lives" series. I brought working women from the Amherst area to speak about their work and careers in small settings to students.

Upon graduation I moved to the San Francisco Bay area intent on working at Lucasfilm's Industrial Light and Magic in their optical department (this was when visual effects were created on cameras and film - computer effects were just beginning). I started working in the optical department as a compositor in 1989.

I worked on many feature films at ILM, including FORREST GUMP, GHOST, BACK TO THE FUTURE 2, EATH BECOMES HER, THE ROCKETEER, THE HUNT FOR RED OCTOBER, HOOK, IN THE MOUTH OF MADNESS and FORREST GUMP.

We worked many seven day work weeks at ILM. After one particularly exhausting stretch of work we had a hiatus. The following morning I awoke at 5:00 AM to meet women from the California Abortion Rights Action League to defend a women's clinic in Oakland from protestors.

I started making my first documentary film while working at ILM. It was about little-known southwestern architect named MARY JANE COLTER: THE DESERT VIEW. It was narrated by Ellen Burstyn. I was drawn to Colter's story because her work was significant and ground-breaking, and I had never heard of her.

Colter blended native American style architecture with Arts and Crafts design. Her buildings still stand at the Grand Canyon and throughout the southwest. The film was in official selection at many film festivals including the Santa Barbara International Film Festival 1998 and won the Bronze Apple Award from the National Educational Media Network.

While in Los Angeles I worked in several Hollywood studios including, Warner Bros. Studios, Sony Imageworks, and Technicolor. I worked as a visual effects producer, compositor, editor, digital intermediate conforming editor and I produced miniature effects. I worked technically and creatively. My credits include, RACE TO WITCH MOUNTAIN, THE HUMAN STAIN, KILL BILL Vol. 1+2, FINAL DESTINATION, HERBIE FULLY LOADED, BEOWULF, PIRATES OF THE CARIBBEAN, and ENCHANTED.

I started to see Hollywood feature films as leaning more towards male main characters by the late 1990s. I began to move in a more independent direction with film.

Mary Jane Colter designed a gracious hotel, La Posada in Winslow, Arizona. The hotel had been in disrepair and was purchased for renovation. I got to know the owners of the hotel and I created and directed a film festival in Winslow's historic theater from 2002 through 2004. For three years the festival screened independent films and hosted a visual effects lecture series that included visual effects professionals.

"I work to connect the importance of history as women along with seeing women as leaders."
My recent film FEMINIST: STORIES FROM WOMEN'S LIBERATION won "Best of the Fest" for documentary at the Los Angeles Women's International Film Festival. It is a film exploring the significance of the second wave of the women's liberation movement on our lives. Interviewees include author and NOW founder Betty Friedan, authors and activists Frances M. Beal, Robin Morgan, Sonia Pressman Fuentes, Betita Martinez and many other feminists who are not well-known but should be.
As a speaker I work to connect the importance of history as women along with seeing women as leaders. Speaking engagements include the Berkshire Conference on Women's History, Hampshire College, The Women, Action and Media National Conference, UCLA, University of Colorado, Boulder, Girls Athletic Leadership School, Denver, CO, Loyola Marymount University and the International Islamic University in Islamabad, Pakistan.

Dedicated to moving the Hollywood film industry into a greener way of making movies, I am on the Board of Directors for an environmentally sustainable LED lighting system for the feature film industry and beyond.

My work was published in "American Dreamers: Optimists, Mavericks, and Mad Inventors Share their Dreams for Brighter Futures." I believe that equality begins in the home. It shows teachers, parents and mentors how to avoid the sexist imagery and language in modern society by taking tangible steps every day that show girls that women are leaders. (5/14)
YOU MIGHT ALSO BE INTERESTED IN
Shopping Cart