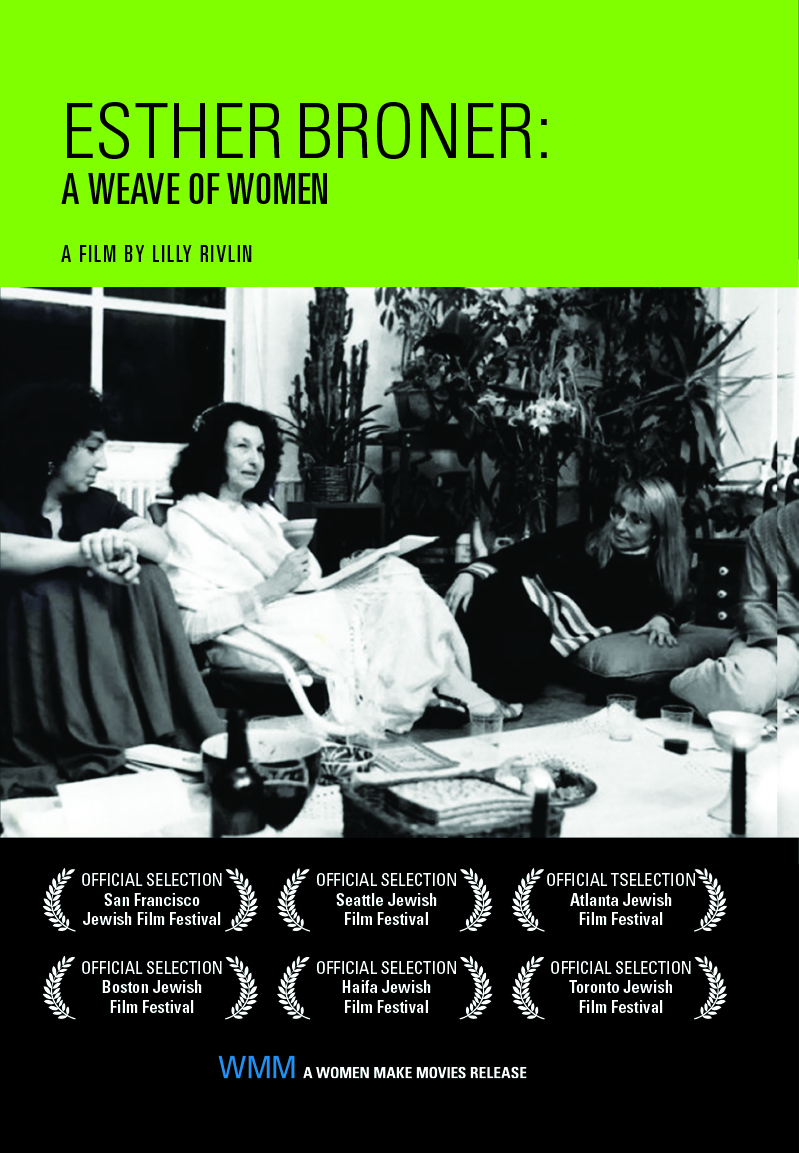 Esther Broner: A Weave of Women
US | 2013 | 62 minutes | Color | DVD | Order No. 141128
SYNOPSIS
Prolific writer, passionate activist, dedicated scholar and pioneering feminist, Esther Broner infused second wave feminism with a distinctive Jewish voice. In the mid-1970s, as the women's movement was vastly changing views on gender and equality, Broner created a radical new Haggadah (the text for the Passover service seder) that preserved but reimagined Jewish rituals and culture by shifting the focus onto women. Transforming the male-centered service into a powerful reclamation of women's lives and stories, it became, under Broner's leadership, the basis for a Jewish feminist tradition that continues today. This inspiring documentary by acclaimed filmmaker Lilly Rivlin revisits Broner's richly engaged political, artistic and spiritual life through archival photos, video footage spanning several decades, and interviews with family and friends, including Gloria Steinem, Bella Abzug, Grace Paley, and other famous feminists. Drawing its title from one of Broner's celebrated novels, the film helps explore the intersection of feminism and religion, and helps answer the question, is there room for feminism and religious tradition in a traditionally male dominated space?
PRESS
"Weaving together readings of Broner's prose, documentary photographs, interviews, and footage from many of these Seders, the film goes a long way towards evoking Broner's unique contributions towards feminism, Judaism and literature, documenting and celebrating the breadth of one women's legacy."
"A film by a remarkable woman about another remarkable woman...This is a film for Jewish Studies, for Documentary Studies, for Gender Studies, and for those who simply want to know more about a transformational group of women."
"What a deeply fascinating and heartfelt portrait of Esther. It's an important documentation that brilliantly captured a complex multi layered woman who dares challenging the norms of her time."
"Rivlin's tribute to Esther Broner's life reminds us of the energy and passion with which the first generation of American Jewish feminists engaged with Jewish ritual, liturgy, and traditions. As a result, modern Judaism is more colorful, inclusive, and meaningful. In the film, Broner reminds us that the work of Jewish feminism must extend to the wider world, to alleviating poverty and inequality everywhere."
"Rivlin captures Broner's big heart, wildly inventive mind, compassion and her loud, infectious, frequent laugh. Her strong storytelling skills are also evident…"
"The film is a gift, of a time, documented so we can feel again how fresh it was to be in the presence of passionate women creating beauty/power/community, feeling it rise out from under."
"It is stunning, powerful, necessary and inspiring. Thank you. I am very grateful to have it and to share it with my students."
SCREENING HIGHLIGHTS AND AWARDS
San Francisco Jewish Film Festival
Seattle Jewish Film Festival
Toronto Jewish Film Festival
Atlanta Jewish Film Festival
Haifa Jewish Film Festival
Boston Jewish Film Festival
ABOUT FILMMAKER(S)
Lilly Rivlin
Award-winning filmmaker, writer and political activist Lilly Rivlin lives in New York City. Rivlin was born in Jerusalem and immigrated to the United States with her family in 1945. She did her graduate degree in Political Science at U of C, Berkeley. Before focusing on documentaries, she was a journalist, and foundation consultant on the Middle East and women.

Most recently Rivlin was selected as the 2013-14 recipient of the annual Miller Distinguished Jewish Woman Filmmaker Award.The 'personal is political' is expressed in the documentaries she produced, directed and wrote: her latest is ESTHER BRONER: A WEAVE OF WOMEN,( (2013) and before that the award winning film, GRACE PALEY: COLLECTED SHORTS, (2010); CAN YOU HEAR ME? ISRAELI AND PALESTINIAN WOMEN FIGHT FOR PEACE (2006); GIMME A KISS (2000); MIRIAM'S DAUGHTERS NOW, aired on PBS and Israel TV (1986); THE TRIBE, CUNY TV (1983).

She contributed to such works as EXPULSION AND MEMORY (1995); Full Circle, a film about women's role in kibbutzim (1995); IF NOT NOW WHEN? (1988); PILLARS OF FIRE, Israel TV's 18-part series on the history of Zionism (1983); THE JEWS - a series commissioned by David Puttnam and Sandy Lieberson (1970-72).

Ms. Rivlin's articles were published in Newsweek, MS Magazine, The Washington Post, Lear's and US Magazine. Other publications include Welcome to Israel, with Gila Gevirtz, (2000); Which Lilith? : Feminist Writers Recreate the World's First Woman, co-edited with Enid Dame and Henny Wenkart (1998); concept and photographs for When Will the Fighting Stop? A Child's View of Jerusalem (1990).
(3/14)
YOU MIGHT ALSO BE INTERESTED IN
Shopping Cart