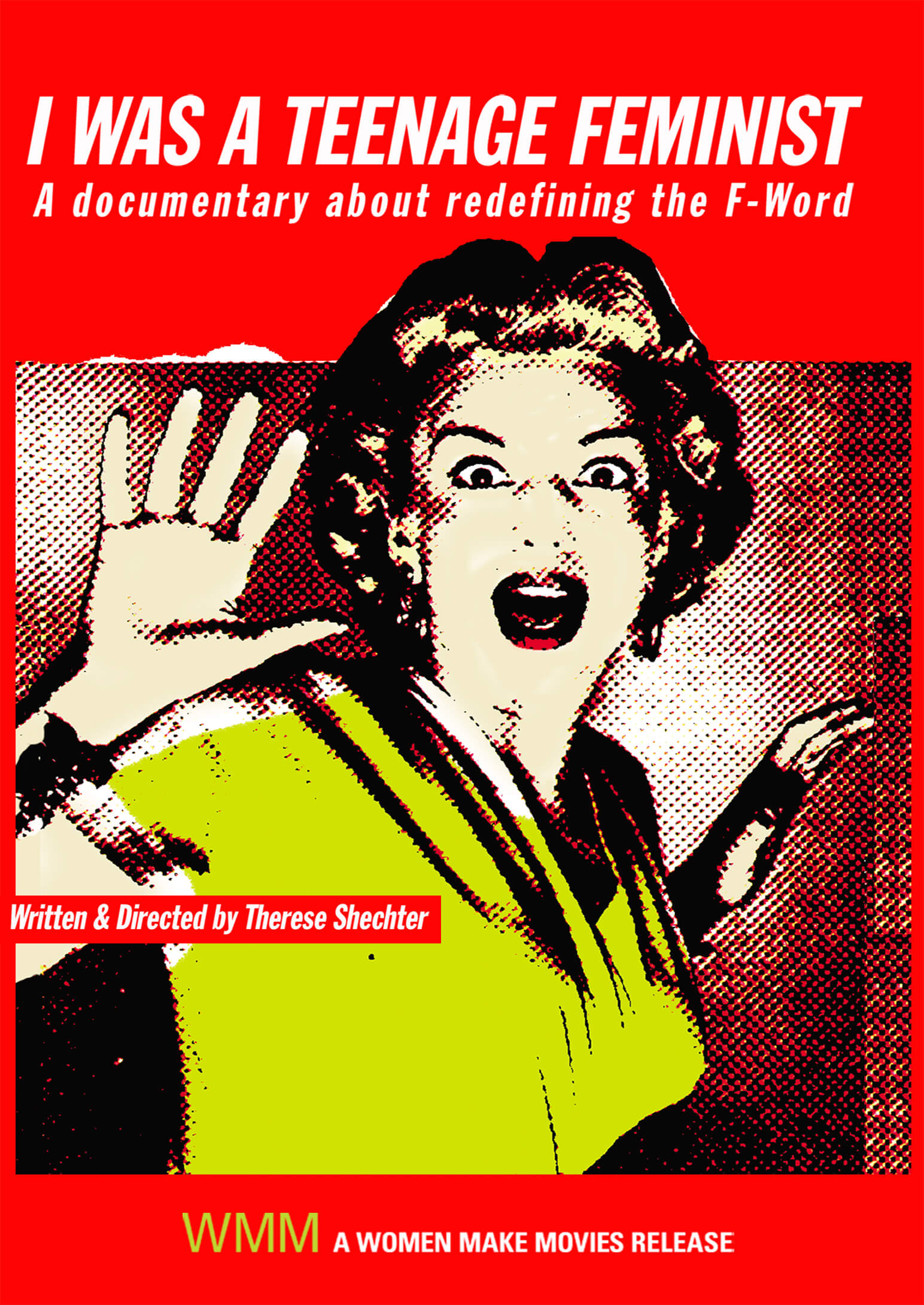 Canada/US | 2005 | 62 minutes | Color | DVD | Order No. 07914
SYNOPSIS
Why is it that some young, independent, progressive women in today's society feel uncomfortable identifying with the F-word? Join filmmaker Therese Shechter as she takes a funny, moving and very personal journey into the heart of feminism. Armed with a video camera and an irreverent sense of humor, Shechter talks with feminist superstars, rowdy frat boys, liberated Cosmo girls and Radical Cheerleaders, all in her quest to find out whether feminism can still be a source of personal and political power. In this enlightening documentary, screened worldwide, Shechter hunts down the answers to questions many women are grappling with about their roles and identities in today's society: Is feminism dead, hibernating, or trapped below the radar? Have the goals of the '70s been accomplished or have feminism's opponents appropriated and denigrated the movement beyond all recognition? If so, how did this happen? Do you have to be political to be a feminist? And do you even have to be female? With home movies clips of Shechter as a budding feminist, archival materials from old health classes, and music by Ani DiFranco, Lavababy, Gina Young, Moxie Starpark and the legendary Helen Reddy, I WAS A TEENAGE FEMINIST redefines the F-Word for a new generation.
PRESS
"Makes you laugh, and makes you look at feminism in a new way. It is very well done. Recommended. "
"This film is evidence that feminism – whether second wave, third wave or no wave – hasn't ceased to be a vital, many-hued movement with something to offer women of any age."
"Has the potential to reach a whole new generation…The film speaks their language, rejecting preaching and dogma for clean-headed and entertaining social inquiry- and a healthy dose of irony."
"Shechter starts her film by asking 'where the hell did feminism go?' Happily, she finds it – and her journey will make any disenchanted potential-Gloria breathe a sigh of relief."
"Resonates with all generations of feminists."
"More proof that feminists do have a sense of humor. Therese has gone ape with us!"
"Like a chick version of Michael Moore's Roger and Me, but, luckily, there's no real villain...Unlike the usual politically correct thinkers who ask this question, Shechter is actually interested in the answer, and where it comes from."
"If you missed the revolution, filmmaker Therese Shechter's I Was A Teenage Feminist is a refresher course in Feminism 101."
"Cheerful and straightforward"
"The film's fresh approach is perfect for those who say, "I'm not a feminist, but...'"
"Shechter proves that feminism is still available to anyone willing to look past the media's dismissals."
SCREENING HIGHLIGHTS AND AWARDS
Karachi Int'l F F, Documentary Special Mention
Jewish Women's FF, NCJW New York, Best Film
Women's Film Festival, Seoul
Washington Jewish Film Festival
Rocky Mountain Women's Film Festival
Femmes en Resistance Film Festival
Northampton Film Festival
Eureka Film Festival
National Broadcast on W Network, Canada
Ladyfest Brighton Music and Arts Festival
Go Girls! at Symphony Space
St. John's International Women's Film Festival
Femina Int'l Women's Film Festival, Rio de Janeiro, Brazil
"Her Voice, Her View" Film Festival
Jewish Women's Film Festival
Laboratorio Immagine Donna di Firenze, Int'l Women's FF, Florence, Italy
Ladyfest Ottawa Women's Arts Festival
Rdece Zore (Red Dawns) Women's Festival, Ljubljana, Slovenia
Reel Affirmations Gay and Lesbian Film Festival, Washington DC
ABOUT FILMMAKER(S)
Therese Shechter
Therese Shechter deftly fuses personal narrative, interactive technologies and grassroots activism to chronicle 21st Century feminism, most recently as the writer and director of the documentary How to Lose Your Virginity (Women Make Movies, 2013). Policy Mic said the film "might make you rethink everything you know about sex," and the Australian Daily Life called Therese "part of a new vanguard of feminist thinkers and media makers."

Her other documentaries include I Was a Teenage Feminist (Women Make Movies, 2005), How I Learned to Speak Turkish (Indiepix, 2006) and the short "#slutwalknyc," which had its world premiere in 2013 at the Hamptons International Film Festival. In Fall 2013, three of her films were screened in festivals on three different continents.

Therese's most recent documentary How to Lose Your Virginity challenges the meaning, myth and misogyny of virginity in American culture. Revealing how ideas about virginity shape the sexual lives of young women and men, the film journeys beyond the Abstinence movement to examine the intersecting forces of history, politics, religion and popular culture. Soraya Chemaly, writing in The Huffington Post called it a "smart, funny and provoking documentary."

The film had its US festival premiere at DOC NYC this fall, one of the largest documentary festivals in the country. Its US broadcast premiere was on Fusion in February 2014. The film has been sold to Australian, Swedish, Brazilian, and Israeli television. The Israeli broadcast led to screening events with leading women's organizations in Tel Aviv, Jerusalem and at the Haifa Cinematheque. It's also had festival appearances in Canada, the US, Croatia, Turkey, the Czech Republic and Korea.

Therese's first documentary I Was A Teenage Feminist, which Ms Magazine called "a spirited exploration of the trials and tribulations of contemporary feminism," premiered on Canadian television in 2005 and went on to win a special mention at the Karachi (Pakistan) International Film Festival and Best Film from the National Council for Jewish Women. A staple of gender studies programs all over North America, the film continues to screen widely, most recently this fall at the PSBT International Film Festival and Forum in New Delhi.

Prior to becoming a filmmaker, Therese was Graphics and Design Editor at the Chicago Tribune, where she was the art director for two Pulitzer-Prize-winning projects. Her studio Trixie Films is based in Brooklyn. (8/14)
Subject Areas
RELATED LINKS
YOU MIGHT ALSO BE INTERESTED IN
Shopping Cart