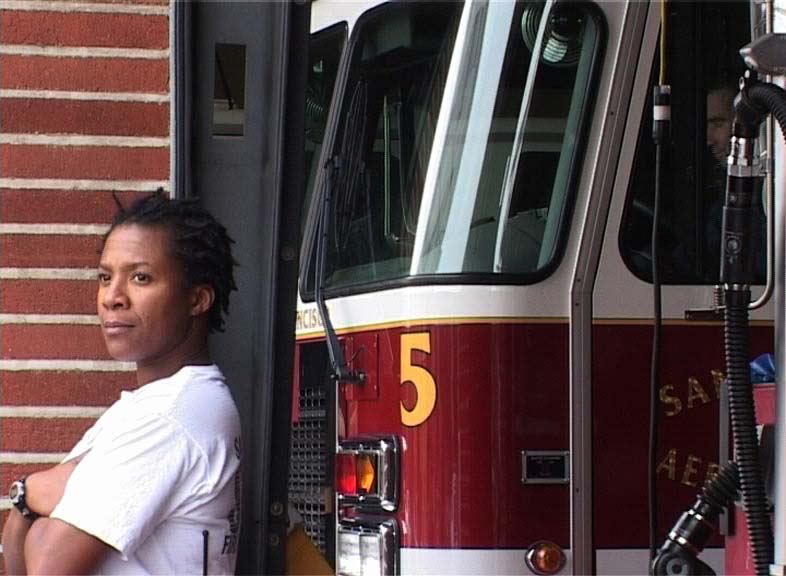 Germany | 2001 | 54 minutes | Color | DVD | English | Order No. 03777
SYNOPSIS
SOME REAL HEAT explores the small and relatively new world of female firefighters in San Francisco and their upward climb to gain access to a male-dominated field. Armed with axes, chainsaws, muscle, heart and determination, six daring women demonstrate how they single-handedly turn gender roles upside down by putting their lives on the line everyday in one of the riskiest jobs around. As they passionately talk about the tools of the trade, overcoming their fears and helping others, they reveal the fascinating history of women fire fighters and the gender bias that barred them from officially entering the U.S. Fire Department until 1974. They also explain the important role women paramedics play in fire departments and the surprising number of medical emergencies that they attend to on a weekly basis – a number that far outweighs actually putting out fires. Uncovering the myth and reality of this dangerous profession, this inspiring piece intimately delves into the strength and character that distinguishes these women as true modern-day heroes.
PRESS
"…wry and thought-provoking…directly engages the cultural codes associated with firefighting…as well as the intractable problems of racism, sexism, and homophobia in the ranks…A perfect companion to Hammering it Out."
"…this documentary makes one rethink still ingrained sexist assumptions about what professions women can enter…It resists sensationalizing or glamorizing the deeds of the firefighters. Instead, we leave with some real respect for these bold women."
"White women and women of color, straight and queer, these are some buff civil servants, role models for young women everywhere."
SCREENING HIGHLIGHTS AND AWARDS
Hawaii International Film Festival
Hot Springs Documentary Film Festival
Juliane-Bartel Award - Women's Media Award
Seattle Gay and Lesbian Film Festival
San Francisco International Lesbian and Gay Film Festival
Hamburg Lesbian & Gay Film Festival, Audience Award
Outfest - Los Angeles Lesbian and Gay Film Festival
Inside Out - Toronto Lesbian and Gay Film and Video Festival
Portland Gay and Lesbian Film Festival
Tampa Gay and Lesbian Film Festival
Austin Gay and Lesbian Film Festival
Fresno Reel Pride Film Festial
Michigan Reel Pride Film Festival
Documentary Fortnight, Museum of Modern Art, New York
Seoul Women's Film Festival
ABOUT FILMMAKER(S)
Stefanie Jordan
Stefanie Jordan is a German-born director, producer, camerawoman, and animator whose films have been shown at festivals world-wide and have won numerous awards. Jordan studied film at the San Francisco Art Institute and San Francisco State University as well as a guest semester at the Art Academy in Hamburg. Jordan also studied animation at the Academy for Film and Television in Potsdam-Babelsberg. Jordan's work includes animation, feature length documentary and experimental films as well as commercials. Her animated short film, "Late at Night," won the Silver Bear for short film at the 1997 Berlin International Film Festival and her documentary "Juliane-Bartel-Preis" received the German Women Media Award in 2003. Aside from film and video, Jordan has also worked as a graphic designer, a camerawoman, and has given several international lectures. Her film works are extensively explored in Alice Kuzniar's book, The Queer German Cinema (Stanford University Press 2000). Currently, Jordan is developing a series of short films for children. (07/09)
Subject Areas
RELATED LINKS
YOU MIGHT ALSO BE INTERESTED IN
Shopping Cart