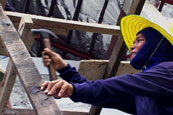 Transnational Tradeswomen
2006 | 62 minutes | Color | DVD | Thai, Chinese, Tamil, Urdu, Japanese | Subtitled | Order No. 07911
SYNOPSIS
Inspired by organizers at the Beijing Conference on Women in 1995, former construction worker Vivian Price spent years documenting the current and historical roles of women in the construction industry in Asia – discovering several startling facts. Capturing footage that shatters any stereotypes of delicate, submissive Asian women, Price discovers that women in many parts of Asia have been doing construction labor for centuries. But conversations with these women show that development and the resulting mechanization are pushing them out of the industry. Their stories disturb the notion of "progress" that many people hold and show how globalization, modernization, education and technology don't always result in gender equality and the alleviation of poverty. Celebrating a range of women workers – from a Japanese truck driver, to two young Pakistani women working on a construction site in Lahore, to a Taiwanese woman doing concrete work alongside her husband – this film deftly probes the connections in their experiences. In a segment exploring the history of the Samsui women in Singapore (Chinese women who were recruited as construction laborers in the 1920's until they lost their jobs to mechanization in the 1970's) unique archival footage and interviews with surviving Samsui offer an importation perspective on the historical and global scope of women workers' struggles.
PRESS
"Implodes the stereotype of weak and submissive Asian females… [W]omen are not often recognized for their part in actually building the many edifices that have sprung up in urban center across this region. Informative for students in high school through college."
"An important and inspiring film. Recommended."
"Graphic and eloquent…Capturing both the common and distinct forms of sexism and oppression, [this film] demonstrates women's heroic efforts to unionize and fight for their rights as workers."
"Provocative and compelling … offers rare insight into the impact of globalization and workers' dignified acts of resistance and independence. A highly recommended educational resource."
"A unique view…It provides a rich sense of women's identities and agencies."
"Impressive…Shatters stereotypes of Asian women and sheds much needed light on the experiences of tradeswomen within a transnational perspective. Ideal for courses on gender and globalization; the global political economy; gender and work; gender and race-ethnicity."
"A real eye-opener about the different ways sexism operates in the job market."
"A rare on-the-ground view…Presents a powerful dialogue about the need for and possibilities of solidarity across national borders."
"…challenge[s] popular myths about the alleged benefits wrought by the borderless world of globalization, exposing instead how capital accumulation is subsidized by marginalized workers across the globe that are disproportionately women."
SCREENING HIGHLIGHTS AND AWARDS
Milwaukee Women's Film Festival
University of California Film and Video Center
Taiwan Public Television
ABOUT FILMMAKER(S)
Vivian Price
Ms. Price is a videographer with a Ph.D. from the University of California, Irvine, and is a union electrician. She produced FACES OF TRADESWOMEN, commissioned by the U.S. Women's Bureau, and IN MY OWN WORDS, AGAINST ALL ODDS, the story of the first African-American journeywoman in the electrician's union in Los Angeles. She also produced GENDER IN THE GLOBAL CONSTRUCTION SITE for the Beijing Women's Conference.

Price currently teaches Interdisciplinary Studies in the Department of Arts and Humanities at California State University, Dominguez Hills. (7/12)
YOU MIGHT ALSO BE INTERESTED IN
Apache 8
For 30 years, the all-female Apache 8 unit has protected their reservation from fire and also responded to wildfires around the nation. This group of firefighters, which recently became co-ed, soon earned the reputation of being fierce, loyal and dependable—and tougher than their male colleagues. Facing gender stereotypes and the problems that come with life on the impoverished reservation, the women became known as some of the country's most elite firefighters. From director Sande Zeig and executive producer Heather Rae (Cherokee), APACHE 8 combines archival footage and present-day interviews and focuses primarily on four women from different generations of Apache 8 crewmembers, who speak tenderly and often humorously of hardship, loss, family, community and pride in being a firefighter. The women are separated from their families, face tribe initiation, and struggle to make a living in a community ravaged by unemployment and substance abuse. But while the women may have initially set out to try and earn a living in their economically challenged community, they quickly discover an inner strength and resilience that speaks to their traditions and beliefs as Native women.
Learn more
Shopping Cart