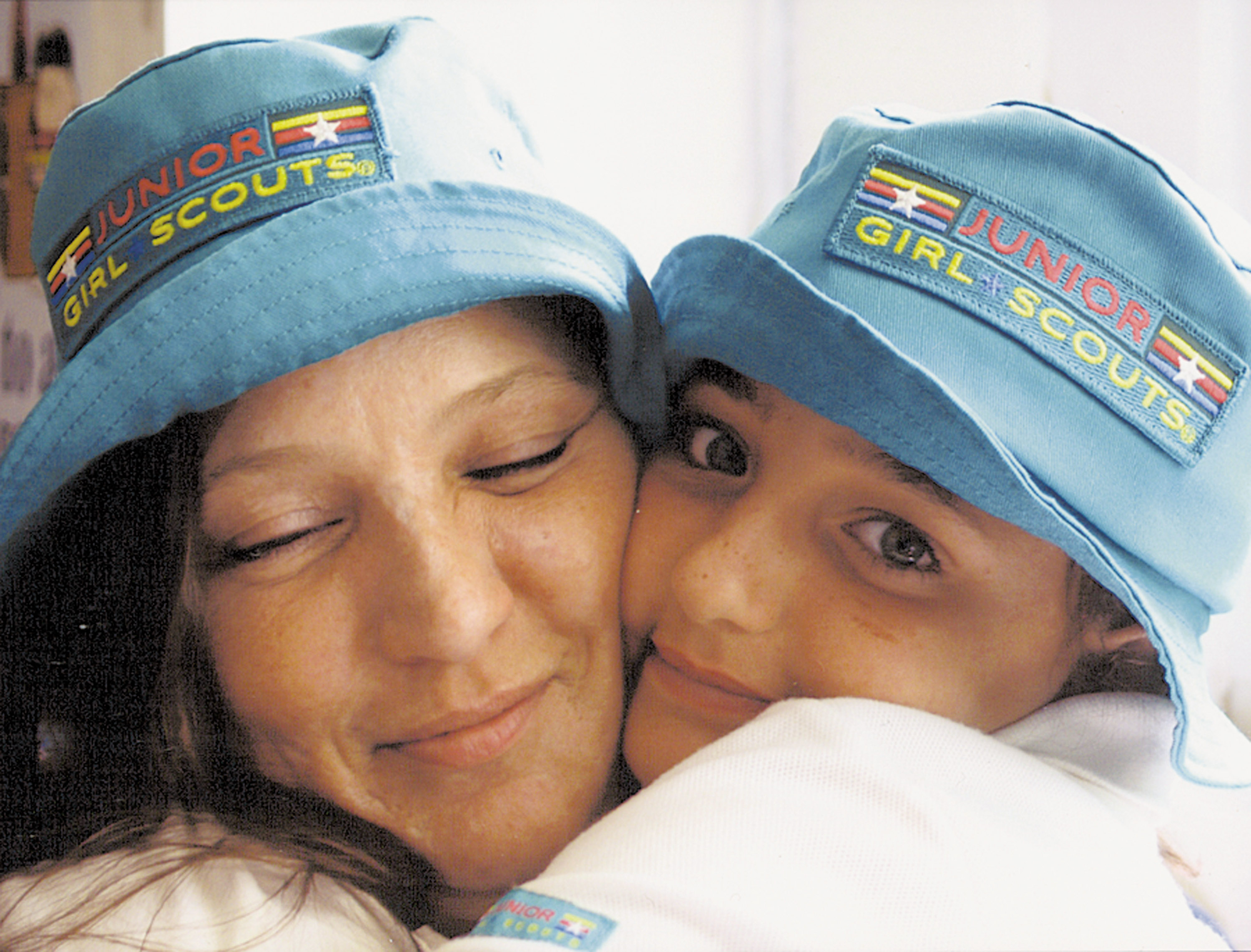 Troop 1500
Girl Scouts Beyond Bars
2005 | 68 minutes | Color | DVD | Order No. 05876
SYNOPSIS
Their mothers may be convicted thieves, murderers and drug dealers, but the girls of Troop 1500 want to be doctors, social workers and marine biologists. With meetings once a month at Hilltop Prison in Gatesville, Texas, this innovative Girl Scout program brings daughters together with their inmate mothers, offering them a chance to rebuild their broken relationships. Intimately involved with the troop for several years, the directors took their cameras far beyond meetings to explore the painful context of broken families. Powerful insight comes from interviews shot by the girls themselves, which reveal their conflicted feelings of anger and joy, abandonment and intimacy—as well as the deep influence their mothers still have on them. An estimated 1.5 million children have incarcerated parents and 90 percent of female inmates are single parents. Their daughters are six times more likely to land in the juvenile justice system. TROOP 1500 poignantly reveals how an inspired yet controversial effort by the more than 90-year old Girl Scouts organization is working to help these at-risk young girls deal with their unique circumstances and break the cycle of crime within families.
PRESS
"Captures the hopes and fears of girls who are separated from their mothers who are in prison and the exciting work that Girl Scouts Beyond Bars does to bring them closer. The emotional result is both realistic and uplifting, as all the girls struggle to find their rightful places in life. Girl Scouts applauds…[this] moving and life-changing documentary."
"Inspired… a tough, uncompromising, yet affectionate look at young girls dealing with major daily concerns."
"Reveal[s] something never seen on film until now. Troop 1500 is precious resource to understand how incarceration affects families."
"Heart-breaking but also heartening…Troop 1500 is innovative, especially in placing the video camera into the girl's hands as they interview their mothers."
"heartwarming and heartrending, the film shines a light on an ignored segment of society and considers how America can prevent the children of the incarcerated from feeling punished themselves."
"Inspiring and compelling, TROOP 1500 steers clear of sentimentality and drives home the magnitude of the difficulty of breaking the cycle of crime."
"Poignant…Emotional journeys unfold as seven young girls meet with their mothers and social workers in an attempt to rebuild broken relationships, explore feelings of abandonment and anger, and (hopefully) break 'the cycle'. Recommended"
"Poignant… Rather than existing as simple stereotypes or statistics, these girls show us the individuality of their family situations. …an invaluable, powerful viewing experience for anyone interested in the contemporary prison crisis in the U.S., especially in regards to how it affects incarcerated women and their daughters."
SCREENING HIGHLIGHTS AND AWARDS
MoMA Documentary Fortnight
San Diego Girl Film Festival
Asheville Film Festival
Savannah Film Festival
GirlFest, Hawaii
ABOUT FILMMAKER(S)
Ellen Spiro
Ellen Spiro is a Guggenheim fellow and Emmy Award winning filmmaker who has created innovative and socially engaged documentaries for over two decades. She is a two-time Rockefeller fellow, National Endowment for the Arts fellow and winner of The Foundation of American Women in Radio and Television's Gracie Award for both Outstanding Director and Outstanding Documentary (Troop 1500 - with Karen Bernstein). Her film, Body of War, a collaboration with Phil Donahue, won Best Documentary from the prestigious National Board of Review and was short-listed for an Oscar nomination. It premiered at the Toronto Film Festival where it won an audience award and was broadcast on the Sundance Channel to wide critical acclaim. Spiro's award-wining films have been broadcast and screened in film festivals worldwide and are housed in the permanent collections of the Museum of Modern Art in New York, the Peabody Collection of the Museum of Television and Radio and the New York Public Library. Her films include Diana's Hair Ego (PBS), Greetings from out Here (PBS), Roam Sweet Home (PBS), Atomic Ed and the Black Hole (HBO), Are the Kids Alright? (PBS), Troop 1500 (PBS), Body of War (National Theatrical Release, Sundance Channel national broadcast) and Fixing the Future with David Brancaccio (PBS). Spiro is a Professor at the University of Texas@ Austin Dept. of Radio-TV-Film. (8/14)
Karen Bernstein
Whether it be the story of singer, Ella Fitzgerald, or Blackwell School president, Joe Cabezuela, Bernstein Documentary is dedicated to recording a broad swatch of American history, unveiling each story in the edit room, and broadcasting them for the world to discover.

Emmy and Grammy award-winning Karen Bernstein has spent over 25 years producing, researching and editing with some of the most prestigious producer/ directors in the documentary field. She has recently produced both the television and theatric versions of Fixing the Future: NOW on PBS with David Brancaccio as host (Jumpstart Productions). Troop 1500 toured film festivals and other venues throughout the country and was short-listed for an Academy Award.

Since 2006, Karen Bernstein has been living in Far West Texas, producing and editing film and radio documentaries. She often travels to help finish documentaries like FORGIVENESS: A TIME TO LOVE AND A TIME TO HATE (directed by Helen Whitney for PBS) and supervised production on FIXING THE FUTURE: NOW on PBS. She has recently made a very popular web video for Etsy.com on the craft movement in Marfa. Current projects include a short documentary about grackle birds in Austin entitled, WHAT DO THEY WANT?, a webisode series on Marfa and a documentary feature with Galan Inc, CHILDREN OF GIANT, which has been awarded research and development funding from Latino Public Broadcasting. (8/14)
Subject Areas
RELATED LINKS
YOU MIGHT ALSO BE INTERESTED IN
Shopping Cart