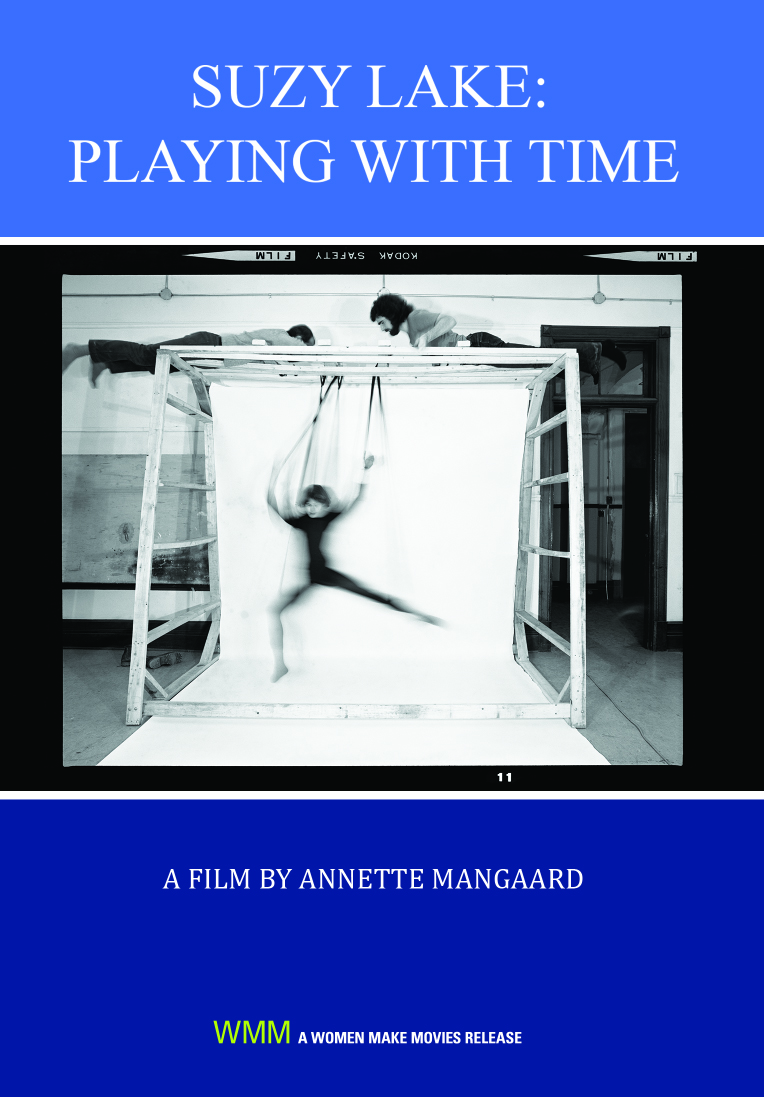 Suzy Lake: Playing with Time
2014 | 62 minutes | Color | DVD | Order No. 151155
SYNOPSIS
Photographer Suzy Lake is one of the formative feminist artists to evolve out of the heyday of the 1960's and the Second Wave. A master of the art of self-portraiture, Lake influenced Cindy Sherman as well as a host of other female artists. Lake makes art that address politics, gender, youth, beauty and aging while reflecting on her own journey through time. SUZY LAKE: PLAYING WITH TIME tells the story of how much has changed in the worlds of feminism and art, and yet how much things remain the same. Filming for almost 4 years, filmmaker Annette Mangaard weaves a powerful portrait of the complex artist by juxtaposing powerful archival footage, still photography and interviews with Lucy Lippard, Mary Beth Edelson and Martha Wilson among others. SUZY LAKE: PLAYING WITH TIME delves into Lake's legacy as she continues to explore the politics of gender with work that deals with the aging woman, countering notions of consumer beauty with a different and real image, celebrating stamina, maturity and experience. An essential companion piece to any discussion on the Second Wave, feminism and art.
PRESS
"A moving portrait of the artist as a speaking subject. Lake speaks directly to the messy negotiation of identity in a culture obsessed with narrow definitions of beauty."
"Mangaard's luminous new documentary on the life and career of Suzy Lake plays like a cross between a well-scripted, jam-packed biography program and a dreamy, experimental film."
ABOUT FILMMAKER(S)
Annette Mangaard
Annette Mangaard has written, and directed sixteen films in more than a decade as an independent filmmaker. She was nominated for a Gemini for Best Director of a Documentary for her one hour documentary, GENERAL IDEA: ART, AIDS, AND THE FIN DE SIECLE (for TVO, Bravo, SCN, Knowledge) about the celebrated Canadian artists collective which premiered at Hot Doc's in Toronto then went on to garner accolades at the Vancouver International Festival, DOCSDF Mexican Documentary Film Festival and Asolo International Art Film Festival in Italy and continues to tour the festival circuit.

Mangaard has just completed a documentary about the history of feminist art as seen through the photography of Suzy Lake. Projects in development include ZERO FOOTPRINT a personal journey documentary about community, indigenous peoples and climate change and A WALK IN THE WOODS a full length documentary about the hard science benefits to human beings derived from direct access to nature.

Her one hour documentary KINNGAIT: RIDING LIGHT INTO THE WORLD, about the changing face of the Inuit artists of Cape Dorset for Bravo, TVO and APTN premiered at the Art Gallery of Ontario and was invited to Australia for a special screening celebrating Canada Day with the Canadian High Commission.

Other films include INTO THE NIGHT, a film noir of the night produced by the National Film Board of Canada, as well as THE MANY FACES OF ARNAUD MAGGS, a one hour documentary on the celebrated Canadian artist/photographer Arnaud Maggs for TVOntario. In 2009 Mangaard was lauded with a retrospective of her films at the Cinemateque Palais de Kino in Buenos Aires, Argentina.

FISH TALE SOUP (1997) starring Remy Girard marked her debut as a feature film writer and director. FISH TALE SOUP screened theatrically at the Carlton Cinemas in Toronto and in a number of other theatres across Canada. The 1998 City TV premiere garnered much critical praise.

In 1990 Mangaard was invited to present solo screenings of her films at the Pacific Cinematheque in Vancouver, Canada and in 1991 at the Kino Arsenal Cinematheque in Berlin, West Germany. Mangaard was invited to attend the Canadian Film Centre in 1992, as a writer/director resident, where she directed the short film 94 ARCANA DRIVE.

Her short film titles include: LET ME WRAP MY ARMS AROUND YOU, 94 ARCANA DRIVE, NORTHBOUND CAIRO, THE ICONOGRAPHY OF VENUS, THE TYRANNY OF ACHITECTURE and A DIALOGUE WITH VISION: THE ART OF SPRING HURLBUT AND JUDITH SCHWARZ.

Mangaard's films have screened extensively on Canadian television and at Festivals and Cinematheques around the world including: GENERAL IDEA: ART, AIDS, AND THE FIN DE SIECLE (for TVO, BRAVO, Knowledge, SCN) which continues to screen at Festivals and cinematheques internationally, KINNGAIT: RIDING LIGHT INTO THE WORLD (TVO, BRAVO, Knowledge, APTN), THE MANY FACES OF ARNAUD MAGGS has shown on TVOntario, and BRAVO. FISH TALE SOUP aired on CITY TV, Radio Canada and the Woman's Television Network. LET ME WRAP MY ARMS AROUND YOU, NORTHBOUND CAIRO, and A DIALOGUE WITH VISION have all been broadcast by the Canadian Broadcasting Corporation and a number of other networks. Most of Mangaard's short films have been screened by SHOWCASE - CITY TV, BRAVO, TVO, The WOMEN'S TELEVISION NETWORK as well as Knowledge and Access Networks and VISION TV, among others. (1/15)
YOU MIGHT ALSO BE INTERESTED IN
Shopping Cart